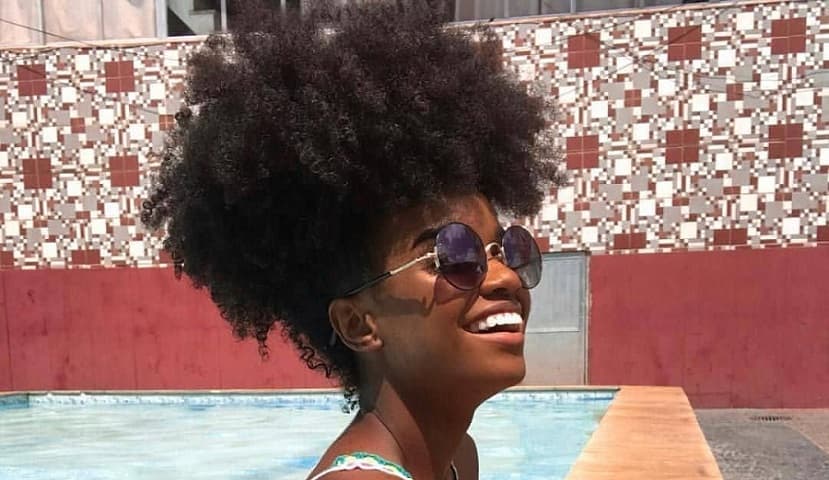 4c hairs are the most densely packed hair type and are most prevalent in black women. Styling and managing this hair type can be a huge task, especially if you don't know where to start. Other myths about 4c hair include its challenging and limited styling options. If you didn't already know, there are existing, non-boring hairstyles that will automatically level up your 4c hairstyle when you try them out. However, bear in mind that styling 4C hair may cause it to become brittle. Therefore, it is advised to use heated styling tools sparingly and to always use a protectant.
You can play around with extensions, alter your hair texture with a twist-out, blow it out, or slick it back into a low bun or two. There are genuinely countless possibilities when it comes to 4c hairstyles. To further inspire you, keep reading for some trendy 4c hairstyles you might want to try.
The bubble ponytail, which gained popularity after being spotted on the runway during the Valentino Fall 20 2014 fashion week show, obviously looks best with long natural hair. For ladies with longer 4c hairs, you can try this funky bubble ponytail. Only make sure to stretch your coils first, though.
Bantu knots are gorgeous and incredibly protective for type 4c natural hair. Aside from making your natural hair easier to manage, it exudes a sense of pride in every Black woman. Mel B., Rihanna, and Beyoncé, among other of your favorite celebrities, have made this hairstyle appear affably regal.
When it comes to hairstyles, making knotless box braids is like striking gold, especially as they serve as real chic protective hairstyles for your natural 4c type hairs. In addition to being effortlessly stylish, they are also adaptable, attractive, and protective of your hair, doing less damage than other braiding styles.
Why settle for just one bun when you can have two? These sleek-edged space bun puffs are truly extraterrestrial. I'm glad, you can even do it yourself. To begin, divide your hair into two equal sections using a comb or your fingers. After that, tie each section of hair into two small ponytails using hairbands. Once your hair is teased and twisted into your first ponytail, wrap it around the base and continue wrapping it until you have a bun shape. Once you've found a shape you like, bobby pin it in place as many times as necessary to keep the style in place. To make a second bun, repeat the same process.
When styling your 4c natural hair, these two-strand twists are the simplest protective hairstyle to do because they are simple to put in and take out. Your natural curls are enhanced and length retention is enhanced by a two-strand twist.

Pompadour-Inspired Hairstyle
The pompadour is a hairstyle that features a thick mass of hair swept upward from the forehead and face, occasionally from the sides and back as well, and worn high on top. It was named after Madame de Pompadour, mistress of King Louis XV of France. It's ideal for women with long, natural 4C hair.
You can always venture out if you have natural 4c hair. When you've had enough of the twists and want to try something new, you can loosen the twists and conveniently style them into a 'twist out'.
Making "Bantu knot-out" involves setting your Bantu knots overnight, allowing them to form tight, springy knots, and then taking the knots out the following day. A Bantu knot out gives you a tight, well-bent curl unlike a braid or twist out because it is rolled up. For damaged and transitioning hair, Bantu knot-outs are ideal.
Ever thought about having bangs without the trouble of cutting your hair or even maintaining them? Pulling your natural curls to the front is a good way to mimic the fringe style.
Stretching out your 4C curls all the way up will add height, volume, and a ton of flair when you want to switch up your natural hair look.