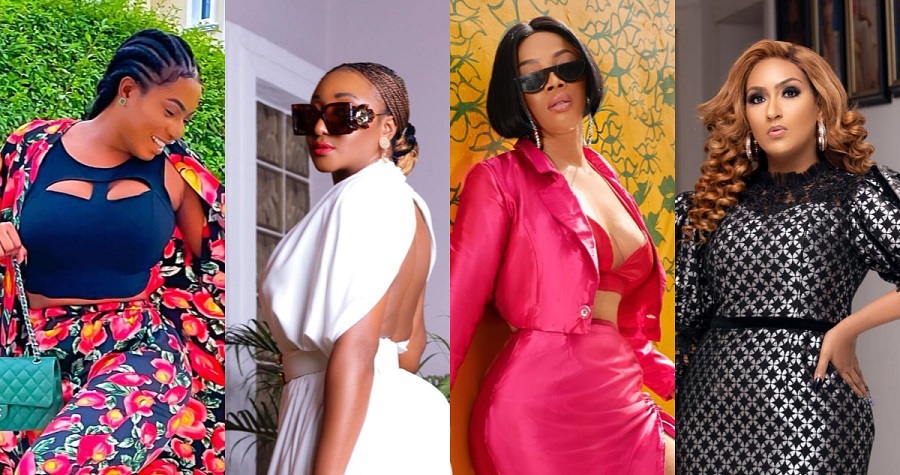 There has been a serious beauty war among celebrities since Kylie Jenner and Rihanna launched their beauty line: Kylie Cosmetics and Fenty Beauty, prompting every other celebrity to jump into the flourishing beauty industry. Nowadays, there's JLo Beauty by Jennifer Lopez, there's Selena Gomez's Rare Beauty, and there's Haus Laboratories by Lady Gaga, as well as Keys Soulcare by Alicia Keys, and the list goes on and on. Kylie Cosmetics and Fenty Beauty, however, recorded a massive success after dropping its first collection and the reason is not very elusive. The beauty products are accessible to all and fans are obviously getting their hands on the best products, plus the beauty secrets of their favorite A-listers at the best rate. So it makes sense to say you can never go wrong with a celebrity-own beauty line.
While it's exciting to see these queens controlling the beauty industry, we are looking at their African counterparts, our very own celebs, trailblazers who have demonstrated unbridled creativity and proving that they are not just confined to the screen but giving fans a taste of their beauty game. Here, a round-up of 5 celebrities who have launched their own makeup and skincare lines.
1

.

Chika Ike
View this post on Instagram
Makeup has always been her love and in August 2019, Chika Ike debuted her namesake beauty and skincare brand, Chika Cosmetics, offering women an 18 color eyeshadow pallet and 12 colors of liquid matte lipstick for the first collection: BLOOM Edition. As per the brand, the collection is inspired by "all the strong, sexy, and vivaciousness represented by women in Africa and the world." 
Created out of her passion for cosmetics, Chika Cosmestics embodies the actress's personal aesthetic — which means she is giving fans a carbon copy of her beauty secrets through a cosmetic line that'll truly 'make you embrace life, love life, and live your best life.' Even though she's got her hands full with other businesses, Chika Ike has a big dream for the beauty industry and according to the brand's website, she "intends to expand the collection into a full range of cosmetics, including eyeshadow palettes, lipsticks, concealers, highlighters, blushes, accessories, skincare, eyelashes, fragrance and more, as well as becoming one of the most renowned in Africa and the world." Shop Chika Cosmetics here at Chikacosmetics.com.

2

.

Toke Makinwa
View this post on Instagram
Since February 2020, TM Beauty by Toke Makinwa has been beloved by her fans across the globe. She founded the line on the notion that a girl should be able to express herself however she wants it. TM Beauty does just that, creating five different shades of lipsticks in the first collection with accompanying names such as FLIRT, TEASE, BAWSE, NAKED and STRIPPED.  "You can be a FLIRT you can TEASE all you want girl, the world is yours," she said. "C"mon BAWSE it up
go off, be present, let it all out. Be NAKED with your soul mama, get it. Own it, you are STRIPPED off all the boxes, be Beautiful."
She however credited her mother for the inspiration behind the beauty line, saying her very first makeup was lipsticks, hence the launch of TM Beauty. "As a child, my first introduction to make up was my mother's vanity set," Makinwa said in a statement during the launch of her makeup Line. "She didn't wear a lot of products but Her red lipstick was right in the center of it all. She could go from bare to red in a heartbeat. The very first make up I wore was lipsticks and everyone who knows me knows how much I love lips colors. Today I announce to you my very first product from the @tokemakinwabeauty company, "Lip magic."
TM Beauty has since grown and known across the pond. And you'd be mistaken if you thought the brand only focuses on lipsticks. With her love for red lipsticks, TM Beauty is also offering a full range of beauty products including eyelashes, 3D mascaras, and eyeliners. For more, visit tokemakinwabeauty.com.
3

.

Ini Edo
View this post on Instagram
With her glowing melanin-popping skin, it's no doubt Ini Edo's beauty secrets are something that worth bottling or packaged for fans. This is what the actress did when she launched her beauty and skincare line 'Beauty Secrets of April' in February 2021, focussing only on Vitamin C and Retinol's range of organic and natural beauty products. According to the Nollywood star, having experimented with it for almost 2-years, she fell in love with the natural products. However, Beauty Secrets of April contains a rich combination of retinol, vitamin C, Ginseng, Shea Butter, Kaolin Clay, Green Tea, Aloe Vera formulated effectively to reverse both natural aging and photoaging. The first launch includes body lotion, face wash, body wash, face cream, and a range of other beauty products. Shop here: Secretsofapril.com.

4

.

Dorcas Shola Fapson
View this post on Instagram
No one saw it coming when Dorcas Shola Fapson announced in the first week of January 2021, that she's launching a skincare line. For someone whose passion revolves around music and disk jockey, along with her jet-setting lifestyle, it was quite interesting to know that the London-based Nigerian actress has a keen interest to empower black women with plant-based, vegan friendly, and cruelty-free beauty products. After three weeks of the exciting news, DSF launched the "Black Skin Bible," a skincare line that caters to all shades of melanin skin. The inspiration, according to the actress is due to the struggles of finding the right skincare products for her skin.
The Black Skin Bible as the name implies comes with a box of 10 skincare commandments, covering everything from acne treatment cream, skin scrub, Aloe vera black soap, lip scrub and balm, skin oil, healing clay, and more. "Black Skin Bible is all about making black men, black women, black boys, black girls who are comfortable, confident in their own skin, naturally" Fapson said in a video during the launch. To learn more visit the brand's official website here — Theblackskinbible.com.
5

.

Juliet Ibrahim
View this post on Instagram
Of all the African celebrities owning a beauty line, Juliet Ibrahim is clearly the oldest in the game. She's been silently promoting, selling her eyelash products from way back in 2016. Juliet launched the brand 'Shades by Juliet Ibrahim' in the said year after realizing the challenges women are facing finding the quality false lashes.
Apart from that, she's synonymous with bold, dramatic eyelashes that instantly make her eye makeup pop. And has wowed the fans with one fearless look to another, so it was only natural she launched her beauty brand. Since then, the brand has seen exponential growth in sales and has now expanded into providing organic skin-care products such as Glow Face and Body Oil for body exfoliation.