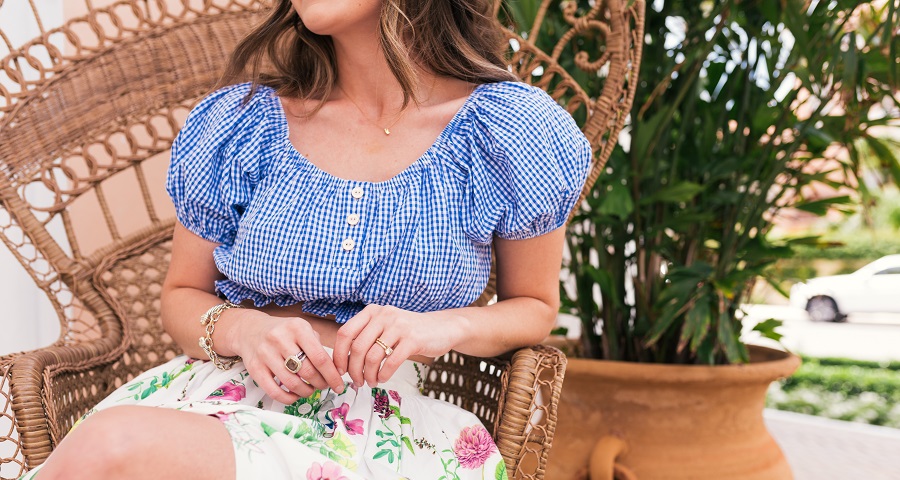 Everybody shape is beautifully unique — the key is knowing which style flatters yours. The right neckline can be used to highlight or camouflage certain parts of your body to create a tastefully balanced silhouette. That varies depending on your body type so knowing what your shape is will help you identify what necklines work best for your body.
Before you go shopping again, take a look at our practical tips for helping you choose the right neckline for your figure:
Rounded / Apple Shape
Round or apple-shaped silhouettes tend to carry most of their weight in the upper portion of their bodies. They typically have a larger bust to hip ratio, a fuller midsection with an undefined waist, round or broad shoulders, and more narrow arms and legs.
If this is your body shape, you want to opt for neckline styles that highlight your fuller bust and elongate your torso. Scoop neck tops and deep V-necklines are perfect for elongating the midsection, accentuating your cleavage, and drawing attention to your face.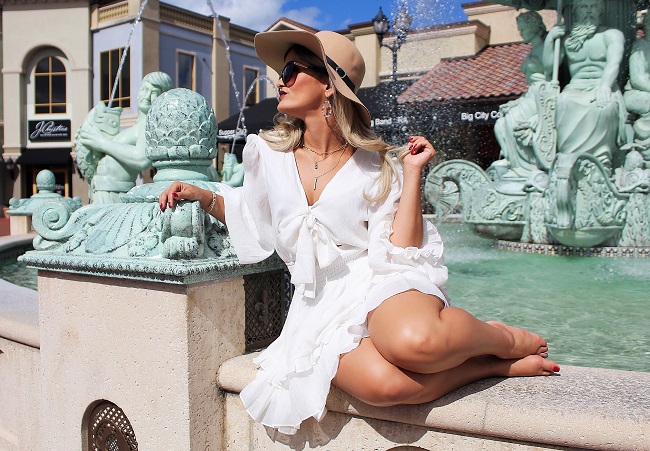 Photo: Joseph Kellner/Unsplash
Steer clear of turtlenecks and high-cut neckline styles. These will make your bust appear fuller and accentuate any roundness in the face (like a double chin) — therefore, making you appear larger than you are.
Hourglass Shape
This body shape tends to have an even balance between bust and hips with a well-defined waist. Their slightly rounded shoulders are proportionate to their naturally-rounded buttocks, and their legs are proportionate to their upper body.
If this is you, consider yourself lucky — crew, scoop, boat, cowl, halter, and V-necklines are all flattering for your body shape. For you, it's more about focusing on how your clothing fits (not too loose, not too tight) rather than what cuts work best.
Loose, boxy tops, on the other hand, are not your friend. They will only hide your curves and make you appear wider and shapeless.
Triangle / Pear Shape
This body shape tends to carry most of its weight in the stomach regions, thighs, and arms. They typically have hips that are larger than the rest of their body.
The key to flattering this body type is adding width to the top to counterbalance your wider hips. Boat, cowl, and jewel necklines are ideal in drawing the eye to the top half of your torso and creating an illusion of proportion to the lower half, where your hips sit. Since puff sleeves and embellished collars flatter your figure, you can get away with more high fashion, chic women's tops.
If this is your body type, try avoiding narrow-shouldered necklines and empire waist style tops as they will only draw the eye to the bottom half of your figure making you appear wider.
Inverted Triangle Shape
Women with inverted triangle body shapes tend to carry broader shoulders narrowing down to small hips and slender legs. They often have little to no waist definition with a less defined or rounded backside.
The most flattering necklines for this body shape accentuate your voluminous upper body and draw attention away from the lower half of the torso and waist. Cowl, scoop, halter, and V-necks draw the eye to the top, but also help accentuate your decolletage.
Try staying away from tank tops, spaghetti straps, padded shoulders, boat, and turtle necklines as they add width to your upper body and accentuate your lesser-defined lower body.
Rectangle / Straight Shape
Most common in athletes, this shape tends to have more or less equal measurements throughout all sections of the body. With no clearly defined waistline and a boxy silhouette, the body tends to look more straight.
Scoop, sweetheart, and V-necklines add softness and balance to your straight silhouette. They pull the eye up to add volume to your upper body while highlighting features like your collar bone and bust.
Avoid straight, rigid, shapeless necklines (like boat necks) that will only add more squareness to your figure.
Diamond Shape
Bodies with a diamond shape have a narrow bust aligned to their shoulders with broader hips. They tend to have a fuller midsection and undefined waist. Weight gain is usually carried around the stomach and thighs. Slender arms and defined legs are usually their most accentuated features. 
If this is you, you want to choose tops that focus on accentuating the fact that your upper and lower body are aligned but camouflage your wider waistline. Loose, flowy V-neck tops cover the tummy and accentuate the alignment between your upper and lower half. Cinched and wrap tops also help to create the illusion of a defined waist.
Embellished necklines will add weight to your upper body and make you appear huskier than you are so try veering away from them.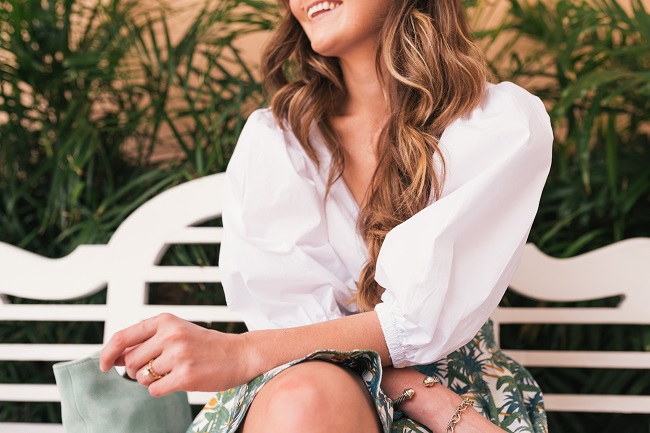 Photo: Arnel Hasanovic/Unsplash
Women's bodies come in different shapes and sizes — that's what makes them so beautiful. Dressing for your body type and finding what works best for you can be overwhelming. We hope these tips make it a little easier for you to determine what category you fall into so you can choose the necklines that make you feel as confident and gorgeous as you should.