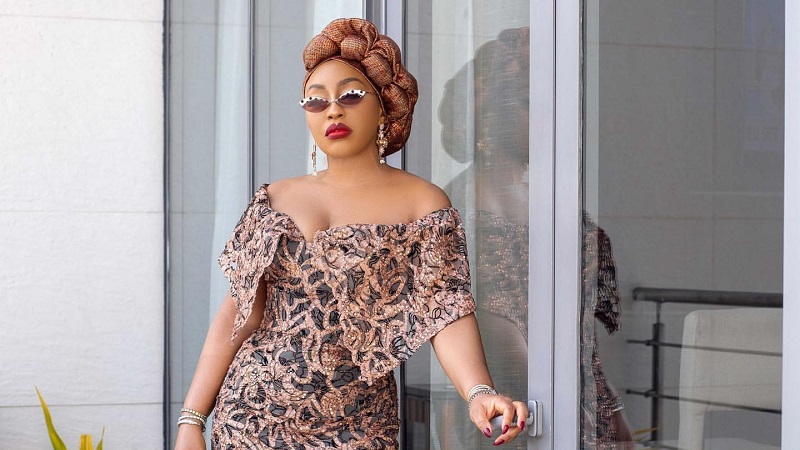 Christmas comes with big surprises and Rita Dominic proved this on the 25th December 2020.
On Christmas Day, the Nollywood actress made her Instagram debut with her new boyfriend, Fidelis Anosike, a publisher of Daily Times Nigeria Newspaper. Dominic made the relationship official after sharing loved-up photos of herself with her new boyfriend toasting a glass of wine.
Although there was no caption on the photo related to their relationship, the two snuggled close together as she leans her back against Anosike's chest. In the second photo, the two also can be seen locking fingers together as they wore matching purple t-shirts. "Merry Christmas..❤🥂💋," Dominic captioned the Instagram post while sharing the photos.
View this post on Instagram
We are not sure how long they have been dating, but we do know that the relationship isn't just a fresh one and the pair are happy together. In fact, Rita Dominic hasn't gone public with her relationship before, so it pretty makes sense to say that she's finally found her other half. Since the 45-year-old movie star shared the images, however, fans including colleagues in the entertainment industry have been to storming the comment section to drop congratulatory messages. This includes Dominic's BFF, Michelle Dede, who asked for the actress' permission to start sharing their photos. "Merry Christmas 😍😍❤️❤️, Dede wrote in the comment section. "Can I finally post photos of you guys together now 😁? @ritadominic."
Meanwhile, Fidelis Anosike is the owner of Folio Communications Limited, a media conglomerate that owns the Folio Nigeria, Daily Times Nigeria, and other media outfits.