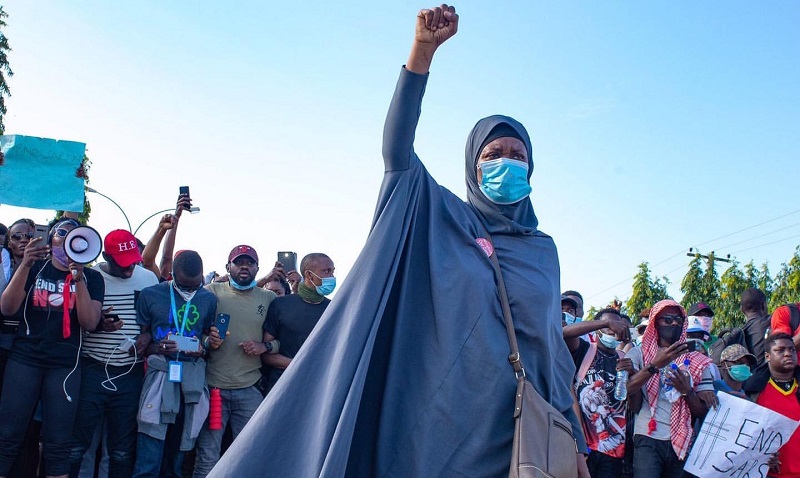 "We need change and the end to police brutality."
These are the resounding mantra of the Nigerian people since the beginning of the #EndSARS and #endpolicebrutality protests across the country. For more than two weeks now, the world has witnessed one of the most engaged, passionate, and determined anti-police brutality protests and a call for action in the Nigerian government as well as the police force. It's no doubt the Nigerian government has failed the people and there are outcries, unrests, and chaos everywhere.
From Lagos, the commercial hub of the nation to Abuja, the capital city and the other parts of the country, thousands of protesters have taken to the streets and social media to show solidarity with the End SARS and Police brutality movement and demanding the government for in-real-life CHANGE in the system. While many have reportedly lost their lives in the process (may their soul R.I.P), it's seemingly an unending movement because the government of President Buhari appears insensitive and the people are not ready to relent.
Socio-political activist, Aisha Yesufu, as well as celebrities are however at the vanguard of the End Police Brutality movement, engaging with parliamentarians and fronting the protests on the streets and social media. Here, a glimpse of what celebrities are saying. We'll continue to update this post.
Aisha Yusufu
"Indeed the Nigerian youth have shown we are citizens not slaves! Thank you Nigerian youth."
Ini Edo
"We have had about enough with the senseless killings and police brutality, forceful extortion ,rape and intimidation #endsarsnow #endpolicebrutality Nigeria must be purged of corrupt police officers .They are killing our nation. Arise O Compatriots, Nigeria calls …. Obey."
Genevieve Nnaji
Enough is enough. We are better than this. #endsars #endsarsbrutality," the actress captioned her post alongside an open letter to the President.
"WHAT A TIME TO BE NIGERIAN. If you ever thought this was a joke, think again. #WeDieHere #WeDonWake:"
Kate Henshaw
Kate Henshaw posted a quote of Malcolm X along with a photo of her protesting.
"You are not to be so blind with patriotism that you cannot face reality. What is wrong is wrong, no matter who does it or says it" – Malcolm X.
Rita Dominic
View this post on Instagram
Omotola Jalade
View this post on Instagram
Sharon Ooja
"Endsars!! And attend to our 5 requests!there can never be progress with comfort! So may this shift bring us the progress we so strongly crave, I know the heavens will shift on our behalf!!! God will protect all those in the fore front none will be harmed in Jesus name.. change is here !!!! #endsarsbrutality #endsars ✊✊✊✊✊✊✊✊✊."
Omoni Oboli
"Dear Nigerian police, it will do you well to know that this revolution is also for you! When we ask for the system to be fixed and for police reform, it's for you! Heck we are even asking for increase in your salaries so miss me with the bullshit you are displaying! I understand you can't join the protests but don't stand in our way! Don't harass, beat or kill us. Protect us! We come in peace! ✌ #EndPoliceBrutalitynow
#ReformNigerianPolice #5for5 #EndSarsNow
PS: Dear @muhammadubuhari and the Nigerian government, our demands are simple and fair! See to it today! #5for5."
Peter Okoye
"We do not have a leader we are together! In fact we are leaderless! We only focus on our message and result! Period!!! So don't be distracted! We move!✊✊✊✊✊✊✊✊✊#EndPoliceBrutality #EndSWAT."
Uti Nwachukwu
"Our Leaders Work for us!!!
It is Extremely Insensitive to be Quiet Now….Please Speak to us and reassure us of a New Era and a safe/ Bright future for our Citizens. The youth are Angry but still peacefully Protesting… What do we Have to do to be Heard, Respected and Protected???"

Falz TheBahdGuy
"SO SHAMEFUL. Look at the police standing-by while peaceful protesters are attacked by sponsored hoodlums & thugs !!! And they were so quick to shoot and teargas peaceful protesters!
@jidesanwoolu @muhammadubuhari #SarsMustEnd."
Jim Iyke
"GOT BACK IN TOWN AND JUMPED RIGHT INTO IT.. THE VOICE OF THE PEOPLE IS AS POWERFUL AS THE FORCE OF NATURE. SARS WAS DECOMMISSIONED SWAT WAS COMMISSIONED. ALL IN LESS THAN 24 HRS. WHO ARE THEY FOOLING? CERTAINLY NOT US. OUR VOICES WILL CONTINUE TO DEMAND AND CLAIM OUR BIRTHRIGHTS. PICTURES SPEAKS A THOUSAND WORDS!
HAD A CONVO WITH A CONCERNED PARENT THAT FELT THE MOVEMENT LACKED DIRECTION AND DECORUM. LOL
#SWAT IS LOW BUDGET #SARS.
#ENDPOLICEBRUTALITY
#REFORMTHEPOLICE
#ENDTRIBALISM
#ENDNEPOTISM
#ENDGOVERNMENTUNACCOUNTABILITY
#ENDCORRUPTION
#ENDOCTOGENARIANLEADERSHIP."