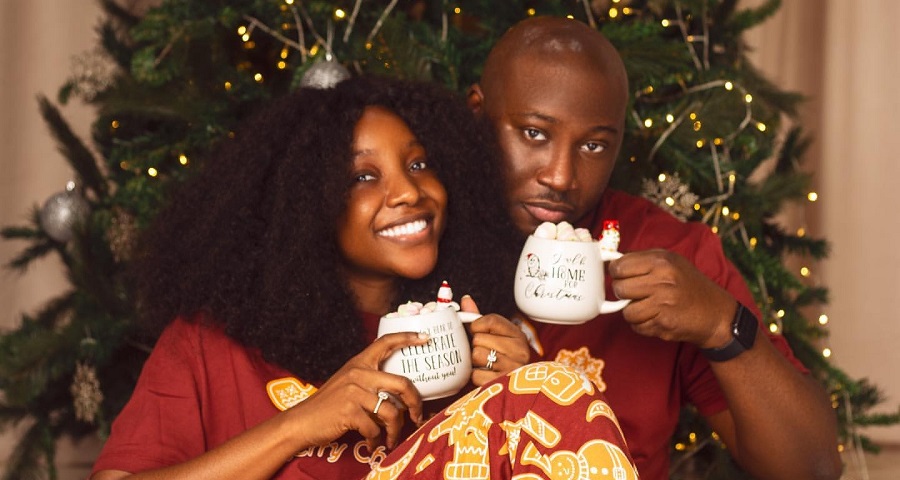 Ini Dima-Okojie shared one of her most candid Instagram posts on Christmas day, reflecting on her successful fibroid surgery after a year and spending the first Christmas with her husband, Abasi Ene-Obong. Dima-Okojie shared her Christmas tree featuring love-up photos of the couple as they enjoyed the holiday together. In the first snap, the couple could be seen posing with a cup of tea engraved with romantic messages: "Owl be home for Christmas." While in return, the other cup reads; "I couldn't bear to celebrate the season without you!" 
In the accompanying post, the actress narrated how she spent her 2020 Christmas holiday in the hospital and how Ene-Obong, who was at the time her boyfriend, flew back to Nigeria, to take care of her even though they had broken up. As per the Nollywood star, it was a defining moment in their relationship.
View this post on Instagram
"Exactly this time last year, I spent Christmas in the hospital… but I was very thankful because I had survived the fibroid surgery I was so terrified to have," the actress wrote. "And you @abasieneobong , even though we were broken up at the time, you flew back to Nigeria once you heard I was having surgery to take care of me 🥺. That was a defining moment in our relationship!!!."
She continued, "And now we get to have our first Christmas together as a couple. I love you so much and I'm so thankful for you… I look forward to a life time of Christmas's with you🥰🥰🥰. Merry Christmas Everyone, we are sending you all so much love… stay safe, stay blessed 🤎🎄🙏🏾💋."
The couple however got married traditionally in November after announcing their engagement in July. Happy first Christmas together.