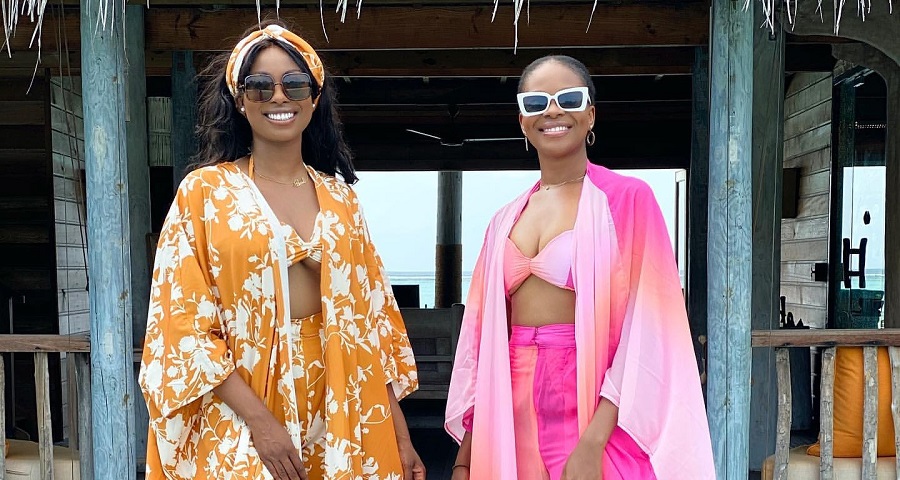 Bolanle Olukanni and Zainab Balogun are complete BFF goals. Not only have they co-founded a business together but the two actresses continue to prove that their friendship is incomparable. It was however a new chapter of their friendly relationship when the duo launched the 'Wash & Go' in 2019 — a healthy hair salon that offers women of all age inclusive haircare service. Since then the media girls are just like sisters, doing everything and goofing around on social media together.
We've seen them participate in a series of popular Instagram challenges, front a fashion and beauty campaign and even toast a glass of wine together, leaving us craving for a cool moment with our besties. Zainab once said that people often say 'bizarre things' about their friendship and according to her, genuine relationships do exist even though disagreement is certain. 
'"I bet they don't really like each other" "Fake friendship goals" "Why don't they show when they fight?" 😂 These are just some of the bizarre things people say about our friendship and business relationship,' the actress captioned a photo of them on Instagram. 'Apparently we're a Nigerian anomaly 🤷🏽‍♀️ We annoy the heck out of each other, don't really fight but disagree a bit and we probably laugh a lot more than anything else. Genuine relationships exists, you've just got to throw caution to the wind.'
View this post on Instagram
However, if you are jetting off for your summer holiday, perhaps with your bestie, and need some inspiration when it comes to leisure, look no further than Bolanle and Zainab. The duo recently jetted out to the Maldives to relieve themselves and by all indications, they both lived their best life, which includes surfing, bicycle riding, lounging at the Gili Lankanfushi's overwater bar, and of course, packing the right resort wear for the occasion.
View this post on Instagram
Bolanle and Balogun started their girl's trip with photos of them at the airport, where both ladies had put on fashionable displays. Not only was their airport style very impressive, but it was also a well-planned trip, so looking fabulous was a top priority. While Bolanle opted for a black look comprised of a jacket, short pants, and a pair of sneakers in two colorways, Zainab on the other hand was the showgirl who turned eyes with her mix of fun and playful wardrobe pieces. Her look which included a clingy white long sleeve top, black jogger pants, and matching bucket hat, along with white sneakers and socks added a great twist to the athleisure trend.
View this post on Instagram
Next up is the photograph of the ladies enjoying the view of the blue ocean while having their breakfast. But the best part? The ladies made it fashionable as they twinned in a white look.
View this post on Instagram
Bolanle went for a solo bicycle ride while Zainab made sure she captured all the fun moments.
View this post on Instagram
of course, the most important part of your holiday is your wardrobe and there was no missing of African prints on the packing list.
View this post on Instagram
…..and a lot of matchy-matchy sets.
View this post on Instagram
There were also swimwear moments where the ladies soak up the sun in their stunning swimming suits.
View this post on Instagram
View this post on Instagram
They even surfed together because that's what friends do.
View this post on Instagram
Wearing matching short denim pants, the ladies couldn't help but leverage the calm atmosphere to put up some kind of TikTok dancing show to end their short holiday. As per Zainab, "When your vacation is almost a wrap but you gotta dance for the road ahead 😊 We had a quick dip in the ocean and dried off with some moves 💃🏽."
View this post on Instagram
Maldives, however, has been the go-to travel destination for holidaymakers, so if you are looking for where to go this summer, this picturesque country will never disappoint.