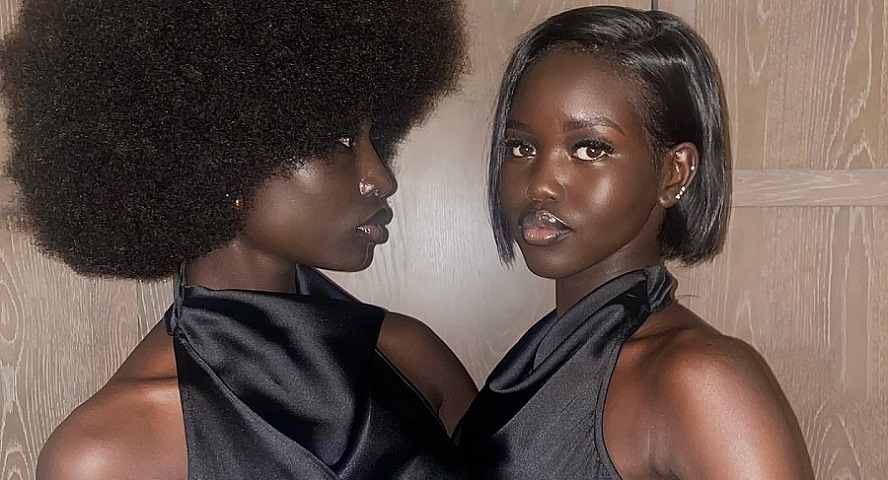 Adut Akech is celebrating her younger sister Bigoa, who's marking her 20th birthday. 
The model shared new snapshots with her lookalike sibling who is a year younger. In the pics, the Victoria's Secret Collective member struck a pose with her sister all wearing a matching black dress. The pair choose a mini halterneck design featuring a cowl high-neck, strappy back, and asymmetric hemline.
While the model oozed enough glamour in her side-swept short hairdo, the birthday celebrant embraced the '70's-inspired discotheque fashion with a fuller afro hairstyle. They both went for minimal accessories as the dress takes the center stage. 
The South Sudanese-Australian however gave a shoutout to the beautiful sister and reminisced how she fusses over her when she contacted Covid-19. "Happy 20th birthday to my twin, my fine babe and little sis @nyaguaa 😍😍🎉🎉." the model wrote on social media alongside photos of them posting in different outfits.
View this post on Instagram
"S/o to you for being a real one, the way you've been there for me especially these past rough weeks. You're the MVP for the way you looked after me when I had Covid recently. You risked it for me 😭 Massaging my body when I was in so much pain, waking up at all hours of the night to give me my painkillers. Holding my hands to sleep. Forcing me to eat, drink that nasty tea and take hot baths to help me recover. Thank for everything and all that you are. I'm thankful to now have you in my life as a sister, friend, supporter, hypewoman and all that 🥺 I love and appreciate you so much 🙏🏿❤️❤️❤️❤️❤️❤️❤️."
She continued: "I'm wishing you the best in life— more prosperity, blessings, success, good health, alllladat. Can't wait to see you soon literally in a few days, the link up is about to be wild. Welcome to adulthood it's ghetto as fuck here! 😩."