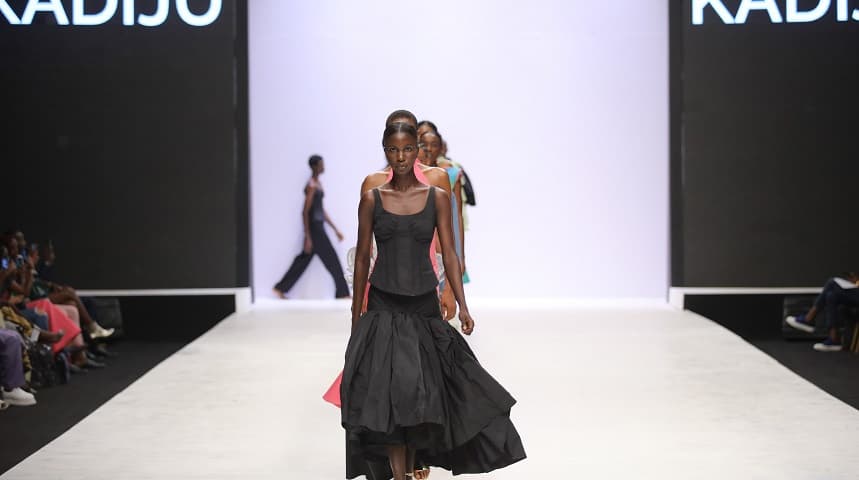 Known as the most populous city in Africa, Lagos State of Nigeria is also the home to some of the biggest designers in the continent and beyond. And over the past 10 years or so, these designers come together every October of the year to showcase their latest collection in front of their beaming fans. As usual, a slew of newcomers, alongside famous fashion houses from countries like Ghana, Senegal, and Kenya joined the annual fashion display over the weekend. Ahead, keep reading for the highlights from the 2022 Lagos Fashion Week runway shows. 
Cynthia Abila — Lagos Fashion Week 2022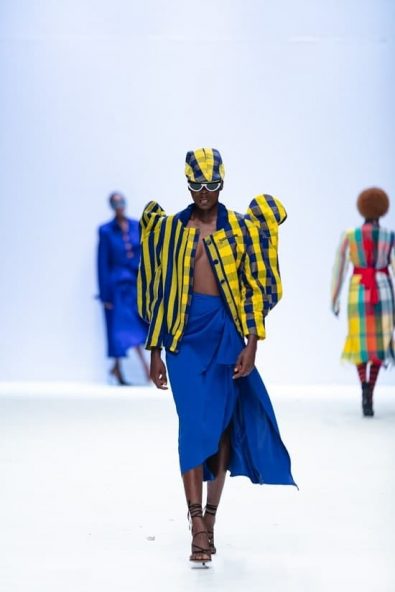 Cynthia Abila
Last year during Cynthia Abila's 2022 Spring/Summer at Lagos Fashion Week, the show opened with a model wearing a mask with a kaleidoscopic gown inspired by traditional Nigerian masquerades. Opening her show at the 2022 LagosFW was also a masked model walking down the runway. What followed next was a familiar colorful silhouette — the multi-colored gown now reworked with a refreshing feel. There was also much more to love about Cynthia Abila's offerings this year, ranging from choosing mood-boosting hues to fun and playful accessories.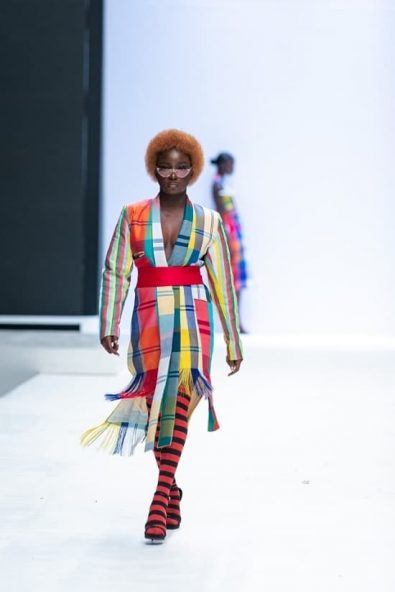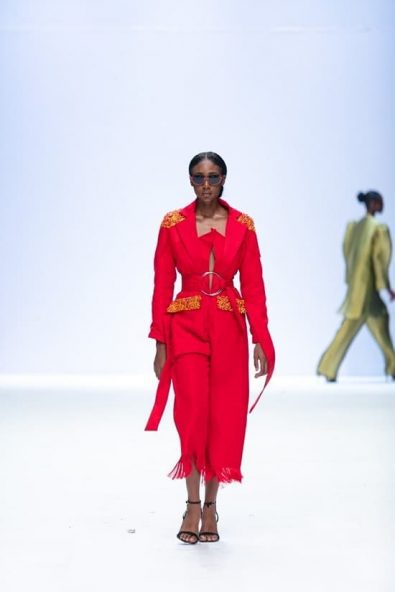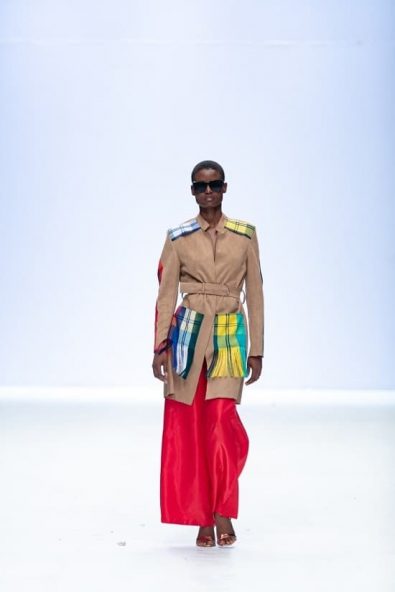 Austrian Lace — Lagos Fashion Week 2022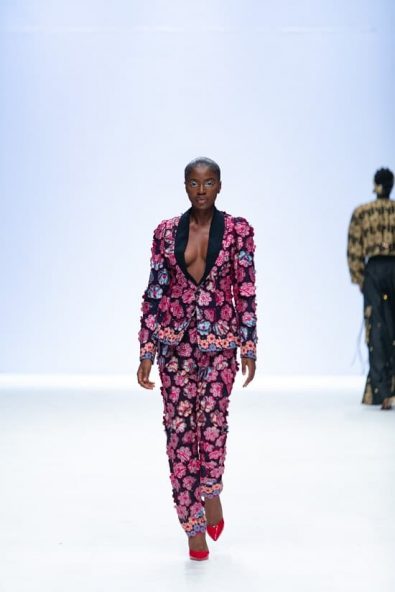 Austrian Lace
Austrian Lace opened its show with live music and was filled with multiple looks from floral embroidered pantsuits to corset floor-sweeping gowns, three-pieces, monochrome looks with bucket hats, and Agbada. The collection was collectively designed by AnnCranberry, Derin Fabikun, Getoworld, and Weizdhumfranklyn and it was undoubtedly one of the best offerings from the 2022 Lagos Fashion Week.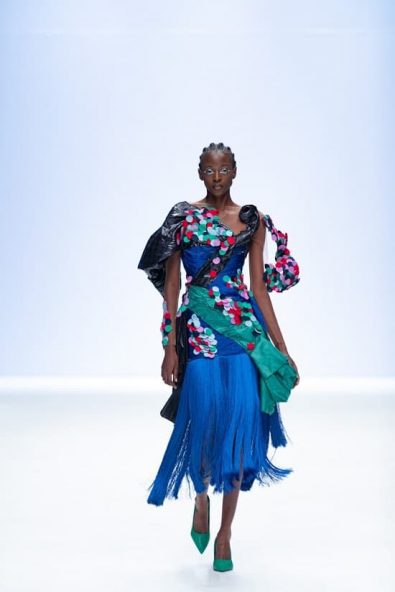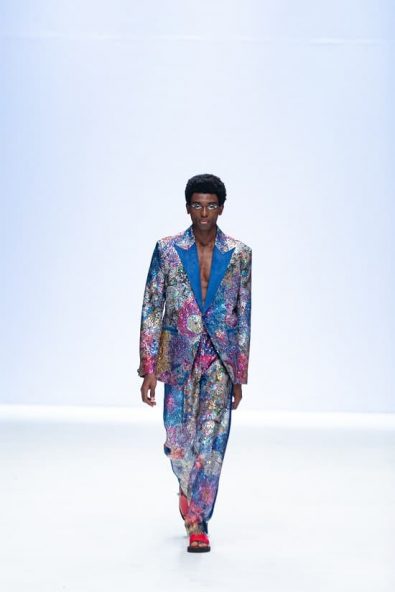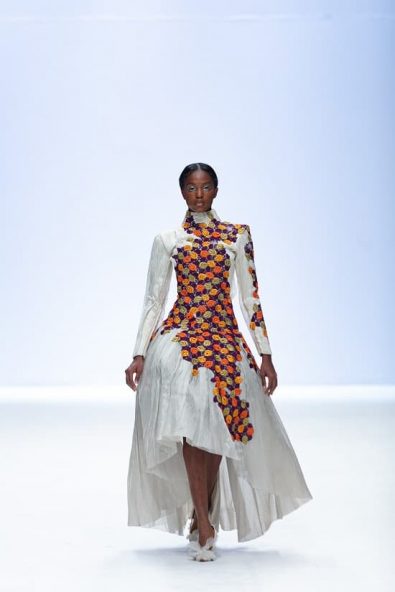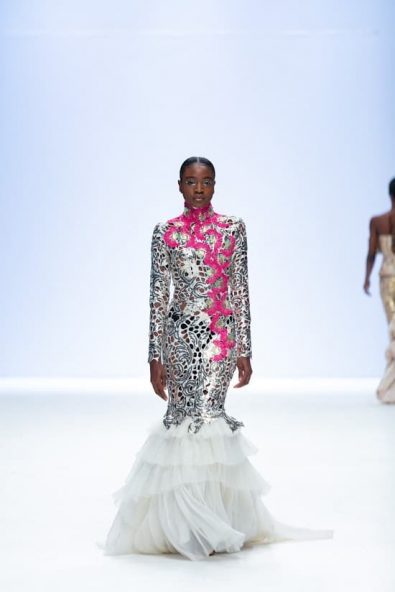 Abigail Ajobi — Lagos Fashion Week 2022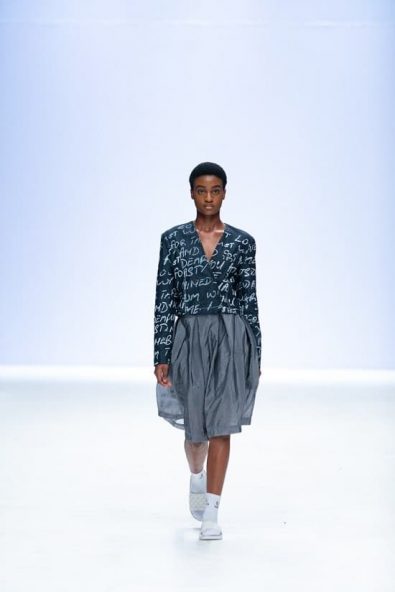 Abigail Ajobi
All the way from London, Abigail Ajobi is a sustainable streetwear brand. For her debut collection at Lagos Fashion Week, she was inspired by her parents' love story with a collection that featured a veritable amount of chic wardrobe essentials.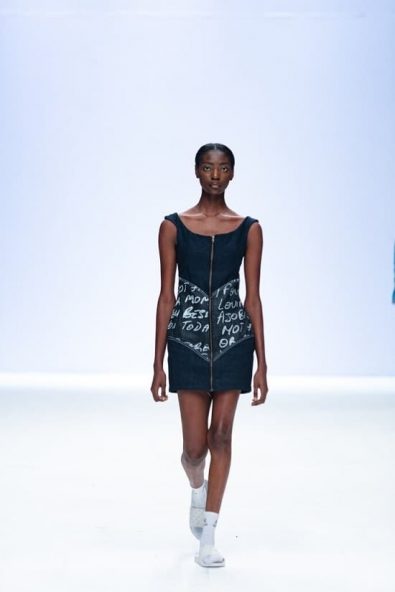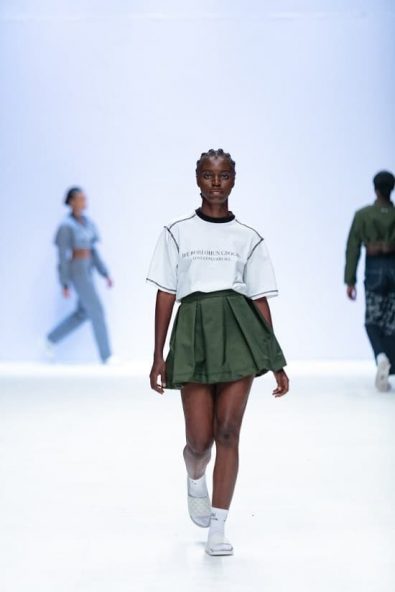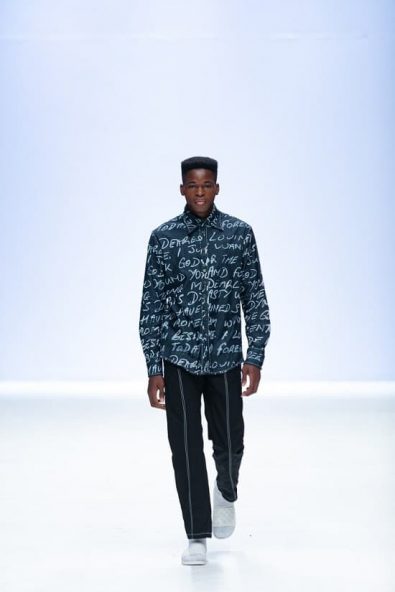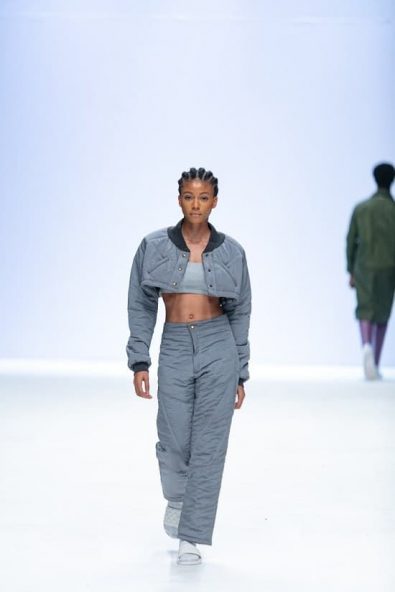 Babayo — Lagos Fashion Week 2022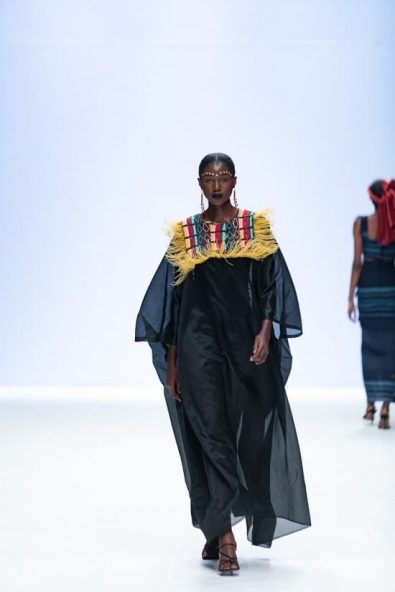 Babayo
After a digital presentation at 2021 Lagos Fashion Week, Babayo returned with a proper runway debut. The brand's nomadic aesthetic was fresh and captivating.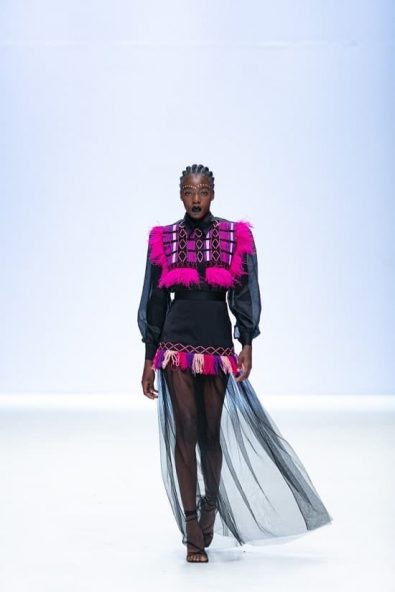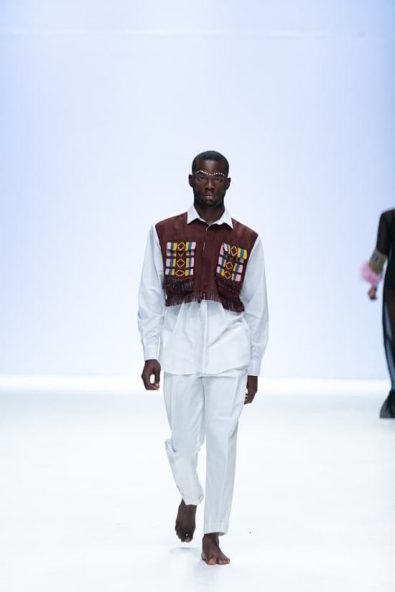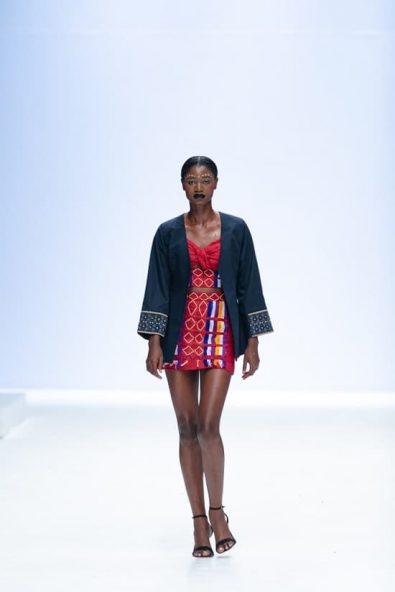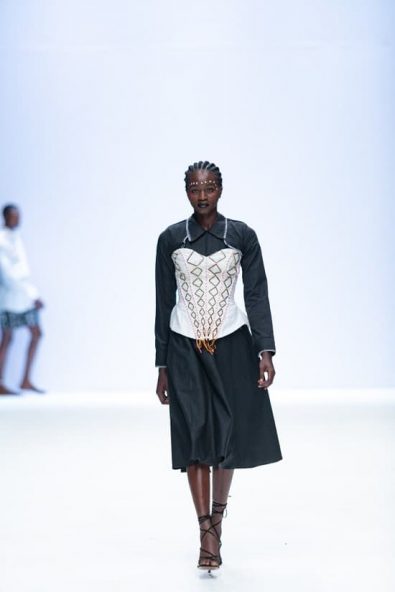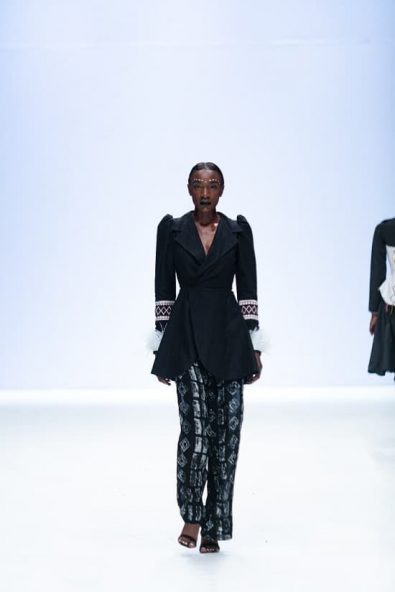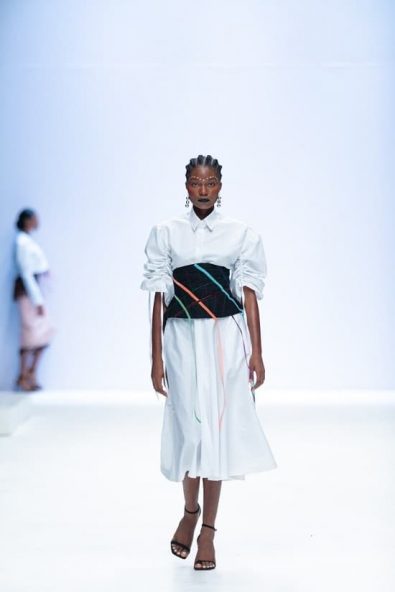 Pepperrow — Lagos Fashion Week 2022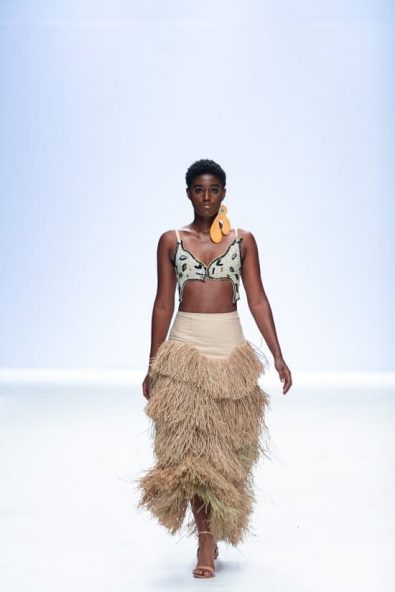 Pepperrow
Pepperrow is a sustainable fashion brand and with its 2023 Spring/Summer collection, the brand's ethos was even more clearer and fore-fronted. We saw colorful prints, raffia skirts, puffy sleeves, and lace. Overall, the collection was a beautiful body of art.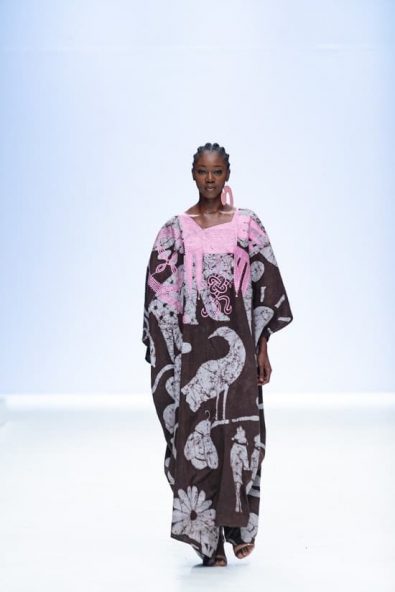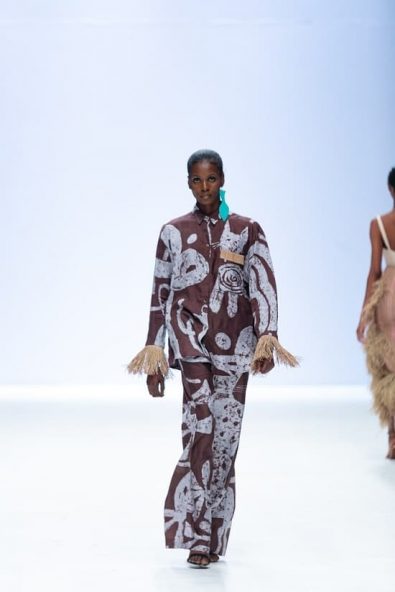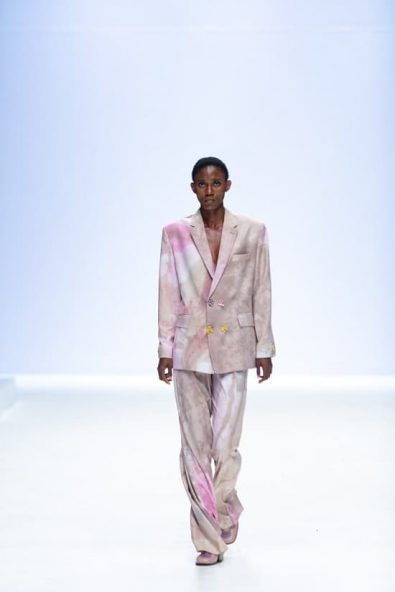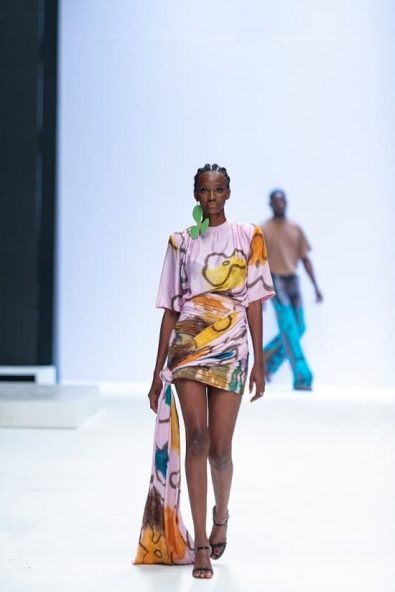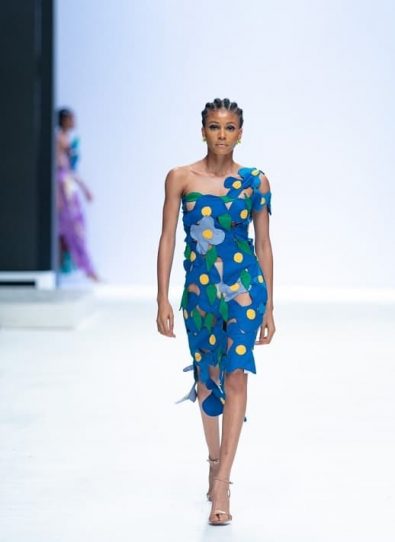 Orire — Lagos Fashion Week 2022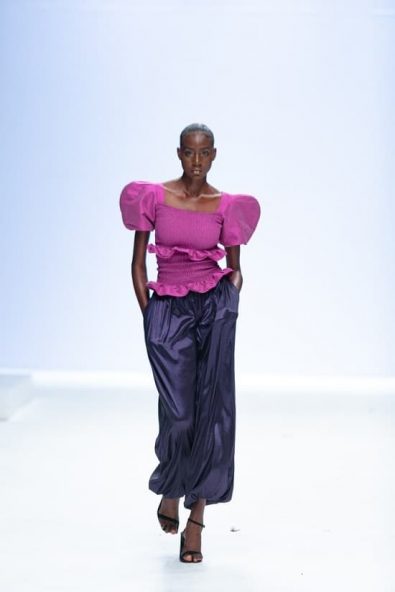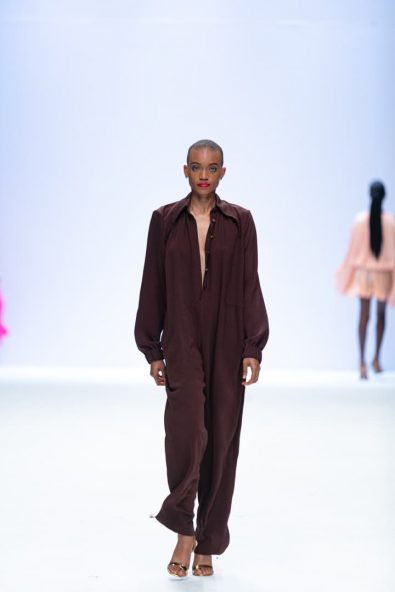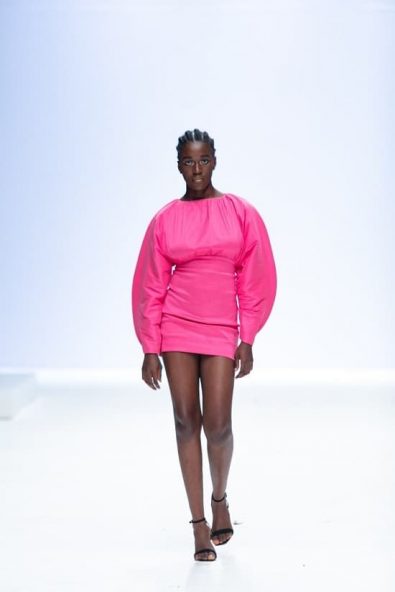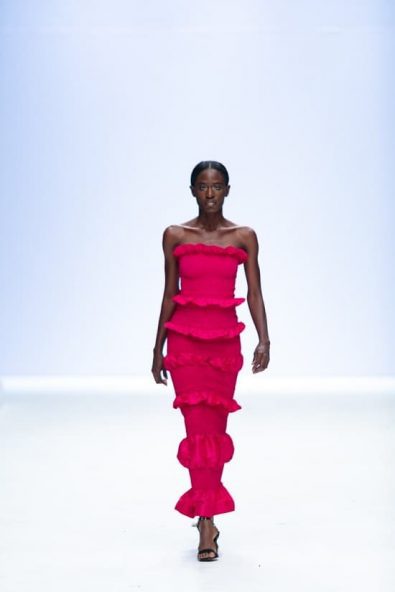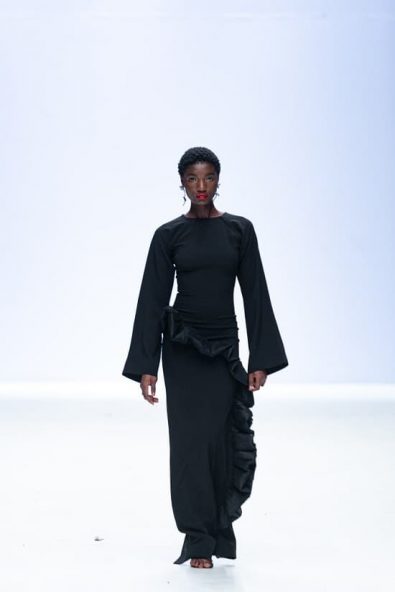 Maxhosa Africa — Lagos Fashion Week 2022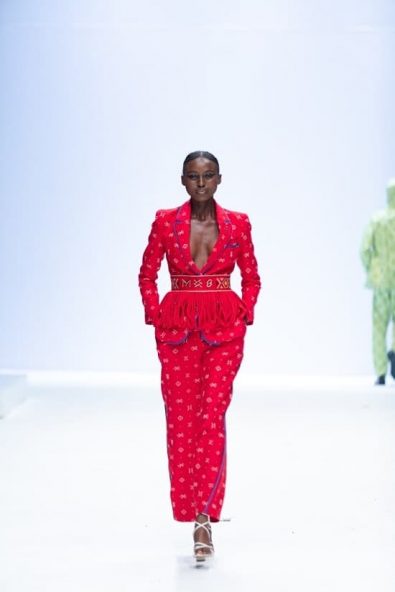 Maxhosa Africa
Maxhosa Africa is a South African fashion brand. Maxhosa's design highlights the beauty, culture, language, and aspirations of the Xhosa people. For the brand's showcase at Lagos Fashion Week, designs were a mix of streetwear in colorful palettes, gowns, and matching headpieces like bucket hats, face caps, and caps with fringes. In addition, the brand's initials were printed on the fabrics.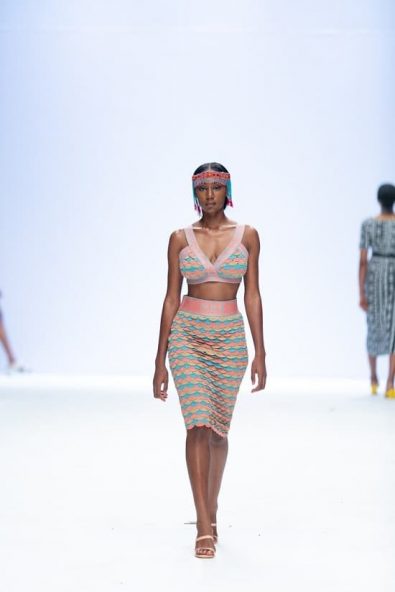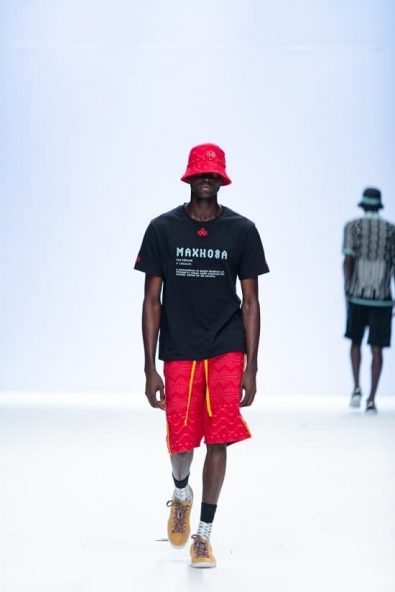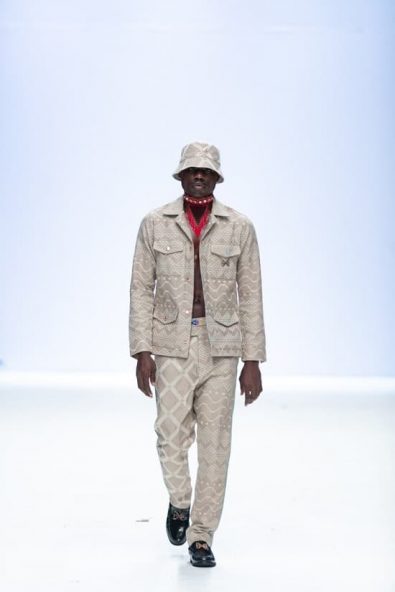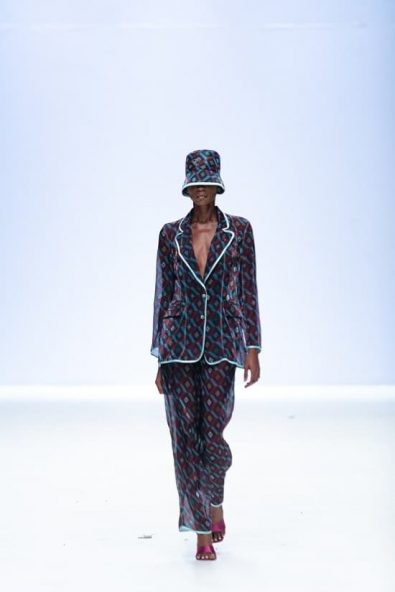 Tia Adeola — Lagos Fashion Week 2022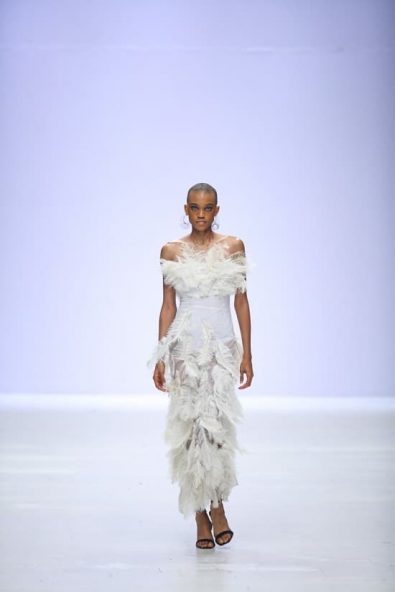 Tia Adeola
With statement-making and skin-revealing pieces, Tia Adeola sent her models down the runway with lots of drama in mind. The show opened with a ballad dancer keeping the audience entertained and what followed next was a body-hugging dress with the phrase "God Help Nigeria". The rest of the collection took the guests back to when the naked dress trend was a big thing.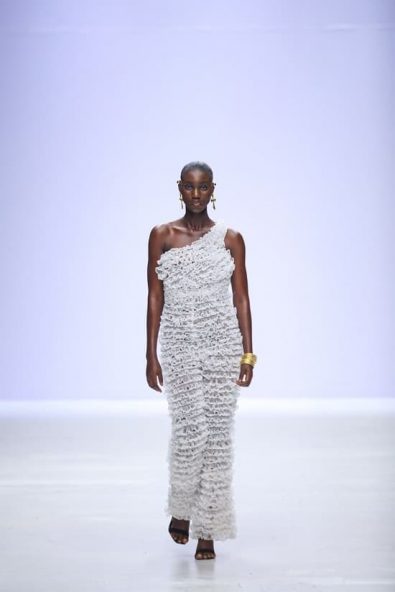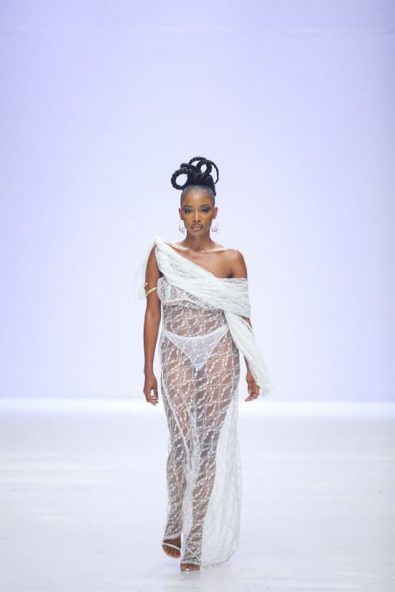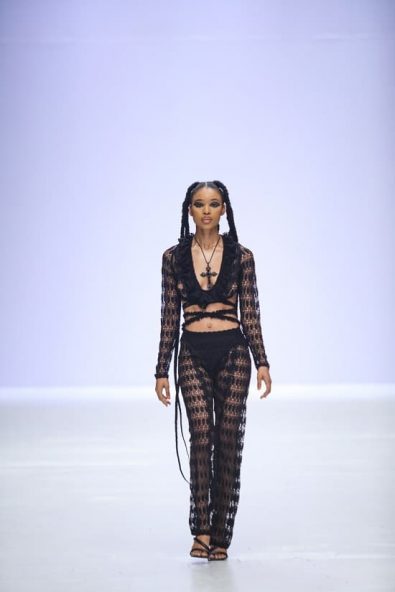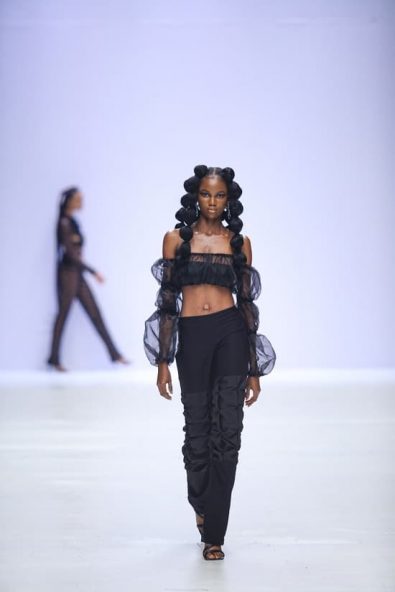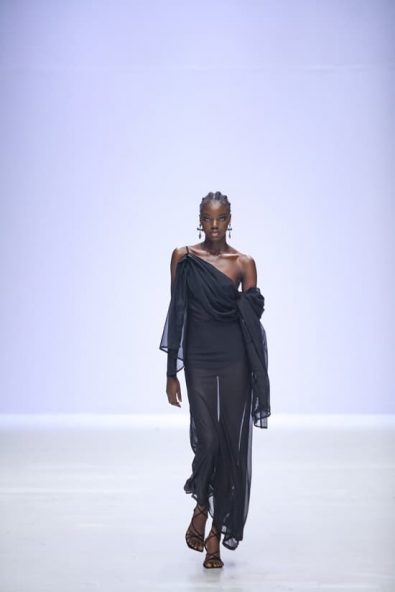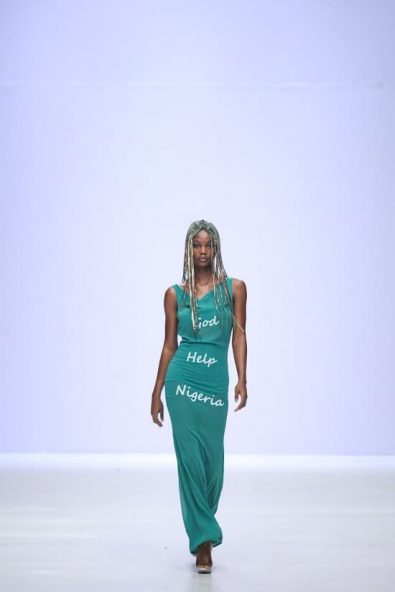 Ejiro Amos Tafiri — Lagos Fashion Week 2022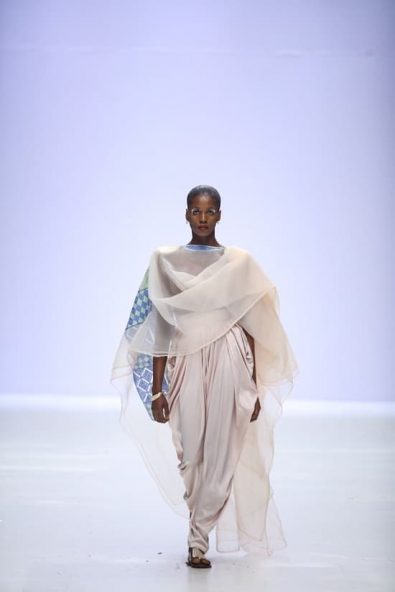 Ejiro Amos Tafiri
For Ejiro Amos Tafiri's latest offering, we saw glitters and gowns made with colorful light fabrics. As models strut down the runway, two dancers delivered a stunning choreography which provided an interesting backdrop for the show.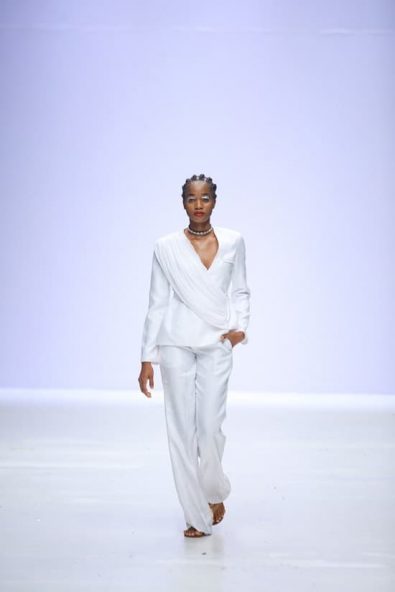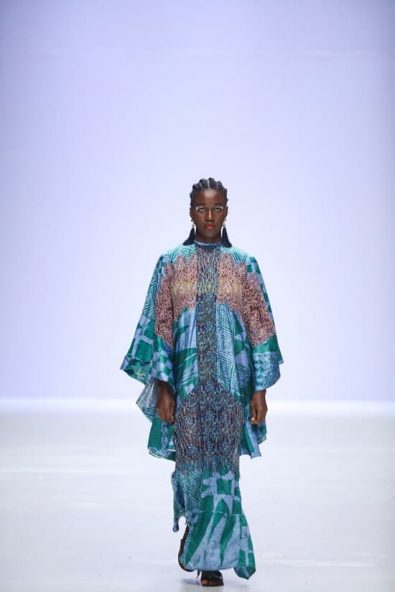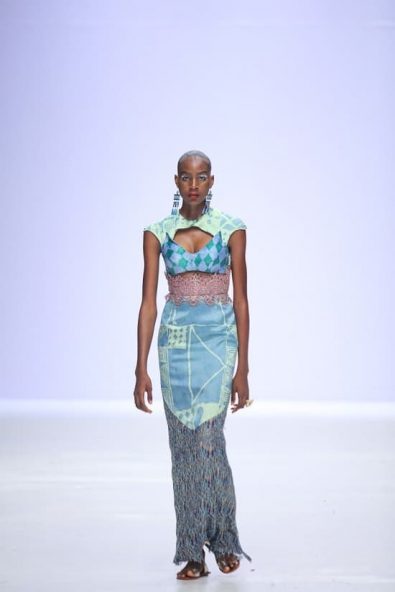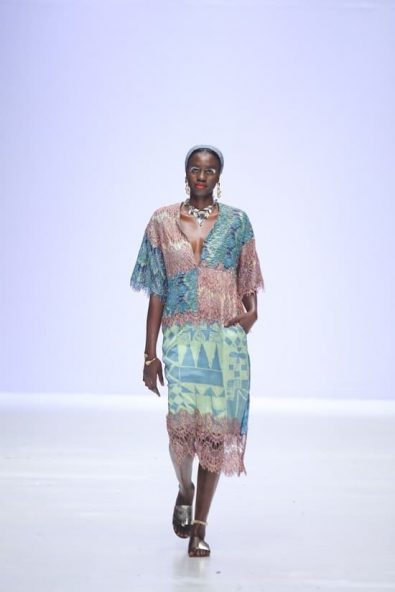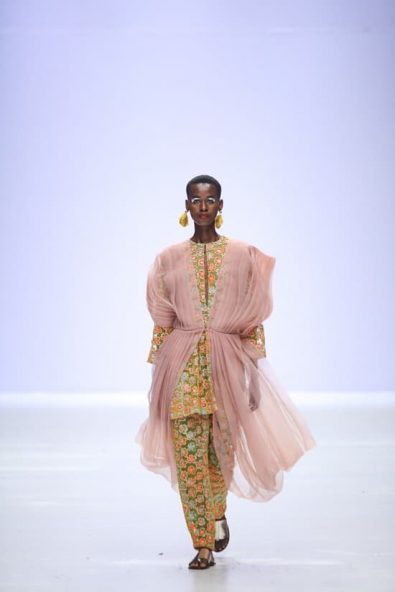 Emmy Kasbit — Lagos Fashion Week 2022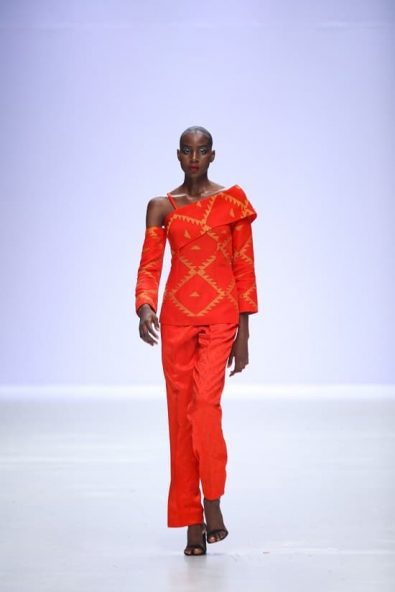 Emmy Kasbit
Titled "Home Come-in", Emmy Kasbit returned this fashion season with thirty bright-colored looks for their 2023 Spring/Summer collection. This marked the highest piece we've seen from a single collection from our local brand so far. A wool-embellished handbag, wool wig, and yards of folded fabrics were also used as accessories on the runway.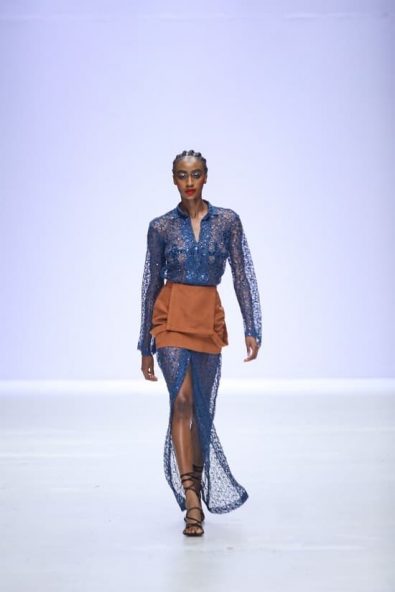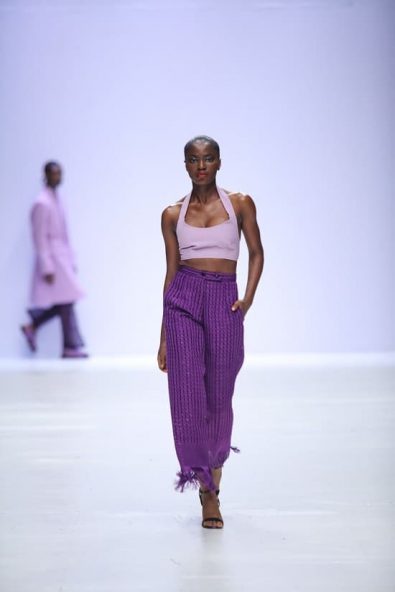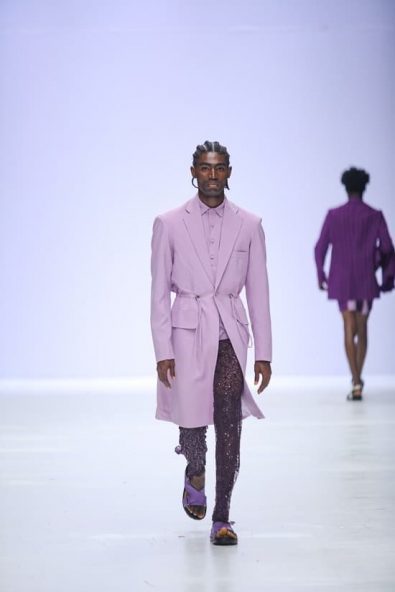 Abiola Olusola — Lagos Fashion Week 2022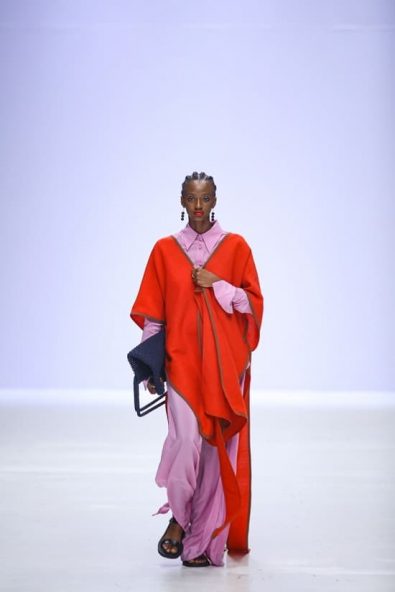 Abiola Olusola
Abiola Olusola is a womenswear fashion brand and for her 2023 Spring/Summer collection, she returns with minimalistic pieces. We saw straight body-fitting armless gowns, color-block chiffon, and a couple of light fabrics in white. To accessorize, we saw floor-sweeping handbags with fringes complimenting the silhouette.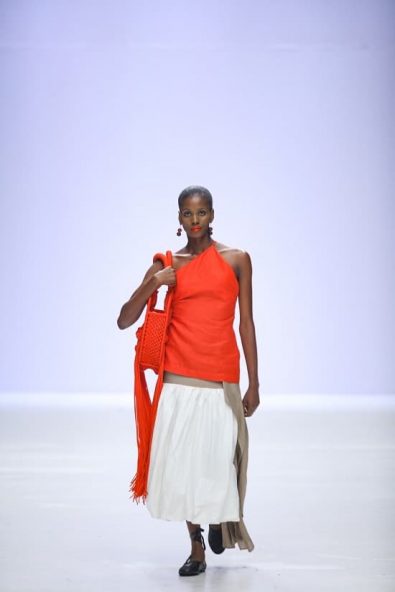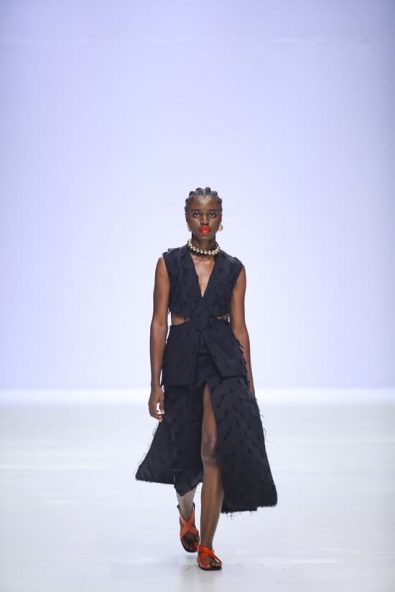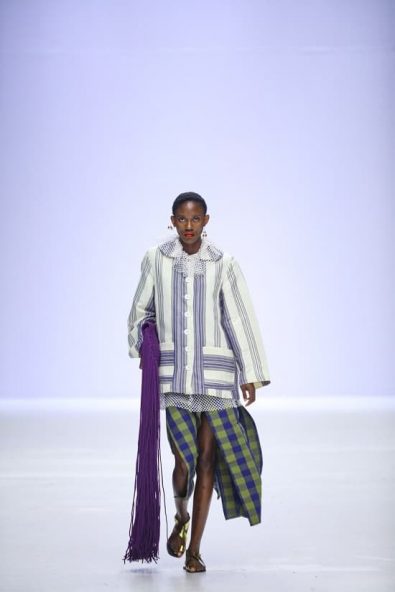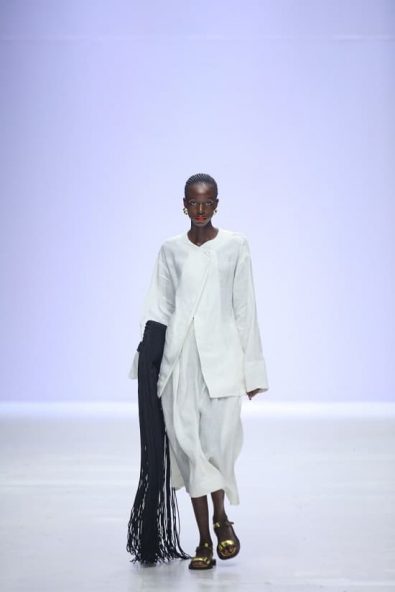 House of Akachi — Lagos Fashion Week 2022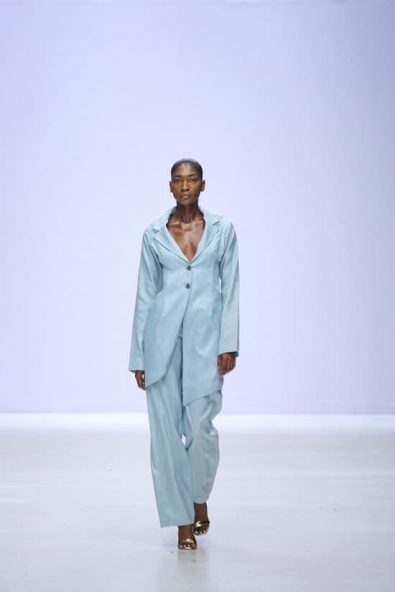 House of Akachi
The 2022 Green Access finalist, House of AKACHI debuted their 2023 womenswear Spring/Summer Collection: " N'okpuru Mmiri"- that centers around a conversation between some elements of nature like water, architecture, and global climate change.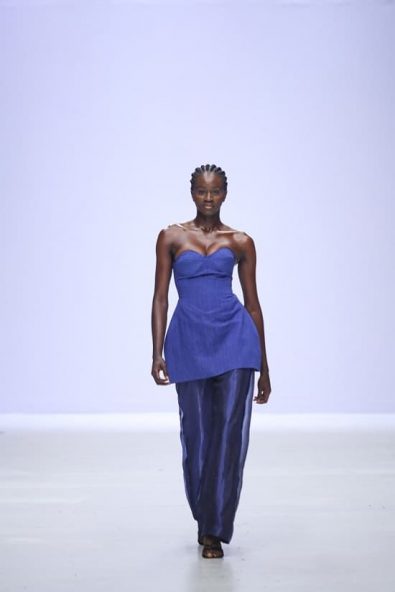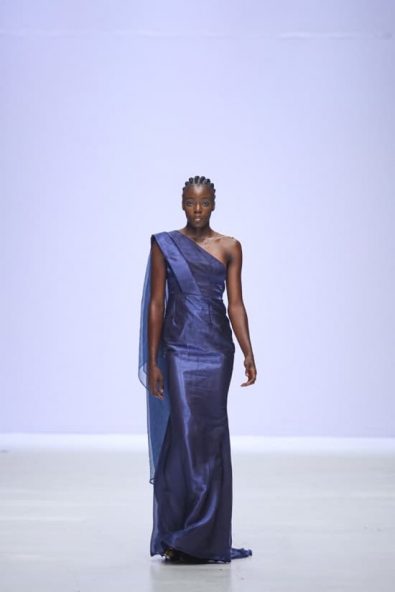 Duaba Serwa — Lagos Fashion Week 2022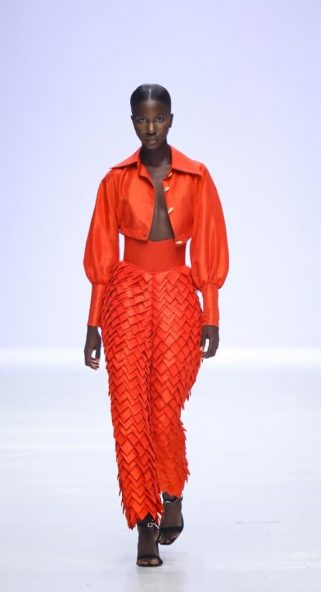 Duaba Serwa
Duaba Serwa is a Ghanaian womenswear brand. Known for its signature triangular origami pleat, the brand's latest offering this fashion season came complete with flowy skirts, straight skirts, crop tops, and puffy sleeves — all with its signature triangular origami pleats treatment while also blending different palettes of colors.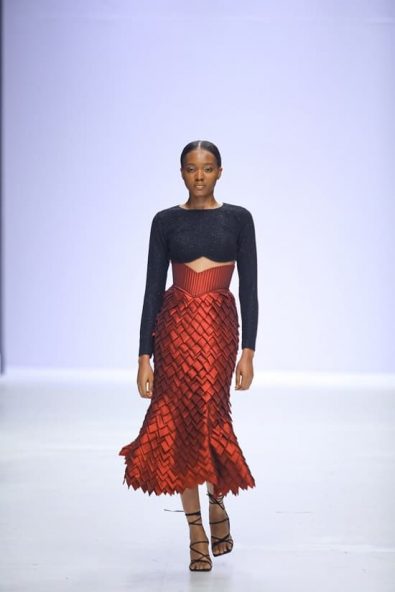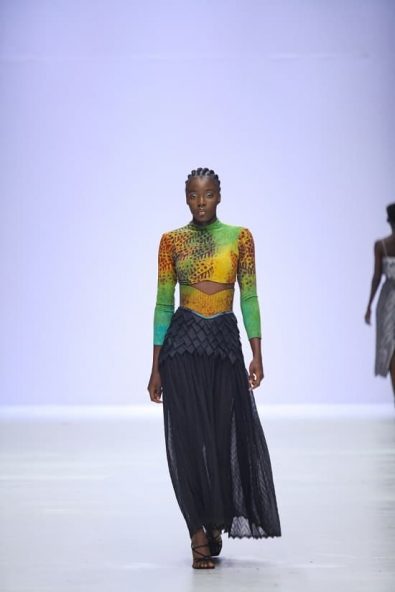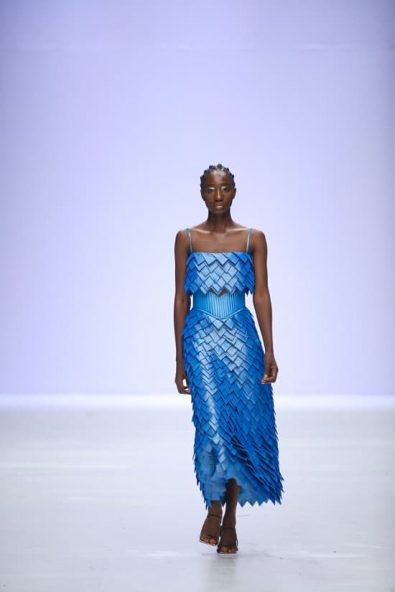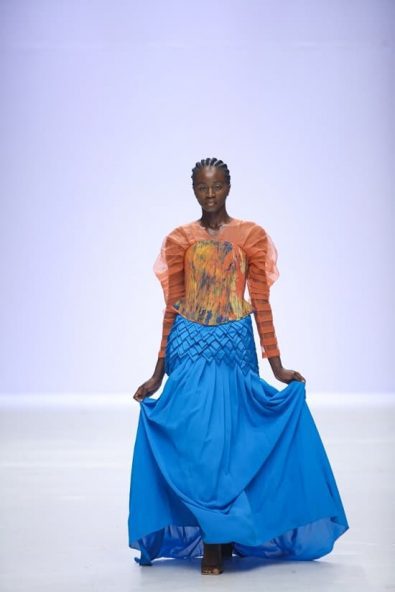 Olisa Kenya — Lagos Fashion Week 2022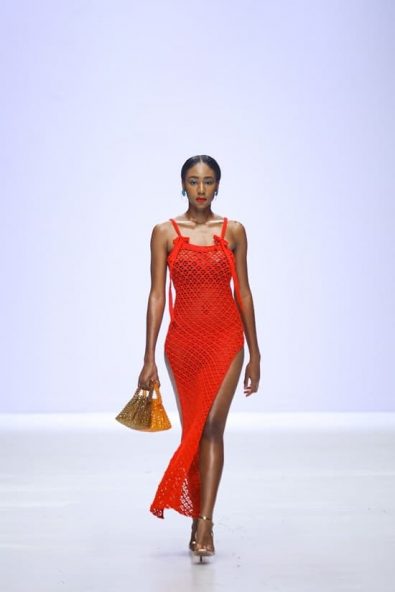 Olisa Kenya
With a profound honor in handcrafted artisan traditions, the Nairobi-based womenswear label brought bright colors to the Lagos Fashion Week in knitted dresses that put a refreshing stamp on wearable glamour.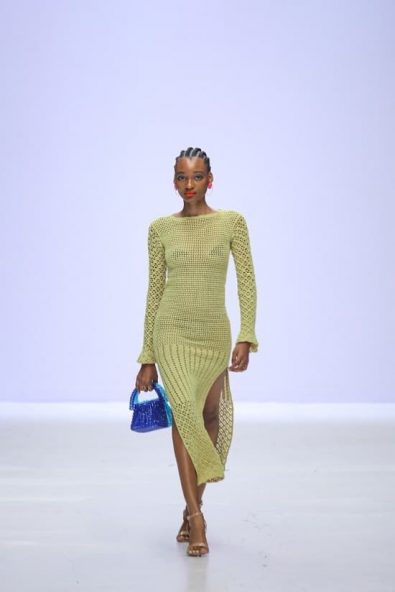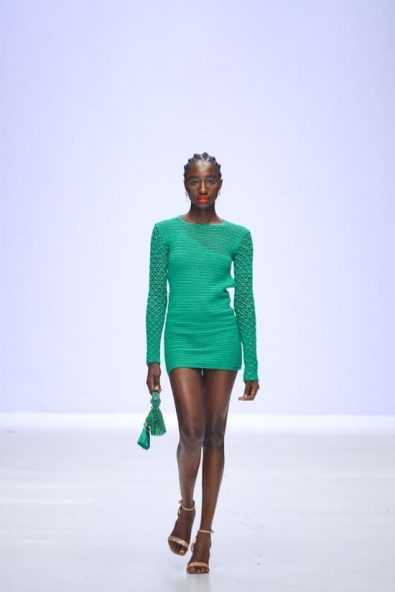 Gëto — Lagos Fashion Week 2022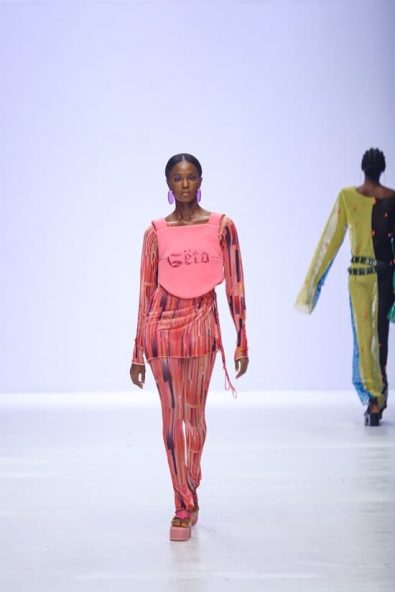 Gëto
Already showcased at Paris Fashion Week back in October, the Lagos-based fashion brand returned to give the people of Lagos a show of their new collection. The outcome was colorful, with a wide range of loose garments, skin-revealing pieces, oversized coats, and lastly a larger-than-life handbag.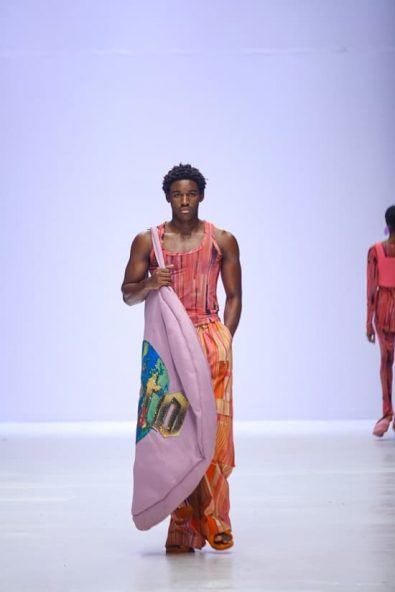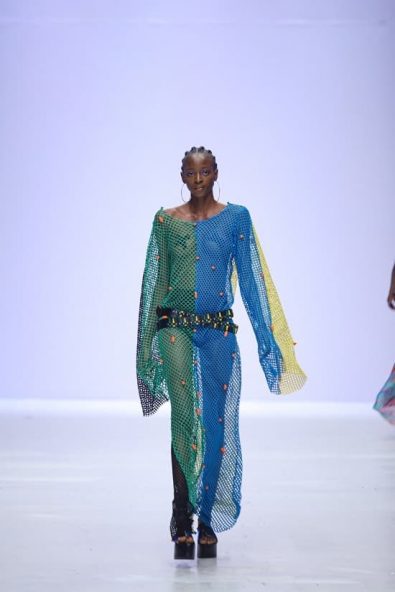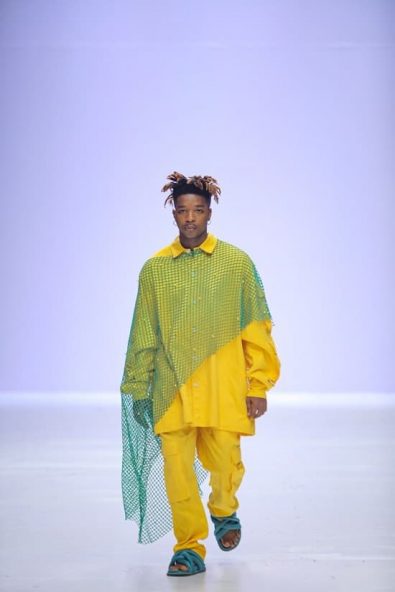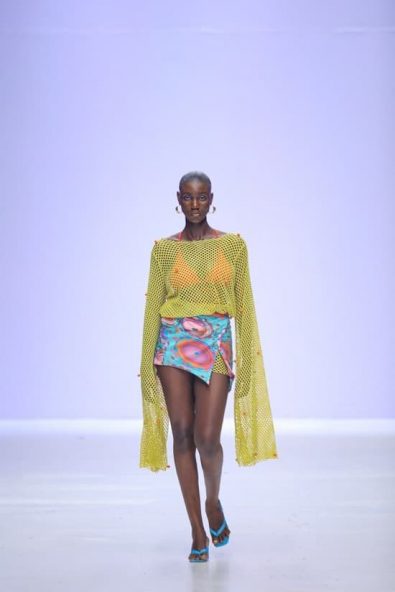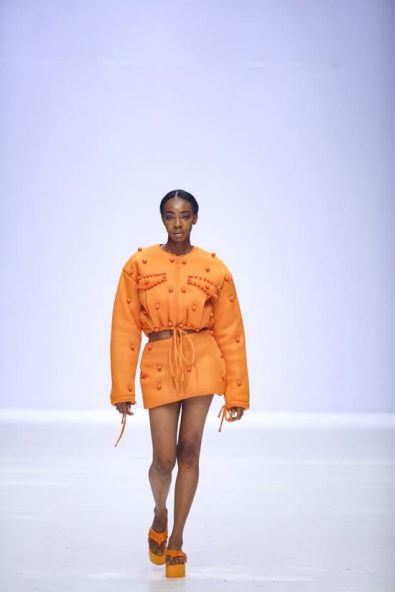 SVL Design — Lagos Fashion Week 2022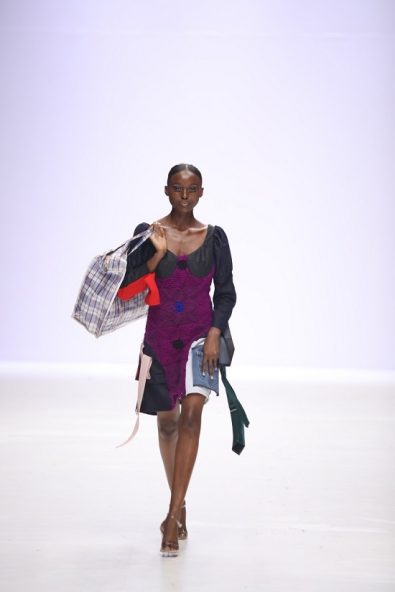 SVL Design
The 2022 Green Access Finalist, SVL Design opened the runway show for Day 3 with their 2023 Spring/Summer Collection. Looks from the collection consisted of reworked jeans and headstock fabrics. Items like a plastic bucket and the popular plastic bag- (Ghana Must Go) were seen on the runway.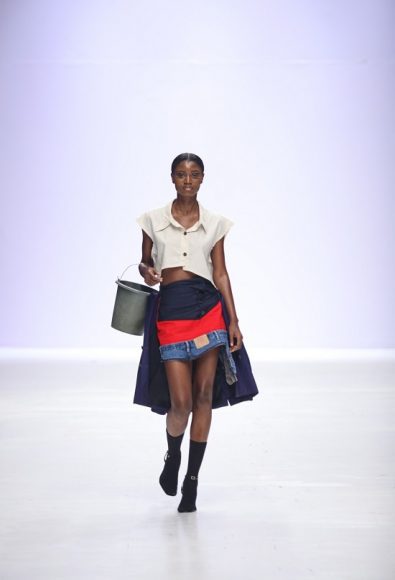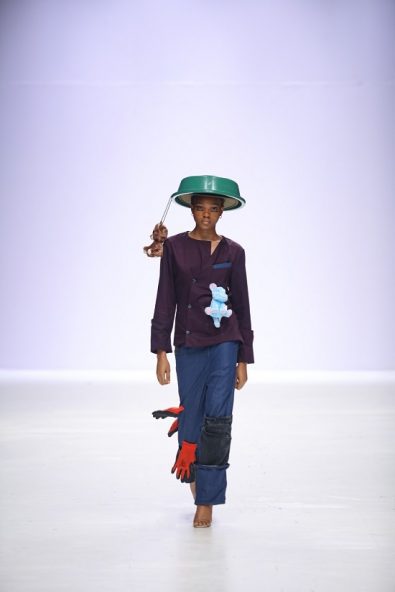 Kadiju — Lagos Fashion Week 2022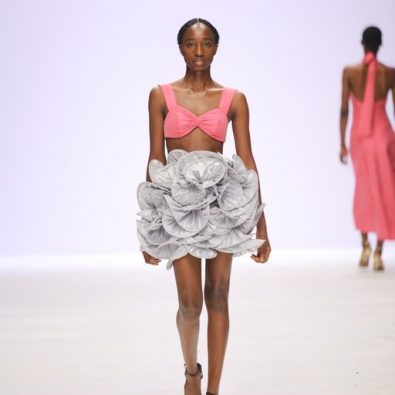 Kadiju
Opening Day 2 Runway on-site show was Kadiju, debuting its first-ever menswear line. The brand's Spring/Summer 2023 collection was beautifully crafted with bright hues and well-constructed silhouettes.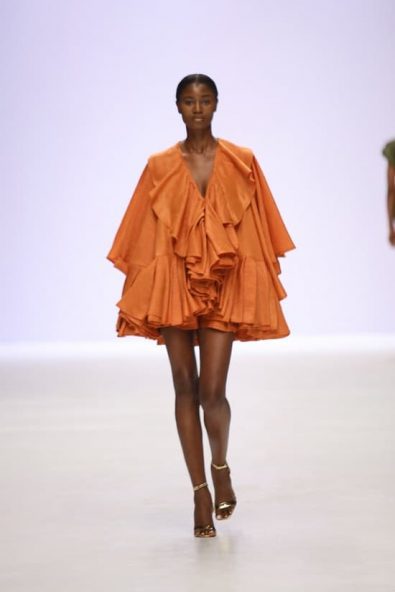 Kadiju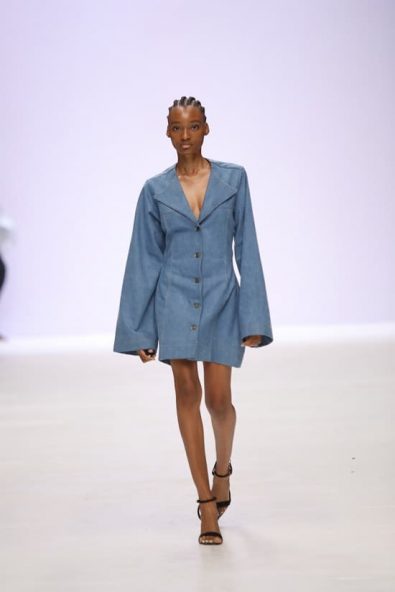 Kadiju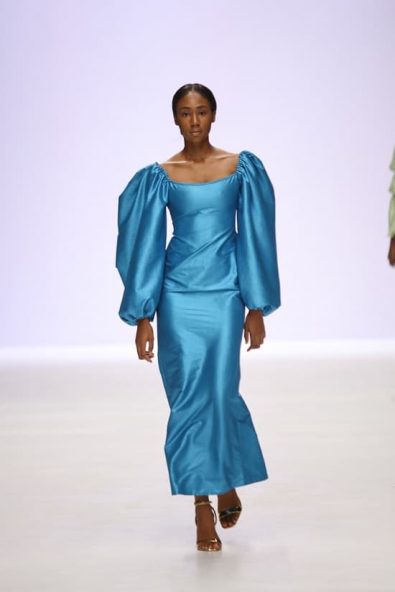 Kadiju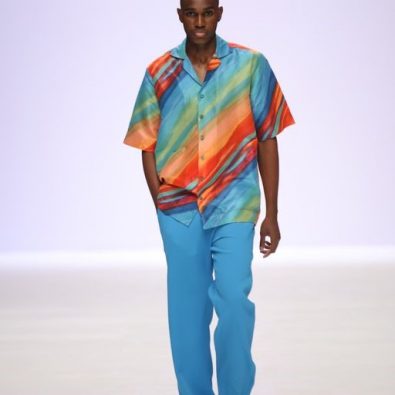 Kadiju
DESIRÉE IYAMA — Lagos Fashion Week 2022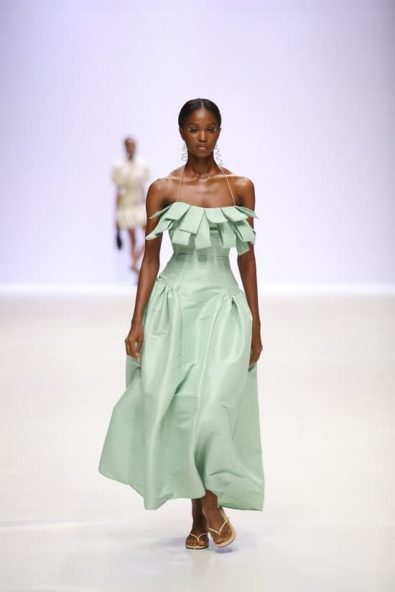 In the creative eye of Desiree Iyama, fashion is a vital tool of everyday style. For the label's Spring-Summer 2023 collection showcased during the Lagos Fashion Week, there was no shortage of wardrobe essentials — from gowns, party dresses, blazers, mini skirts, and accessories that would definitely put you in the eyes of onlookers.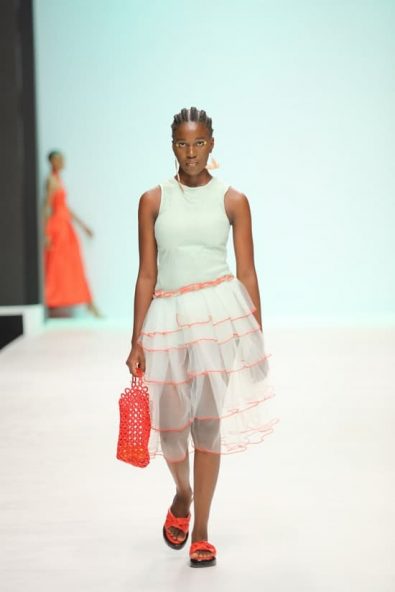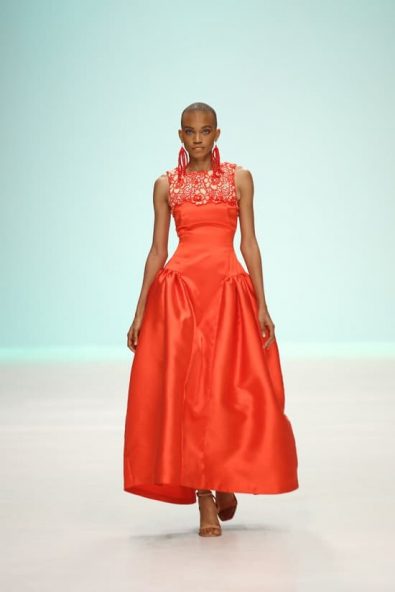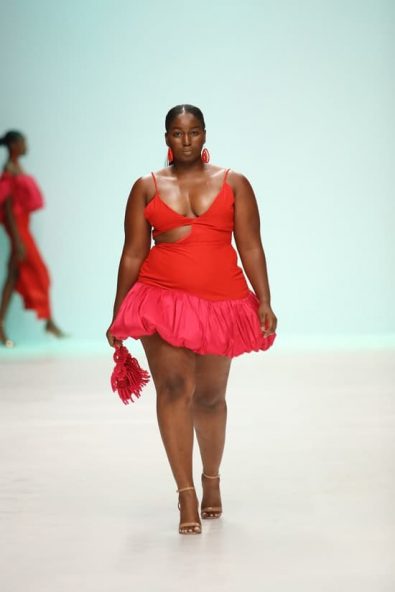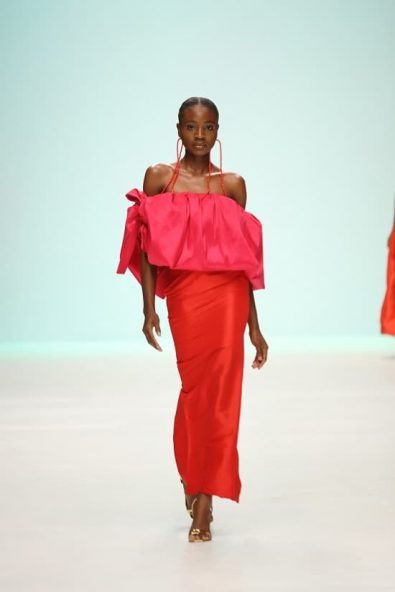 FIA — Lagos Fashion Week 2022
Eccentricity and modernity describe the pieces you'd see at FIA. And with its Spring-Summer collection, it goes to show that the Lagos-based label has mastered the art of fabric manipulation with a collection that stirs up impulsive emotions, especially among Gen Zs and Millenials.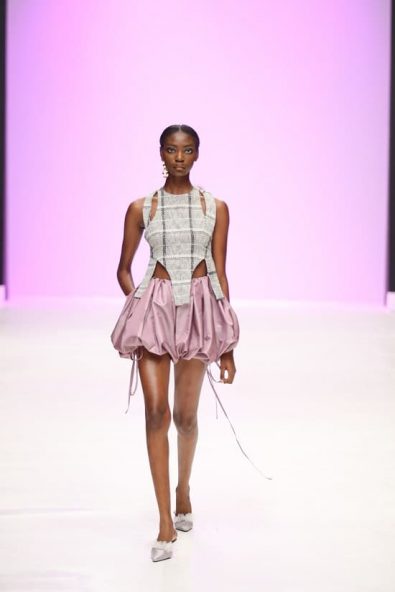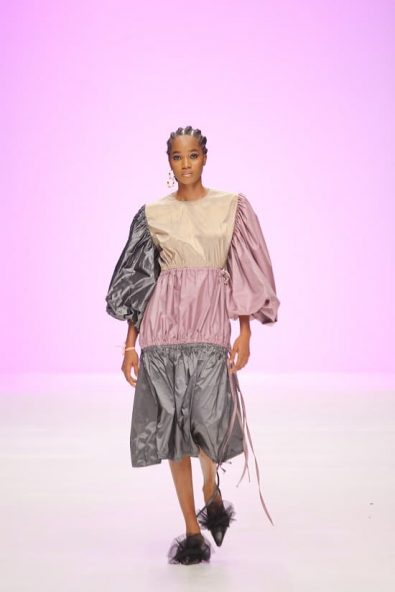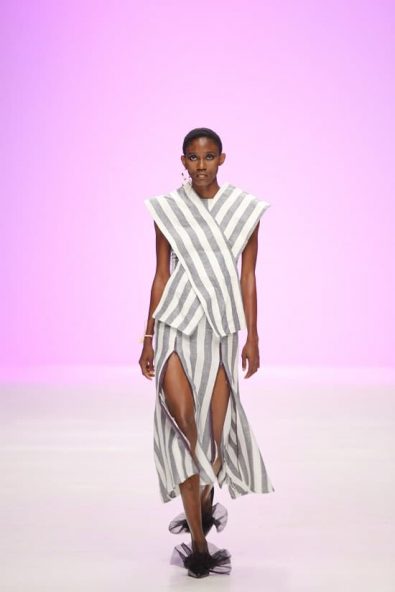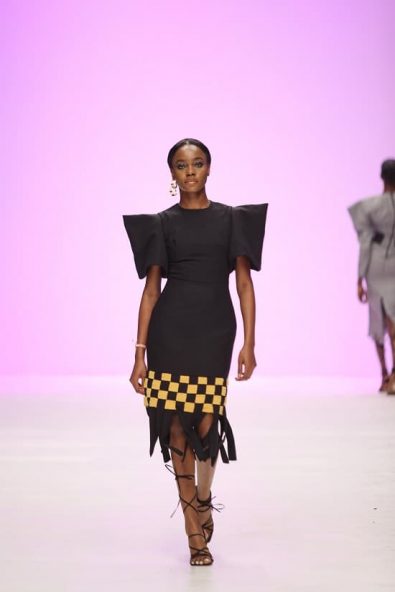 Cute Saint — Lagos Fashion Week 2022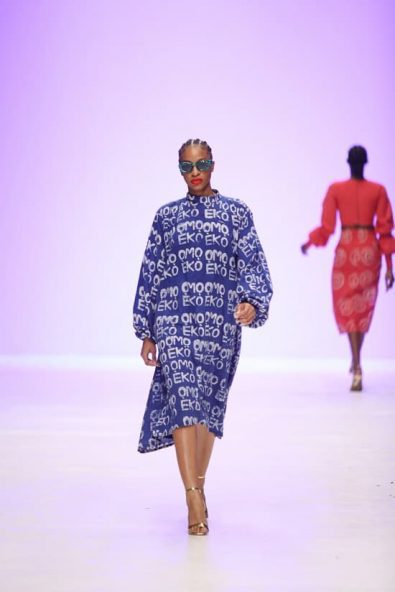 Cute Saint
Having a fashion brand is all about standing out and evoking a powerful statement and Cute Saint's new Spring/Summer collection didn't fall short. Titled Omo Eko, the brand's latest offering was highly inspired by the city of Lagos. The show opened dramatically with an Eyo masquerade. The Eyo Festival is a popular festival held annually in Lagos.
What followed next was the brand's signature adire fabrics stretching out onto silhouettes on the runway. The collection invoked a soft, breezy, and playful feeling. Pieces were complimented with purses, bucket hats, and sunglasses.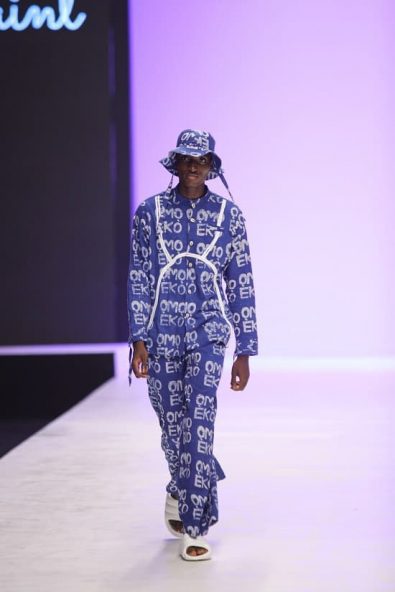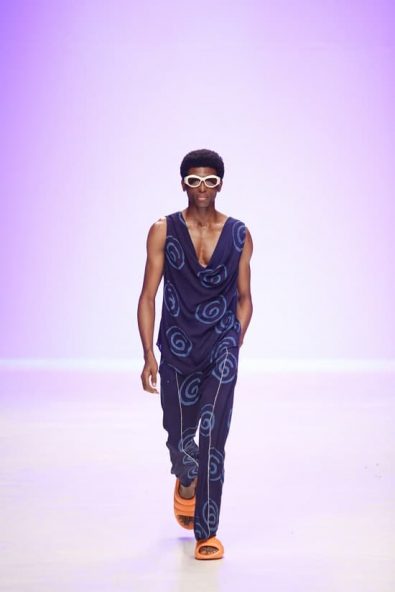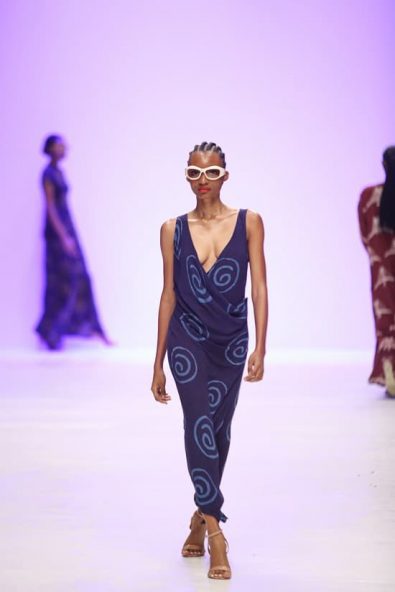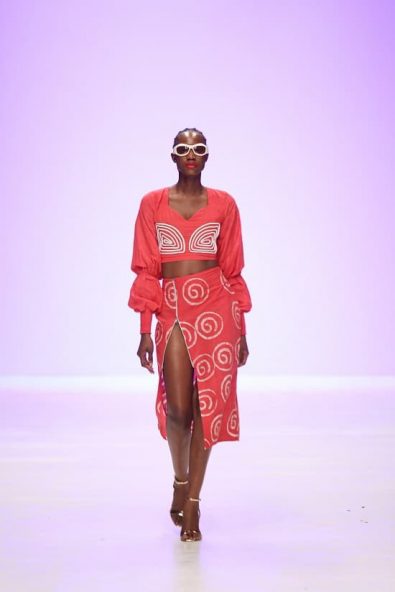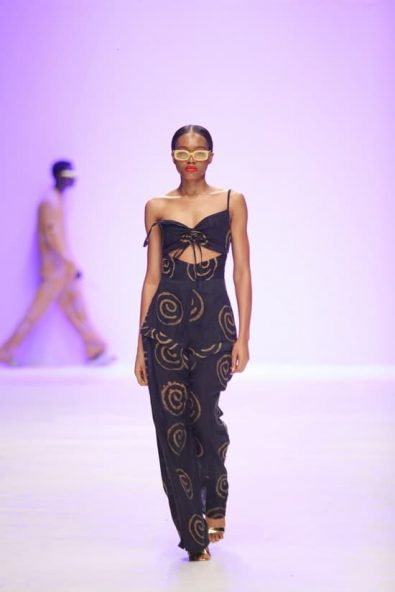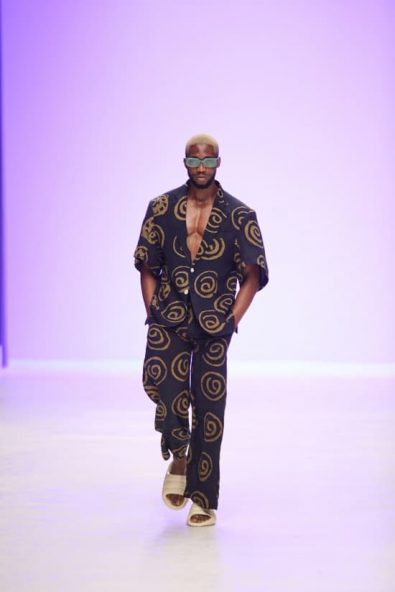 Gozel Green — Lagos Fashion Week 2022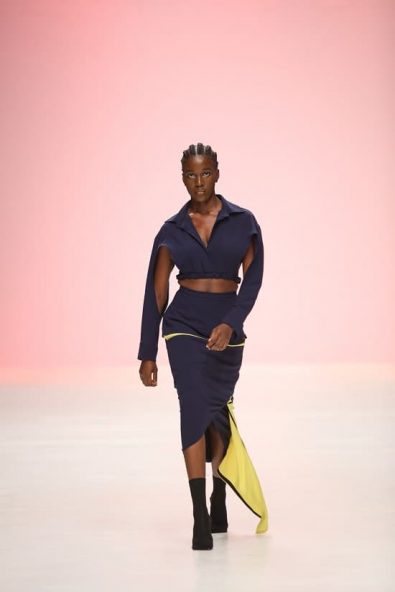 Gozel Green
For Gozel Green, the fashion brand returned this season with its strong signature look of asymmetrical cuts and color blocking. The new collection is titled Disco At No.3 and saw models rocking unison pointed heels.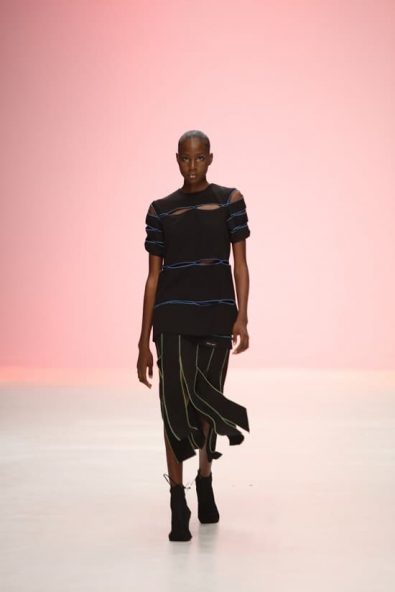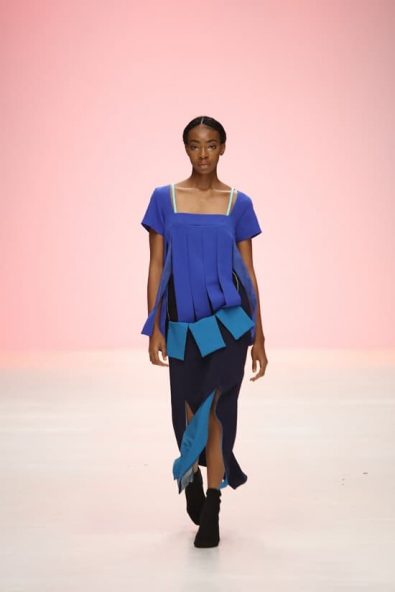 Fruche — Lagos Fashion Week 2022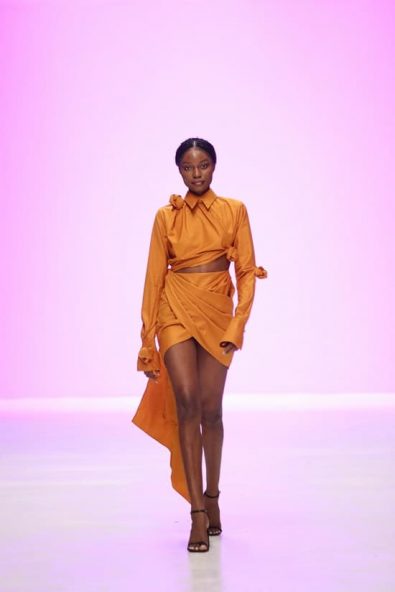 Fruche
With its techniques based on experimental tailoring, Fruche is a Nigerian brand that has been creating pieces that break through the norms of traditional fashion. At Fruche, it was an obvious unrestrained creativity demonstrated through avant-garde designs, unexpected cuts, and statement-making collars. The creative director Frank Aghuno, however, seized the opportunity to dedicate the new collection to his late father who passed away last year.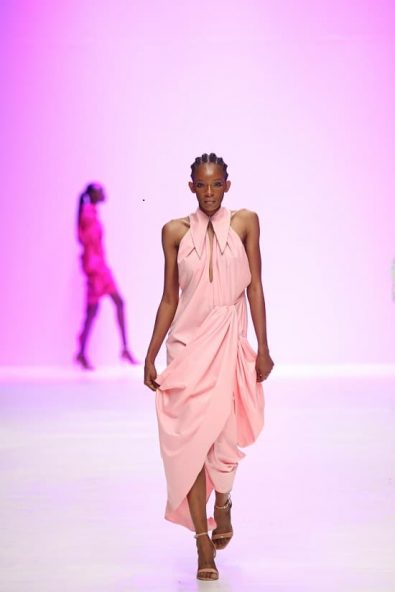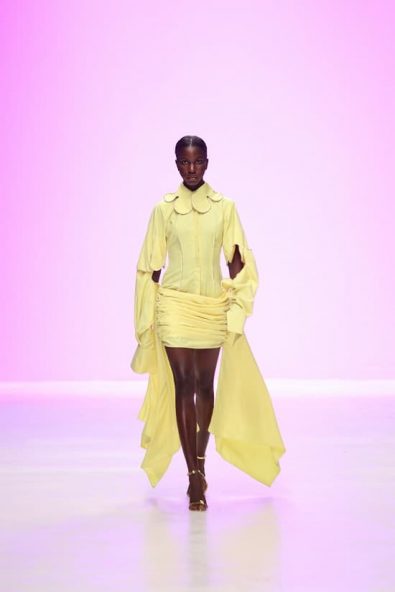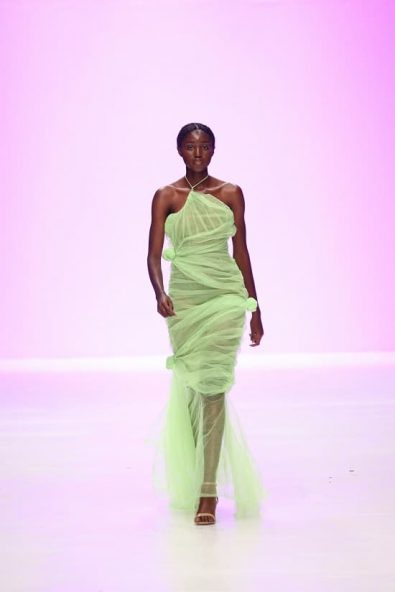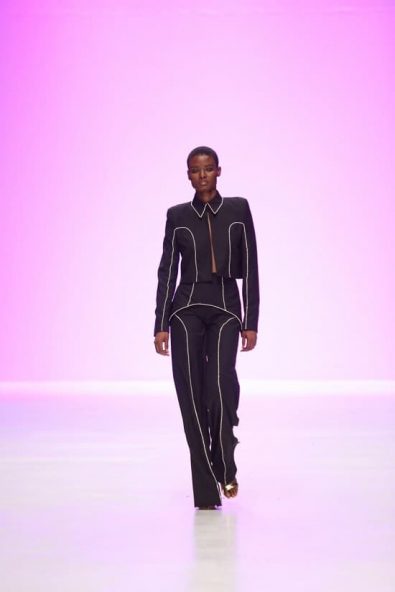 Simone & Elise — Lagos Fashion Week 2022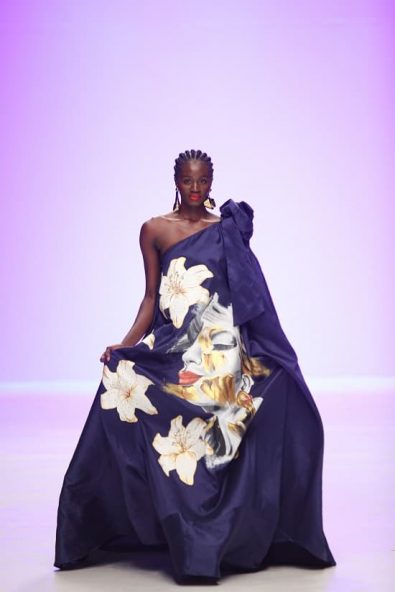 Simone & Elise
Simone and Elise is a womenswear ready-to-wear brand and for their collection at Lagos Fashion Week, we saw colorful, striking floral prints and floor-length garments on the runway. These pieces can be worn off the runway by everyday young African women.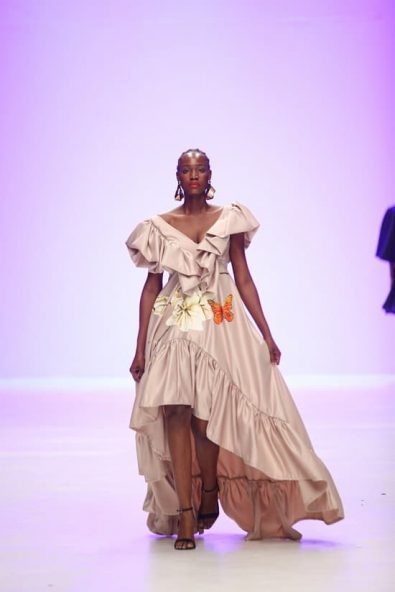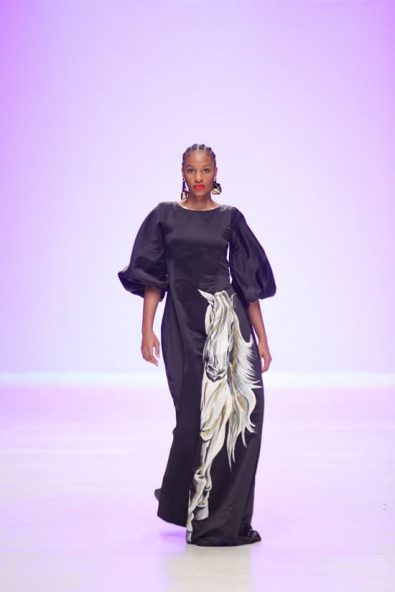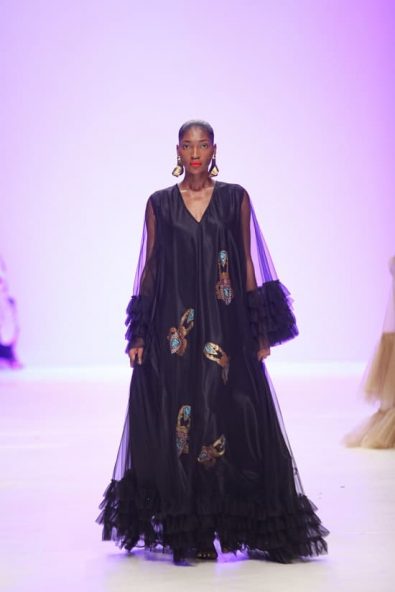 JZO — Lagos Fashion Week 2022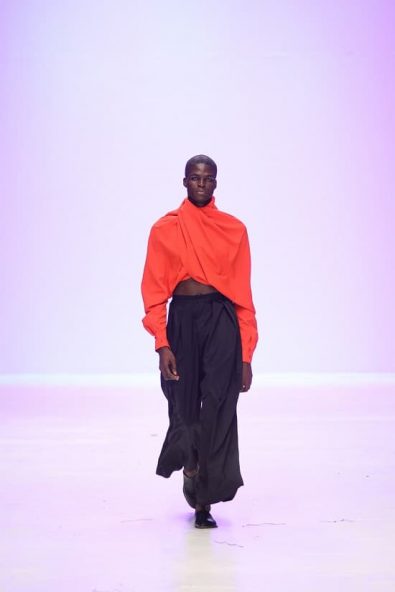 JZO
JZO closed Day 2 of Lagos Fashion Week with its 2023 Spring/Summer menswear collection. And what did we see? An array of structured shirts, cut-outs, corset-inspired pants, drapes, and floor-length pieces. The collection was worthy of the closing title.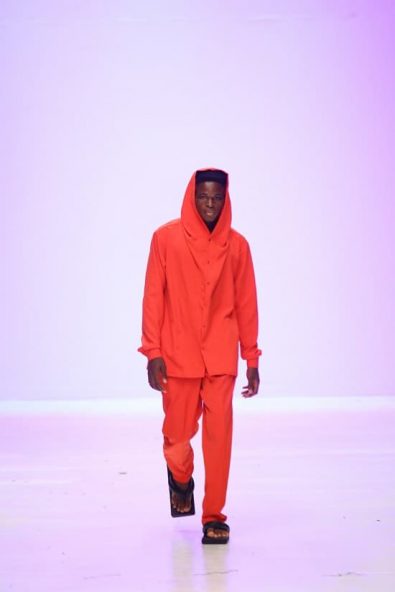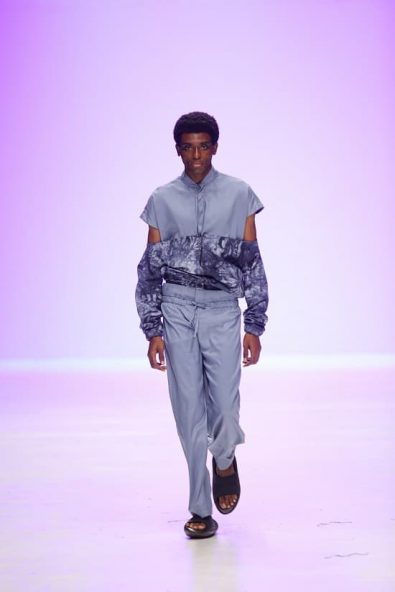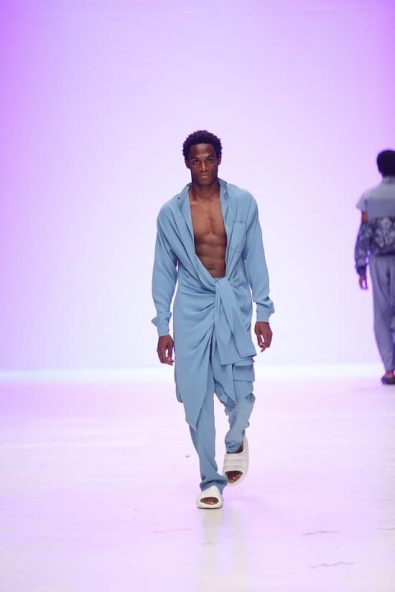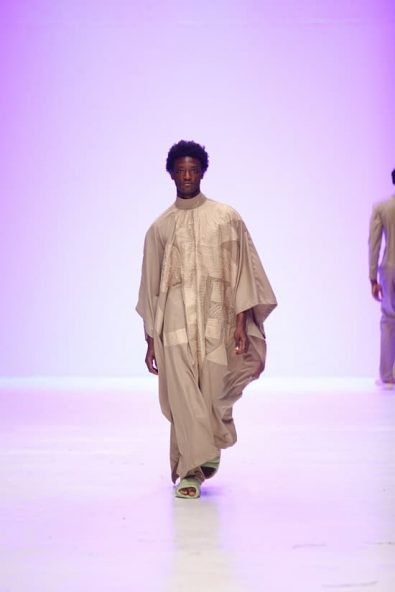 Algueye Dakar — Lagos Fashion Week 2022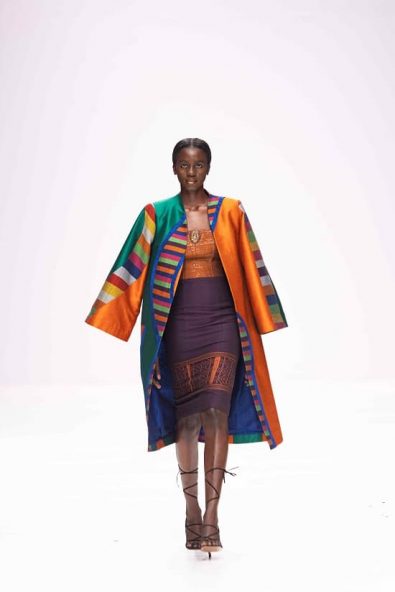 Algueye Dakar
Straight from the beautiful city of Dakar, Senegal, Algueye Dakar brought colors into Lagos Fashion Week, showcasing a unique collection of vibrant pieces ranging from jackets to dresses with puffy sleeves, and sleeveless silhouettes.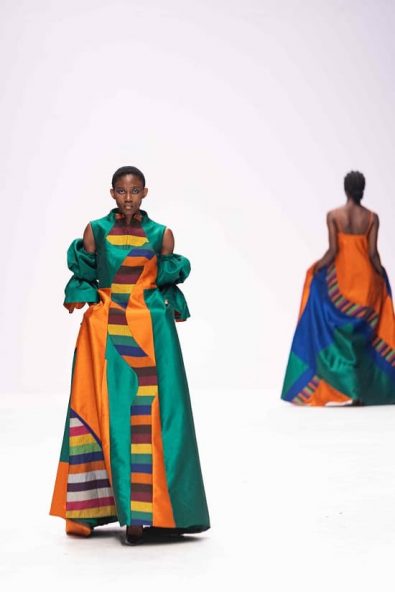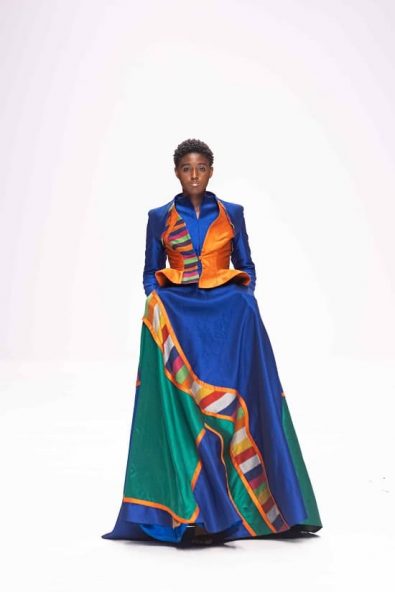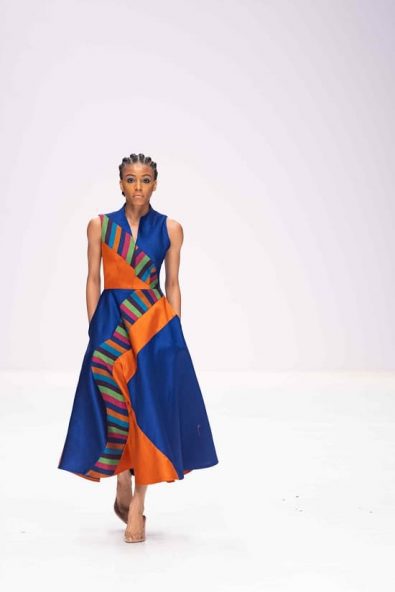 TJWHO — Lagos Fashion Week 2022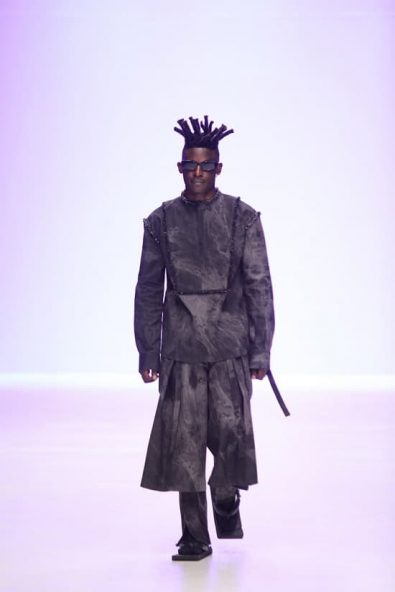 TJWHO
Having created pieces worn by stars like Burna Boy and Ladipoe, we didn't expect less from TJWHO. The Nigerian menswear label showcased its latest offering — a collection that blew fashion enthusiasts away. There were unthinkable pants, dresses, and jackets with extraordinary detailing.