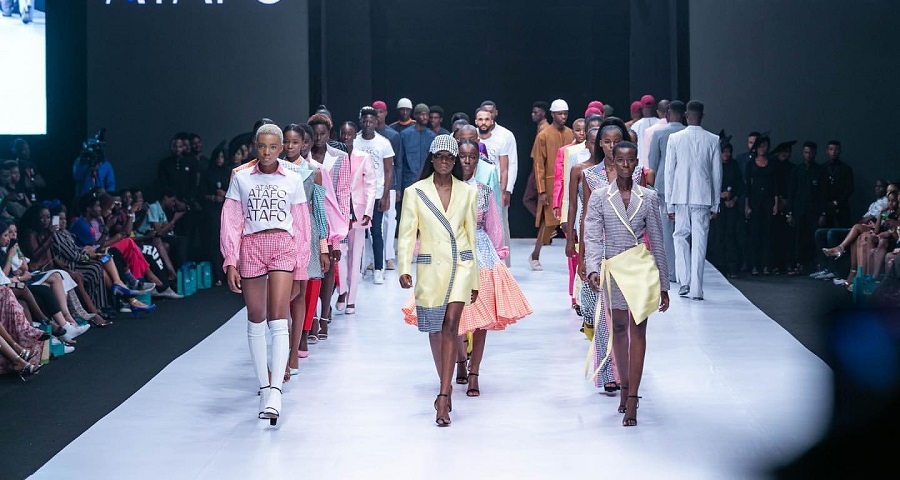 Lagos Fashion Week is officially back and the organizers of the event have released the schedule for the 2021 runway shows. Starting from 27th through 31st October, the 4-day fashion fiesta will be jam-packed with fascinating activities such as Fashion Business discussion, Digital & Offsite shows, and physical runway shows.
While models, designers, photographers are all ready to create an imaginative experience for the showgoers, this season the calendar is a bit different. Compared to the previous years, Lagos Fashion Week will be going digital for the first time with feature presentations from the community of rising talents. What does this mean, exactly? On the Day 2 of the event, rising and emerging brands will have the opportunity to show off their designs virtually, which will premiere across all the LagosFW digital platforms to maximize their exposure. 
Day 3, 4, & 5 of the event will happen live at Balmoral, Federal Palace Hotel, Victoria Island, Lagos, with physical runway shows kicking off as GËTO World makes its runway debut on Friday 29th Oct with the opening show while Emmy Kasbit closes on 30th October.
In the midst of it all, there are lots of newcomers that will showcase, and we can see on the list Nigeria's synthetic hair extensions brand, Lush Hair. As per usual, we can expect a stellar list of cult following and celebrity loved brands — from Andrea Iyamah, Sisiano, Ugo Monye, Bridget Awosika, Style Temple, Ejiro Amos Tafiri, Banke Kuku, Orange Culture, Atafo, and more others.
As for the timings, the shows starts at 3pm till 9pm and with the obstinate pandemic, everyone must adhere to the Covid-19 policy by always wearing the face
"In accordance with Lagos State Covid 19 Restrictions, Lagos Fashion Week 2021 will adhere to the following measures to protect our community and prevent the spread of the coronavirus during Lagos Fashion Week events," Lagos Fashion Week said in a statement on its official website. "Lagos Fashion Week encourages all team members, designers, technical partners, and guests to complete the Covid Vaccination program offered by the Nigerian Government and the NPHCDA. The selection of participating models and interns will be prioritized to those fully vaccinated by October 15th."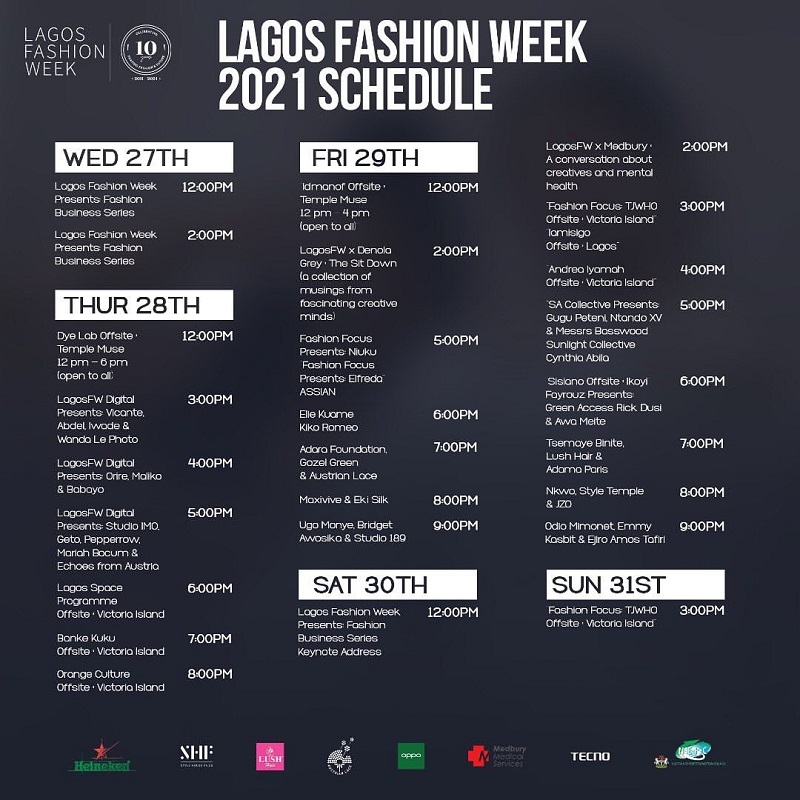 However, to access both the digital and physical shows, you need to visit Lagosfashionweek.ng/tickets for registration.