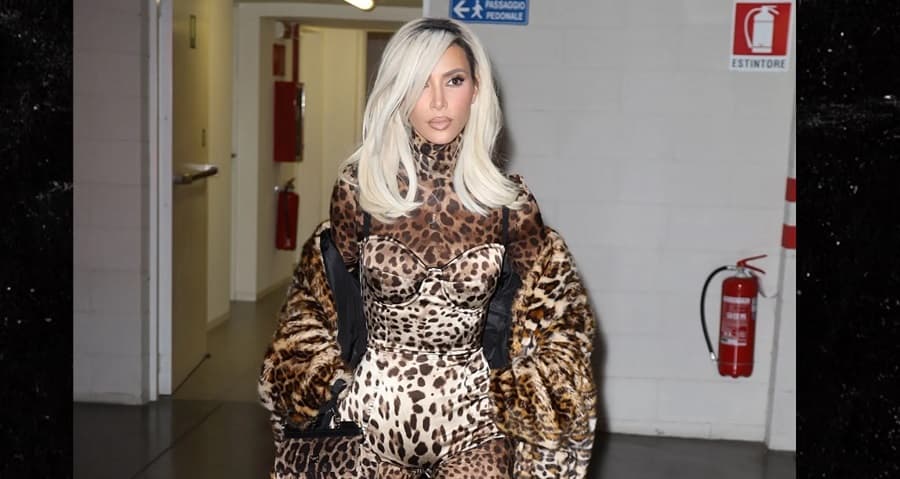 Kim Kardashian has been living up to her style icon status at the Milan fashion week Spring 2023. From collaborating with Dolce & Gabbana on a '90s-inspired spring 2023 collection to showcasing her cool side of fashion on the streets of Milan. 
The reality star was photographed while stepping out over the weekend, for which she went wild in an outfit covered entirely in leopard print. The mother-of-four opted for a shiny leopard-print bustier complete with a mesh turtleneck catsuit, thigh-high stiletto boots, and a heavy and dramatic matching coat. Her accessories were also on par as the 41-year-old carried her small animal print handbag like a street style star.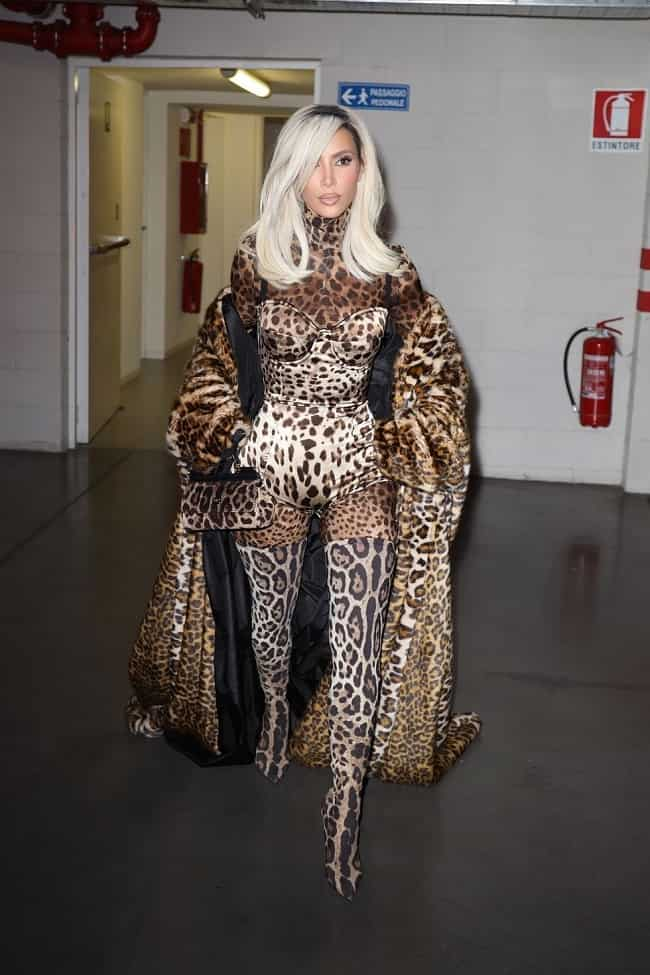 Photo: BACKGRID
As for the hair, Kim revisited her beloved platinum blonde, which she is currently and fully embracing. "Yes, the blonde hair. The roots are definitely growing out. I'm going to dye it soon. I'm going to stay blonde for a minute," she said during an episode Live with Kelly and Ryan that aired on Sept. 26. 
Over the weekend, Dolce & Gabbana presented its Spring 2023 runway show in partnership with the reality star for a collection called "Ciao, Kim." Inspired by her favorite Dolce & Gabbana archival looks that Kim herself hand-selected, the curated collection featured a mix of old Holywood glamour with '90s elements that scream Kim Kardashian. 
She took to Instagram to express her excitement while describing the opportunity to work with Domenico and Stefano as "empowering & inspiring." 
"I always loved the beautiful, quintessential 90s & 2000's looks… feminine, bold, they always made me feel so confident & glamorous," Kim wrote on the social media platform. "You could feel the moment you put on a D & G dress that the intention when it was designed & made was to celebrate the woman wearing it. To make her feel like she could do anything, be anything, own her confidence & her beauty. This has always been empowering & inspiring to me & has been at the heart of my own brands.
The video presentation of D&G Spring 2023 Collection at Milan Fashion Week. 
View this post on Instagram
Ciao, Kim!