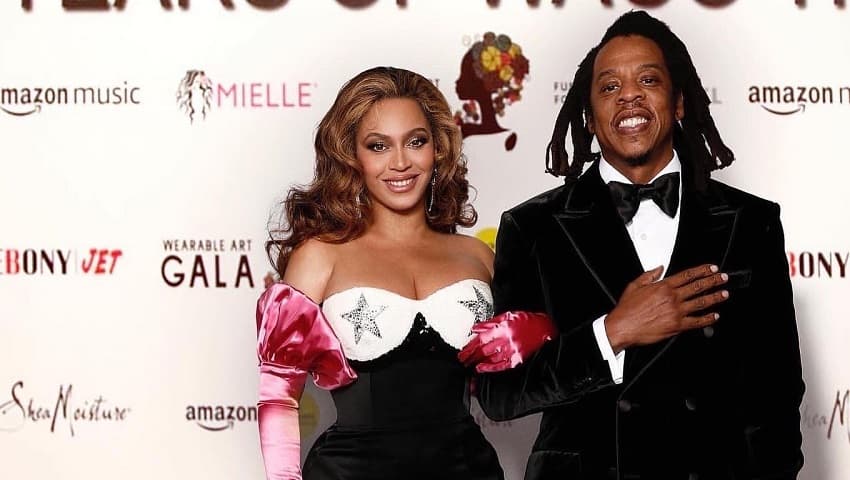 Beyonce and her husband Jay Z made a rare red carpet appearance last night, attending the 2022 Wearable Art Gala at the WACO Theater Center in Los Angeles. 
Bey had one of the biggest fashion moments of the night, wearing a glamorous strapless black dress with a feather-trimmed floor-sweeping gown. She wore the beautiful Gucci number that featured white bra cups with pink gloves, chandelier diamond earrings by Lorraine Schwartz, as well as her signature brown curls. Jay Z opted to wear a black velvet blazer, with a white shirt and coordinated bow tie, and let Beyonce take the sartorial spotlight. 
View this post on Instagram
The event celebrates 5 years of WACO (Where Art Can Occur), a platform founded by Richard Lawson and Tina Lawson that raises resources to support artistic and youth mentorship programs.
Beyonce has however, been serving the best fashion moments in recent weeks and it appears the "Cuff It" is just getting started. While attending the exclusive Fashion Week afterparty in Paris which she hosted to celebrate her latest studio album Renaissance,  the mother-of-three was pictured in a head-to-toe silver look. She also donned a monochrome maroon look, finished with a leather jacket.
View this post on Instagram
When she turned 40 last year, the singer revealed in an interview that she has hit a point in life which she wants to enjoy her life, and it's no doubt Queen Bey is already living it. "I want to explore aspects of myself I haven't had time to discover and to enjoy my husband [Jay-Z] and my children," says the star. "I want to travel without working. I want this next decade to be about celebration, joy, and giving and receiving love. I want to give all the love I have to the people who love me back."