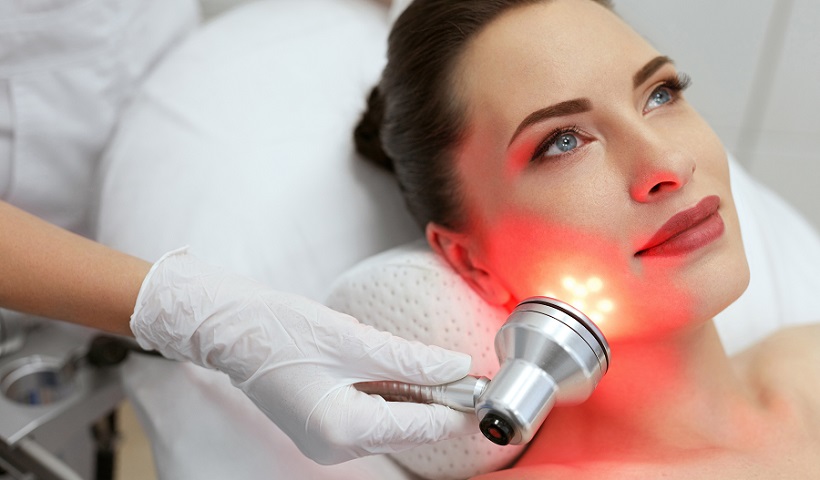 Say goodbye to the days of relying only on traditional skincare products such as moisturizers and sunscreen to keep your skin looking young and healthy. 
As the skincare industry continues to grow and technology advances, skincare experts and scientists are developing a variety of treatments options that can target any flaws or blemishes on your face and body— from sagging skin to precancerous growth. 
This article shares some of the new treatments to maintain a youthful skin glow. 
LED Light Therapy
LED light therapy is a perfect noninvasive solution for youthful skin all year round. Suitable for all skin conditions and types, this skincare treatment uses varying wavelengths of light that trigger the natural healing process of the skin. It wakes up your cells to deeply regenerate and restore your skin health. With several treatment sessions, you'll be able to see results in reducing signs of aging, redness, wrinkles, and pigmentation and in healing acne and wounds. 
In general, people have two options—get several sessions of professional LED light therapy at a dermatologist's office or buy a LED light device for home use. Receiving light therapy from a professional is more promising compared to at-home devices. The devices they use in-office are more potent. Also, since it's applied by a professional, you can expect maximum effectiveness. 
Plus, most dermatologists use or combine LED light therapy with other treatment options to enhance its effectiveness or customize it according to your skin type and the skin issue you want to address. 
For instance, Omnilux light therapy Melbourne branch spa features customized LED treatment designed to be as unique as your skin type. 
Personal LED light devices aren't as potent as in-office, but it doesn't mean they're ineffective. The nice thing about having a personal device is that you can use them at your convenience and provide supportive treatment for an in-office session. 
Fractional CO2 Laser
Fractional CO2 is a non-surgical cosmetic treatment that can significantly enhance your skin texture and tone and reduce the common signs of aging. 
The traditional non-fractional lasers, which were once a popular option for treating fine lines, sun damage, and acne scars, do provide quick results but can be quite harsh on the skin, painful, and increase the risk of hyperpigmentation.
With fractional CO2 lasers, you get quicker results but with reduced pain and longer-lasting improvements, completely replacing traditional non-fractional lasers. 
This skin treatment uses laser microbeams to create controllable residual thermal damage. This forces your skin to heal itself naturally, breaking down the damaged cells and producing fresh collagen cells. This promotes a further reduction in wrinkles and provides a more youthful and tightened skin. 
Fractional CO2 is suitable for those who want to minimize pigmentation, acne scarring and fine lines, and the like. However, it's not suitable for those with extensive acne breakouts, infections on the face, or any open wounds.  
Radiofrequency Skin Tightening
Radiofrequency skin tightening, or RF treatment, is a non-invasive procedure for tightening loose skin. A professional uses a wand that releases radio waves over your body which heats the layer of your skin. This stimulates the micro-inflammatory process and increases collagen production. Because of the heat, RF therapy reportedly feels like a hot stone bath. 
RF treatment can tighten skin all over your body, even your sagging butt, or rejuvenate the vagina and tighten the delicate skin of the genitals. That said, you'll need a series of 6 – 12 treatments for optimal results. 
This skin treatment is considered safe when performed by an expert. If incorrectly performed, there's a high chance you'll get burned or suffer side effects including tingling, redness, and temporary swelling. Take note that the form of RF radiation used during this skin procedure is similar to the type of radiation produced by common devices such as smartphones.
Platelet-Rich Plasma Therapy
Platelet-rich plasma or PRP therapy is traditionally used for treating injured tendons. To understand this skin therapy, let's understand the basics. 
Plasma is the liquid part of your blood which is composed of proteins and water. It acts as a medium for white and red blood cells and platelets to circulate in the body. Meanwhile, platelets are blood cells responsible for blood clotting and other growth healing functions. And platelet-rich plasma is simply blood that has more platelets than normal. 
To create this plasma, an expert will take your blood sample and place it into a centrifuge to separate the components of your blood and create a platelet-concentrated sample. This platelet-enriched plasma is then injected directly into the affected skin area to stimulate and speed up the healing process, reducing pain and promoting collagen production. 
This is also the reason why PRP is called 'vampire facial.' Although more commonly used to heal injuries and damage to ligaments, muscles, tendons, and joints, PRP is sometimes used as an anti-aging treatment. 
Take Away
As you can see, you have a variety of cosmetic skin treatment options out there—from reducing melasma and acne scars to treating wrinkles and sagging skin. That said, make sure to consult your dermatologist before trying any treatment mentioned above. This is to ensure that you choose a procedure that's safe and effective for your particular skin type and the issue you want to address.