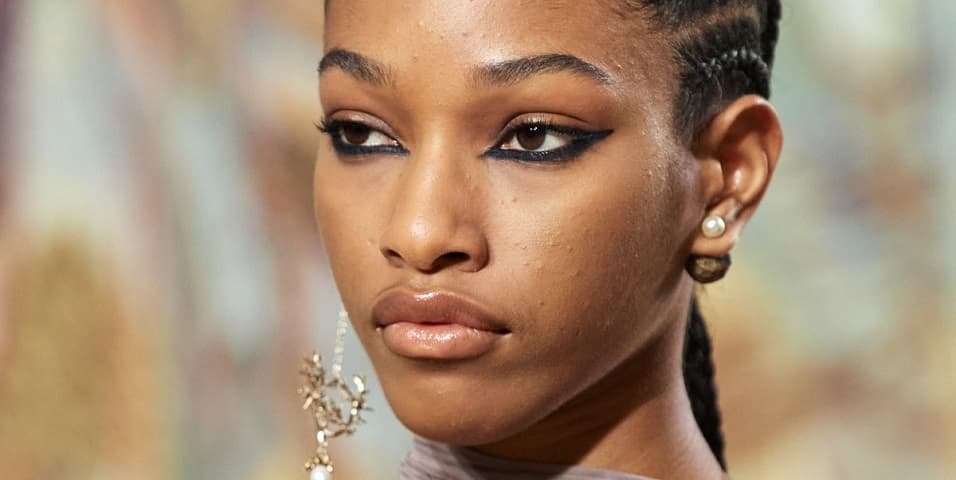 They say TikTok is constantly showering us with new tips and tricks to try, and I completely agree. From the most basic makeup hacks to the most dramatic, the TikTok platform expands makeup knowledge and brings to the fore, classic trends you won't be able to ignore. It's no surprise that the reverse cat eye makeup look has exploded in popularity in recent months. The winged (cat) eye look dates back to ancient Egypt as inspired by the kohl liner and has since evolved with more dramatic and bold experimentations.
At some point, for every makeup fanatic, this look was the makeup highlight. In the past months, the cat-eye look seems to be stepping off its traditional line unto the reverse with more and more icons setting the pace towards sustaining the trend. To be fair and honest, we all enjoy a quick change of makeup and interestingly, a subtle accentuation or a reversed highlight, as in this case, can produce visible and sleek results.
What is the Reverse Cat-eye makeup look?
That's exactly what you were thinking! Reverse, meaning the polar opposite. The reverse cat-eye is an inverted version of the classic winged cat-eye. Instead of applying eyeliner only to your upper lash line, you now apply it to your lower lash line to create that dramatic yet sleek winged look. While the classic cat-eye focuses on creating flicks on the upper lid, the reverse cat eye starts beneath the lower lash line. Essentially, the reverse cat-eye look is a quick flip that creates a dramatically lifted look that's smoky, dramatic, and fierce.
Why is the Reverse Cat Eye look popping up on makeup trends in recent times?
As usual, pop-ups can happen at any time especially when it has to do with fashion and makeup. The classic cat-eye reversed look surely isn't new but got recently renewed with such sweet popularity by the LA-based makeup influencer and artist, @paintedbyspencer who highlighted some cool, less problematic ways of mastering the reverse makeup art.  
https://www.tiktok.com/@paintedbyspencer/video/6984660946174102789
To affirm the level of this look's viral simplicity and straightforwardness, Missy Elliot once said, "put that (wing) down, flip it and reverse it."
Before this TikTok trend with hashtag #reversecateye, celebrities like Rihanna, Kristen Stewart, and Kim Kardashian had rocked this flipped cat-eye look back in 2016. The current rave is just a confirmation that this version of the winged eye trend is one we can always count on at least for a very long time to come.
How to Create the Reverse Cat Eye Makeup Look
First things first, you'll need an eyeliner pencil, a blending brush, and a flat brush to get started on creating this look and it matters not whether you're a professional or just a makeup newbie.
Draw your wing towards the inner corners of your eyes, where the tear ducts are, using the eyeliner on your waterline. For a more dramatic look, you can decide to extend the wing just beyond the inner crease.

Using a blending brush, lightly buff out the edges to achieve a smoky eye. To intensify the look, you add more eyeliner or eyeshadow, as the case may be.

Finish the look by giving your reverse cat-eye some definition. Take the flat brush and straighten your wings to achieve this. Liquid eyeliner can be used to further define the lines.

Apply a couple of coats of mascara to complete the look.
If you're not sure what to do with the classic cat eye makeup now that a new version has resurfaced and is dominating the charts, I recommend keeping both on hand because there's an occasion for both looks. Although the reverse cat eye has more drama, we really don't mind because it gives the eyes a trendy and bold definition that can't be overlooked, which is important when making obvious fashion statements. Fortunately, the reverse cat-eye look uniquely flatters all eye shapes.