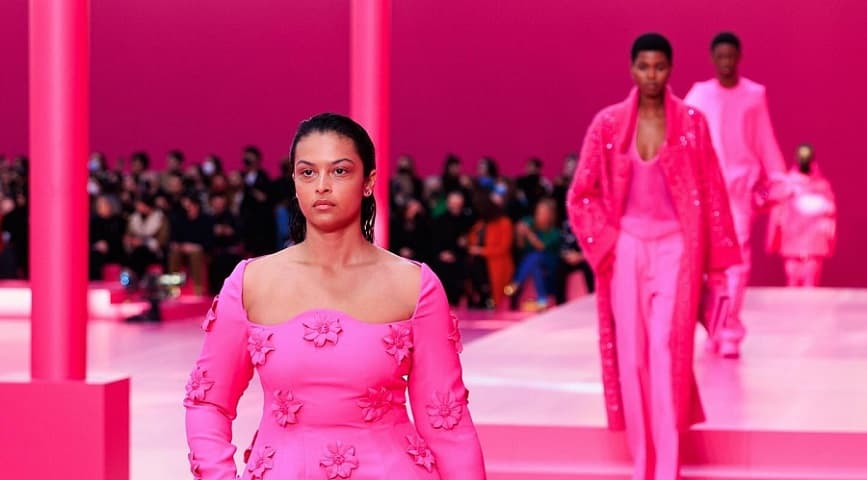 It's not quite surprising that Barbie is serving as a global fashion inspiration in 2022 as she is still a style icon. Barbiecore appears to be a trend that is already gaining traction in the world of fashion, and we are all for more of the style's confident yet playful appeal.  This epic comeback of one of Y2K's fashion highlights — Barbie, sizzles hot by the day.
"Barbicore" alludes to Barbie's signature look, which includes hot pink, vivid neons, feminine makeup, and sparkling accessories. The Barbicore trend seems to have arrived just in time to perfectly match Margot Robbie's role of "Barbie" in a live-action film scheduled for release in 2023.
Wearing a blue and white striped halter top with a coordinating bracelet and headband, Maggie was spotted beaming from the front seat of her hot pink convertible and she seemed to be a real-life Barbie. While we can't just wait to watch the actress in the upcoming comedy, we feel, at the same time that the whole Barbiecore fashion rave all over the place seriously stirs our eagerness.
View this post on Instagram
One of the most popular purveyors of this trend is Hailey Bieber. She was pictured posing in a pink Versace corseted mini dress on Instagram. The little dress has a sculptural aesthetic thanks to its boned bodice and swirly neckline. Bieber accessorized her look with many string necklaces and chunky white booties. 
View this post on Instagram
The Barbie aesthetic has also been embraced by a significant number of famous celebs such as Kim Kardashian, Gigi Hadid, and Khloe Kardashian. With the internet's fervent "fans of Barbie" campaigns, the trend seems to be going wild on a large scale. I mean, on TikTok, the #Barbiecore hashtag has received over 7.7 million views as a result of numerous creators exhibiting their personal style by dressing up or decorating their spaces in a Barbiecore manner.
Keep your wipes handy because thinking "down-the-lane" about the famous doll will make you feel a little nostalgic. However, looking at the concept very deeply, it was never intended for "Barbie" to be just another kind of toy. The real purpose of creating it, according to Ruth Handler, a co-founder of Mattel, was to provide young girls with a doll that served as both a role model and a plaything. 
Barbie was the inspiration children needed to experiment with clothing outside of their play pretend world, and she played the unusual function of being a girlchild's first exposure to the "grown-up" style. Barbie has also consistently served as a muse for designers around the world in some capacity.
If you're wondering how Barbiecore may be incorporated into your wardrobe, it's actually fairly easy — just think pink!
"Pink has always been Barbie's favorite color — she even has her own signature 'Barbie Pink' Pantone shade, PMS 219," according to Barbie SVP, Kim Culmone to Instyle. "For Barbie, pink represents limitless potential and is a symbol of female empowerment, which is such a perfect fit with the brand's purpose."
Here are some additional suggestions for embracing the barbie-girlie aesthetic:
Climb on your towering platform heels, put on some long gloves, flaunt a miniskirt, accessorize with retro sunglasses, and, of course, or perhaps not, do all of the aforementioned while donning some splashes of that garish, brilliant pink color.
Uhmm, just like Barbie's evolution over the years from the initial stereotypes — skinny, white, blonde, and virtually always dressed in her characteristic shade of pink, you've got choices. So, If pink isn't your preferred color, you are still on the right track if you stick to hues that are more "you," — imagine your own style or explore other statement-making shades like orange and green, or even yellow, if you aren't faint-hearted.