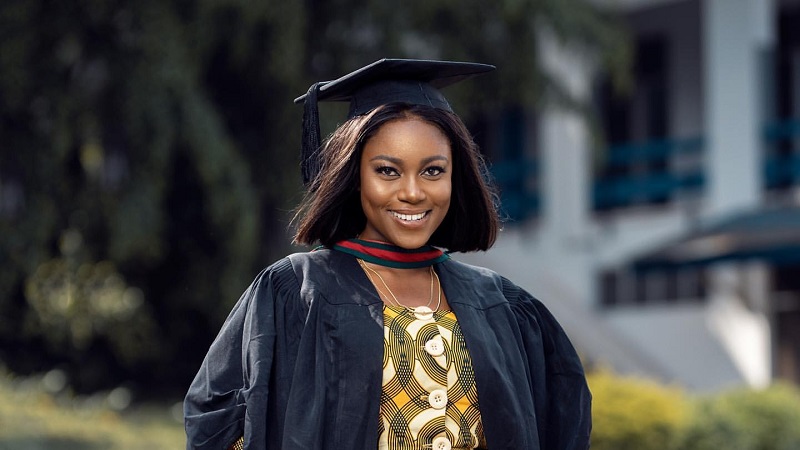 There's no other day for a special gift better than your birthday. 
Yvonne Nelson just turned 35, and she celebrated the special occasion, gifting herself a Master's Degree in International Relations and Diplomacy. 
Taking to Instagram on Thursday, the actress shared a photo and video from the day, but it seems the main focus was not necessarily the party, but rather her Master's Degree graduation. 
Looking pretty in a little African prints dress layered under her graduation gown and hat, Nelson posed for the camera with a beaming smile. She looks excited knowing that she's finally done with her second degree studies. "HAPPY BIRTHDAY to me this month is special. I gifted myself a MASTERS DEGREE in International Relations and Diplomacy ‍ #birthday #graduation #graduate," the Ghanaian screen favorite captioned the photo.
View this post on Instagram
And that's not all, the mother-of-one also shared a video documenting the graduation, from how she dressed up for the event and explaining why she decided to go back to school after her impressive achievements in the entertainment industry.
"…its my BIRTHDAY ," Nelson captioned the video. "Young ones, Construct a well defined path for yourself. Stay true to the process and mute every distraction."
View this post on Instagram
This follows the recent picture of herself in a class room that was posted to her Instagram three weeks ago. Sharing the photo, Nelson narrated in the caption how a fan was surprised to see her back in school. "In 2018…..," Nelson wrote. "Was climbing up the stairs to my class when someone stopped me, yyyyvoooone??? She shouted, she was obviously surprised to see me there, i answered about 10 questions in a minute, this particular question i cant forget….WHY ARE YOU BACK IN SCHOOL? She asked……………to be continued."
View this post on Instagram
Back in 2019, she also talked about the challenges she faced during her time in high school and her university days — because, of course, it wasn't an easy feat for Miss Nelson to balance the studies with her acting career.
"I would go on stage every Saturday in SHS." Nelson told JoyFm during an interview. "I had to rewrite some papers. I was so into entertainment that I didn't take my schooling serious. You can easily mess up and not make it to university. I regret not paying attention to my books so when I see kids of today, I tell them to pay attention to their books."
She continued, "I was in Central University. And it wasn't easy mixing sets with classes. I had to make up my mind. It was tough. Nigerian producers were giving me juicy offers and I was torn between accepting the offers or not. But, I had to focus on school and I was so happy to have graduated, I didn't want to defer."
Congratulations to the Ghanaian beauty!