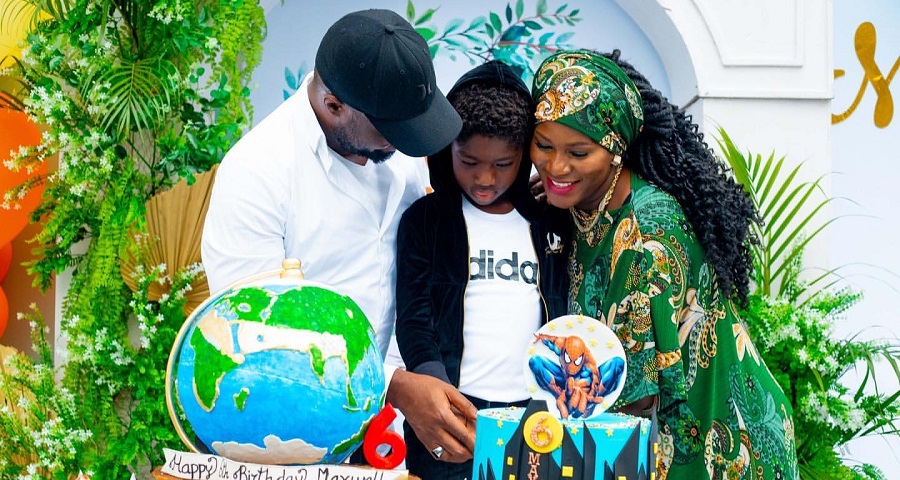 Nollywood star, Stephanie Linus and husband Linus Idahosa threw their son Maxwell quite the bash he deserves for his 6th birthday.
The pair's son turned 6 on the 23rd of October, and the parent marked the occasion with an elaborate adventure-themed party that included inflatable swimming pool games, slides, colorful balloons, and lots of educational and fun activities. Stephanie shared a slew of photos from the fete, showcasing how the youngster enjoyed his time with friends.
"It's almost a week #Oct 23rd today and we haven't gotten over the blast from last weekend!
Maxwell turned 6 years- old💃🏾💃🏾💃🏾," the actress captioned a post on Instagram while sharing the clips. She also revealed the plan was to have kids play the day away.
"He has so much fun with his friends on a party-themed 'adventure and extreme fun'. The plan the was to get them physically exhausted and it went down just like we wanted. Cheers to Maxwell as he turns 6🎂🎂🎂🎂. Happy birthday our bundle of Joy. You deserve everything💋💋💋."
View this post on Instagram
Linus also shared a photo of the cake-cutting moment where she wore a kaftan with a matching head tie. The husband spotted a casual look: white shirt and pants trousers atop with a baseball cap. The birthday boy looked excited in a black hoodie layered over a white Addidas t-shirt. 
"To the sweetest boy in the world! Just know that you're truly loved. Happy Birthday Maxxy💋❤️🎂🥂," she captioned the snap.
View this post on Instagram
Happy birthday, Maxwell!