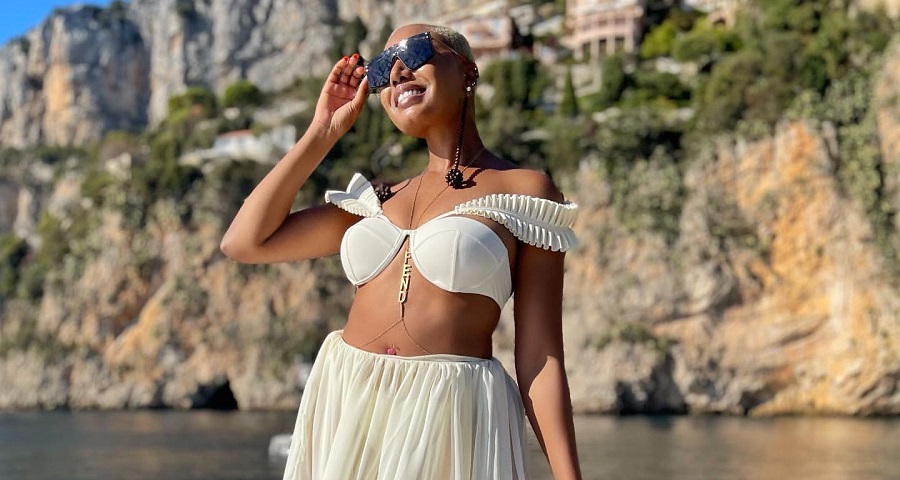 Nancy Isime is holidaying in style. The actress and TV host is currently in Monaco, a vacation that comes with a yacht cruise, champagne, ass shaking, and most importantly, fashion. Since yesterday, the 29-year-old has been flooding our 'Gram feed with videos and photos from her holiday, living us in a complete FOMO.
In typical Isime fashion, she picked a chic outfit for her beach outing. She traded the usual 2-piece bikini on a yacht for a leaf motif bikini top and breezy, super wide-leg pants as she explored the blue Monte Carlo sea. 
Isime's sexy bra top comes from Andrea Iyamah, a favorite Nigerian resort wear brand loved by celebrities. The leaf motif design was inspired by the beauty of the garden of Eden. As per the brand, 'Eve was to cover her nudity with leaves which led to the iconic A.I. leaf motif.' The media girl completed her look with a gold necklace with Fendi merchant, along with long dangling earrings that hovered over her chest as she danced. 
"What's Monaco without shaking your ass on a yatch🤷🏼‍♀️😅," she captioned a post on Instagram while sharing photos and videos of her adventure.
View this post on Instagram
In another post where she took the steering of the yacht, Nancy wrote: "Attention Passengers!🧑‍✈️ Captain Nancy has now taken over the yacht!"
View this post on Instagram
Swipe right to see Nancy Isime living her best life in the European country.