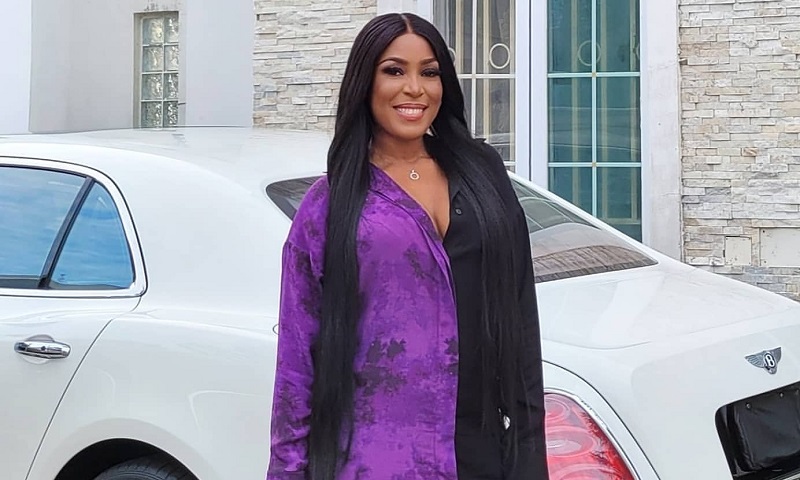 Linda Ikeji has shown off the latest addition to her ever-growing designer bag collection.
This afternoon, the celebrity blogger who is no stranger to spending big for herself — showed off her walk-in bag closet filled with covetable designer items on Instagram. And guess what? She added three handbags — one Chanel bag and two Hermès Birkin bags at the same time. While posing inside the wardrobe wearing a black dress, the mother-of-one casually and stylishly flaunted the new hand candies as she thanked her personal shopper in the caption for getting her the coveted accessory.
Linda also expressed her excitement for the latest addition, saying the number of her Birkin bag has now grown to five — courtesy of her sister. 
"Three new beauties…🤩🤩 thanks @mdbluxury for finding these bags for me. Loveeee it! 🤩," Ikeji wrote in the caption. "Laura casually said you need more #Hermes bags…and I'm on number 5.. 😂😂. She shouldn't have started this! Lol.. But seriously, to see something, want it and be able to buy it for yourself without waiting on anyone is an incredible and empowering place to be. I wish financial independence on every girl reading this today. #Hermesbirkin#Chanel#selflove#blessedgirl#stillspoilingmyself 😋😍."
View this post on Instagram
The 40-years-old also gave fans a close-up look of one of the bags, alongside her bling-on diamond watch, and bangle, in a photo taken inside her Bentley car. "Giving myself the life of my dreams…plus more! 🤩🤩,' the post reads. 
View this post on Instagram
Aside from her latest obsession, Linda has a massive wardrobe dedicated to only designer bags. A close look would show you an impressive lineup of names such as Fendi, Louis Vuitton, Chloé, Gucci, Dolce & Gabbana, and the list goes on and on. They are colorful, lust-worthy and we're loving how she's showing them off — but we think Linda really needs extra storage because the new collection doesn't even have space on the shelf.
However, this isn't the first time the ace blogger is demonstrating her indulgence when it comes to luxury items. In September last year when she turned 40, Linda decided to spoil herself and she did it big, showering herself with 85 pairs of designer shoes 35 handbags (read here). Yes, this isn't a drill, you heard us right — 85 pairs of designer shoes and 35 handbags. Now, this is what we call insane!