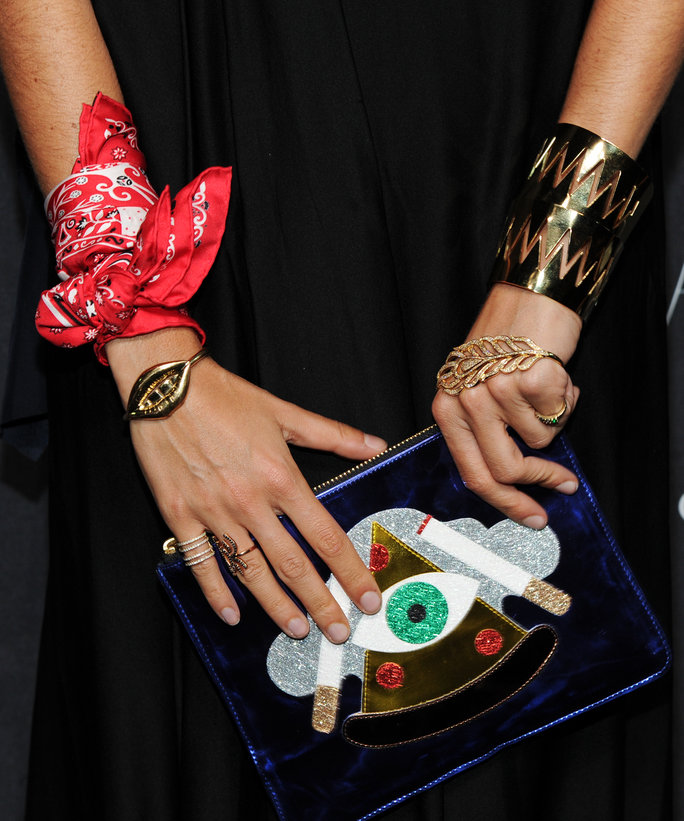 Bandana has far back been considered as one of the accessories that can add the perfect touch to any outfit. And from time to time we get too lucky to come in contact with street style stars that spend most of their time in trend-setting. If you think Bandana is something you can throw on and walk out the door just like that, you have to rethink again.
There's a lot more ways the neckerchief can be worn, that's why we were so happy to see Instyle's 3 chic new ways to wear Bandana. Scroll down to continue reading and let us know your favorite style in the comments:
The above picture shows how you can wear your bandana like a bracelet. Simply wrap it around and tie it in a knot at the front. You'll give a whole new meaning to the term arm party.
Just like you can wear a bandana as a bracelet, you can also wear it as a necklace, as demonstrated in the chic street style look above. If you do wish to wear it around your neck, it's even more important that you fold it well. For an I-woke-up-like-this look, tie it loosely and let the ends hang at the center of your chest like a pendant.
If you're a real risk-taker, fold the handkerchief with crisp creases and tie it around your ankle for an unexpected look. [via Instyle]
[ws-facebook-likebox url="https://www.facebook.com/FashionPoliceNg?ref=hl" width="500″ height="500″ show_faces="true" show_Header="true" show_border="false"]