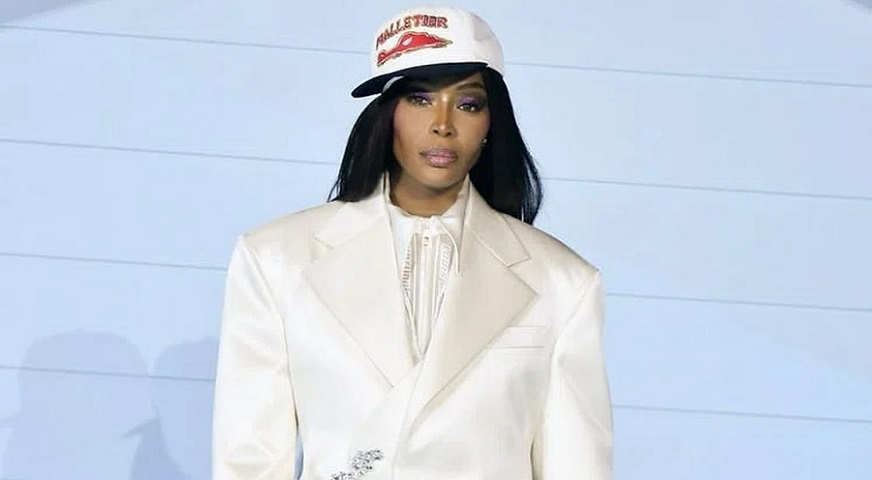 If Naomi Campbell were to choose between stomping the catwalk on Thursday, January 20, it wouldn't be the men's show. But for the love of her dear friend, a fashion force, and Louise Vuitton's menswear artistic director Virgil Abloh, who passed away in November 2021, she was compelled to hit the runway as a tribute to the late American fashion designer.
Naturally, Campbell was among the close friends who arrived in Paris to witness the designer's final menswear collection for Louis Vuitton on Thursday. The show was held at the Carreau du Temple with names like Tyler the Creator, Venus Williams, and Abloh's wife Shannon in attendance, all gathered for the occasion to "celebrate his legacy," per the fashion house.
But however, the British supermodel who seated front row did not just watch and according to her, she 'felt compelled to walk' and was later seen majestically closing the show wearing a head-to-toe white men's wear: a long jacket, matching pants, sneakers, and a baseball cap. She took to Instagram last night to share the runway video, as she paid a tribute to Virgil Abloh and André Leon Talley, the former Vogue editor-in-chief who passed away on January 18.  
"WALKING FOR MY ANGELS VIRGIL & ANDRE . 🕊🤍🤍🕊, she captioned the post. "@louisvuitton mens Autumn Winter 22 @virgilabloh last collection . 🖤 Was an honor and a privilege to be apart of this beautiful show; paying tribute to Virgil. This is just the beginning of what's to unfold of your vision & legacy 🕊🕊🤍🕊🕊🙏🏾 #virgilabloh #icon."
View this post on Instagram
In her second post, Campbell narrated that her first intention was not to walk but to "pay my respects and honor Virgil by watching his last show." She thanked the casting director Pier Giorgi, Delphine Arnault, the director and executive vice president of Louis Vuitton, and Michael Burke, the CEO of LV for allowing "me to Salute my brother one last time."
View this post on Instagram
Looking at her physical appearance, it wasn't really an exciting moment for the supermodel who apparently looked pale as she strutted her stuff. But however it is, the legacy of Virgil Abloh will never be replaced.
Abloh's death came as a shock last year after the designer reportedly battling a "rare, aggressive" form of cancer, cardiac angiosarcoma, for the past two years. The sad news was announced via his Instagram.
"He chose to endure his battle privately since his diagnosis in 2019, undergoing numerous challenging treatments, all while helming several significant institutions that span fashion, art, and culture," the statement reads. "Through it all, his work ethic, infinite curiosity, and optimism never wavered. Virgil was driven by his dedication to his craft and to his mission to open doors for others and create pathways for greater equality in art and design. He often said, 'Everything I do is for the 17-year-old version of myself,' believing deeply in the power of art to inspire future generations."
View this post on Instagram