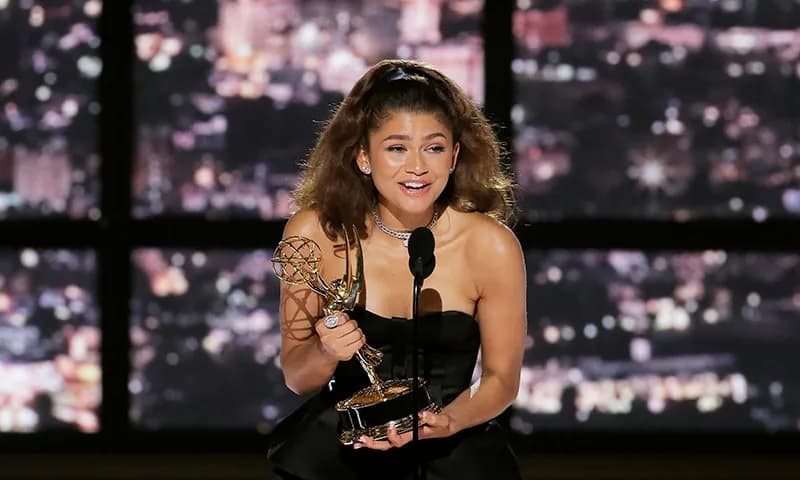 The Emmys have returned to honor the very best in television during the second half of the award season.
Many celebrities, including Zendaya Coleman, have already garnered accolades for their work on some of the most well-known shows we've been binge-watching over the past year, such as 'Euphoria'. Similar to the Oscars, the Emmy Awards honor the best in television, including those that are streamed, and are a sign of peer recognition.
For Zendaya, it's a record-breaking season. The 26-year-old actress, whom we have come to love as a style icon and an all-time screen star has become the youngest two-time outstanding lead actress winner in Emmys history, with her second victory for Euphoria at the 2022 Emmys, making her the first Black woman to win the award for lead actress in a drama series twice.
Oh, we're not even going to skip this part — she walked the red carpet the entire time wearing a timeless black Valentino gown and some really sophisticated Bulgari jewels!
Two years prior, Zendaya had won the same prize for the same role in Euphoria. The actress previously broke the record for the youngest "Drama Actress" when she won her first Emmy in 2020 for her lead role in Euphoria.
The actress outperformed several Emmy nominees this year, including Jodie Comer and Sandra Oh of Killing Eve, Laura Linney from Ozark, Reese Witherspoon from The Morning Show, and Melanie Lynskey of Yellowjackets. As deserved, she entered the stage to receive her award with thunderous cheers and a standing ovation. Zendaya got quite teary but a star has got to do what she got to do.
In her gratitude speech to HBO, her fellow nominees, and the entire cast and crew of Euphoria, she said, "My greatest wish for Euphoria was that it could help heal people. I want you to know that anyone who has loved a Rue, or feels like they are a Rue … I'm so grateful for your stories, and I carry them with me, and I carry them with her."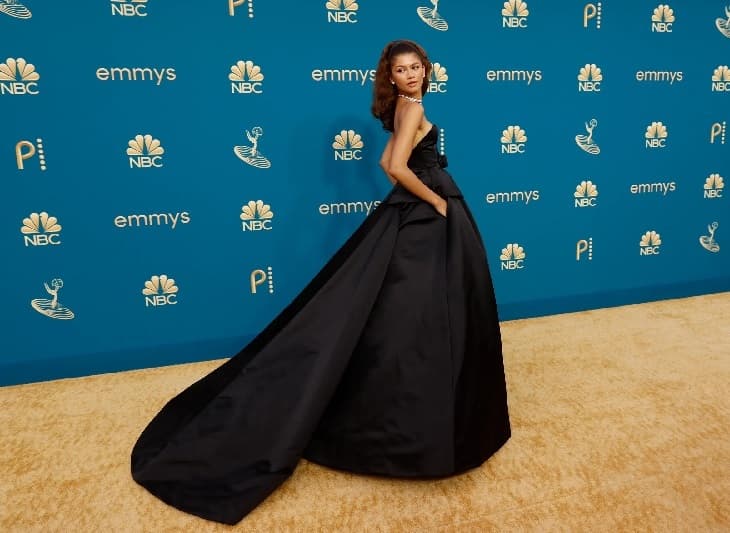 Getty Images
Euphoria is based on the Israeli television series of the same name created by Ron Leshem and Daphna Levin of HOT, follows a group of high school students in the town of East Highland, including Zendaya's 17-year-old drug addict Rue, as they navigate issues of identity, trauma, drugs, family, friendships, love, and sex.
The series, created, written, directed, and executive produced by Levinson, returned for a second season in January and received a third season renewal the following month, becoming the most popular HBO program ever, just trailing behind the epic fantasy series Game of Thrones.
For her work on the second season of Euphoria, Zendaya received four Emmy nominations: two for Outstanding Original Music and Lyrics for songs she co-wrote, one for producing, and one for Outstanding Lead Actress in a Drama Series. She was the youngest-ever winner of the Outstanding Lead Actress in a Drama Series Emmy in 2020 after the first season of Euphoria, and this year's nominations alone made her the youngest two-time nominee in the category. She is the youngest producer ever nominated, which is yet another accolade.
Zendaya was particularly locked in for these back-to-back recognitions, especially in this season, for her exceptional performance as "Rue".
Even though the eagerly anticipated third season of Euphoria hasn't started filming yet, there is some "big swings" hint in store for the program's upcoming season, which will have newfound awards recognition.