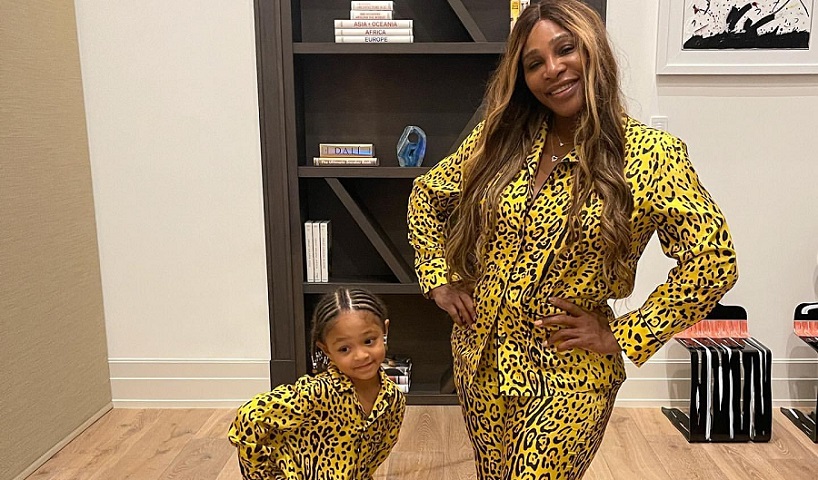 You can always rely on Serena Williams and her daughter Olympia Ohanian to always have adorable mother-daughter moments, and they have done it again in a ballerina dress.
The duo who are no stranger to twinning their looks rocked a white and pink dress then gave it the wow factor with bow headbands. Williams shared a video of herself and her 4-year-old daughter last night, where she sat behind Olympia as the youngster continued to show her dance moves in front of the camera. 
With the matching dress, they also wore braids as well as similar glasses. "I don't need to be in the camera. You got too much pizazz, girl," Williams told Olympia who turned around in excitement to have the smiling mom with her on the dancing floor. She also captioned the video: "My morning🤣."
View this post on Instagram
Serena is however her daughter's bestie. She often shares sweet moments with her daughter on social media and has even opened an Instagram account dedicated to Olympia's life, as well as her daughter's famous doll Qai Qai. According to the tennis star, Qai Qai is part of their family. She said this while revealing she was writing a book (The Adventures of Qai Q) about her daughter and the doll.
"Storytime is such an important pillar of our bedtime routine, like so many others around the world," the 40-year-old said in a statement. She added, "Qai Qai is a special member of our family and we hope The Adventures of Qai Q will give others a new way to welcome Qai Qai into their own home."
She however took to social media four weeks ago to give fans a glimpse into the new book and as per the star, it's a 'story about the power of friendship and imagination.'
"Since realizing @RealQaiQai's ability to spread joy to our own family and also millions of others around the world, we've wanted to tell her story in every way possible. We are so proud to announce Qai Qai's first book, "The Adventures of Qai Qai," a story about the power of friendship and imagination."
View this post on Instagram