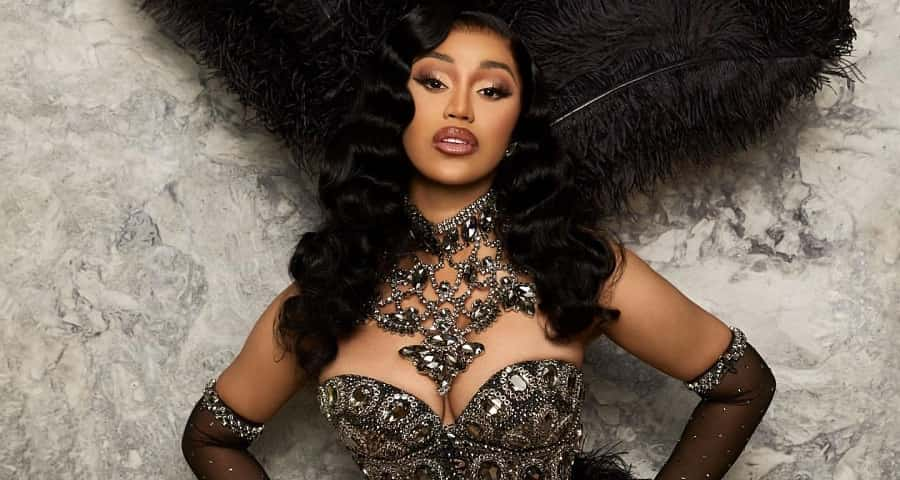 You can always rely on Cardi B to make a fashion statement and she has done it again in a gorgeous sexy number.
On the heels of her 30th birthday, Cardi shared a new photo on Instagram last night where she rocked a regal silver corset top, with a matching, chunky tiered necklace and undies to pose up a storm for the camera. Looking like a bombshell, the rapper's lovely look featured a feathery train and towering headpiece complete with black heeled sandals.
View this post on Instagram
This comes just a few days after the American rapper celebrated her 30th birthday and if you ask us, she killed it with just another version of the corset ensemble. The mother-of-two had hyped the occasion just last week, telling everyone that she was exiting her 20s. And to commemorate her 3rd-floor ascension, Cardi went above and beyond, choosing a dramatic look in crimson red, evocative of carnival attire for her 30th birthday celebration and even posting some similarly theatrical Instagram photographs afterward.
Cardi B, born as Belcalis Marlenis Almánzar, is well-known for pulling out all the stops for extravagant birthday celebrations. It was all about her dancehall-themed party for her 29th birthday last year. But this year, at the Poppy nightclub in Los Angeles, Cardi threw a burlesque-themed soiree which was tagged "Dirty Thirty Cabaret".
View this post on Instagram
Famous faces such as Jamie Foxx, Halle Bailey, and Chloe Bailey were all in attendance. And for the occasion, the rapper donned a red flaming flapper ensemble comprised of a crimson low-cut corset, a garter, and a striking feathered headdress and matching feathers down her back, which her rapper husband coordinated with all-white suit with red accents on his tie and glasses.
She further engaged performers to also recreate the mood and ambiance of an actual burlesque event. The performers in question wore sparkling mauve and silver corsets and had Marilyn Monroe-inspired wigs.
The crimson costume was however a tribute to her Trinidadian and Dominican ancestry as well as the traditions of the nations' annual carnivals. Sheer gloves, a feathered train, and a massive feathered headpiece — essential carnival attire — completed her bejeweled satin bodysuit. 
Happy 30th birthday to the "Hot Shit" singer!