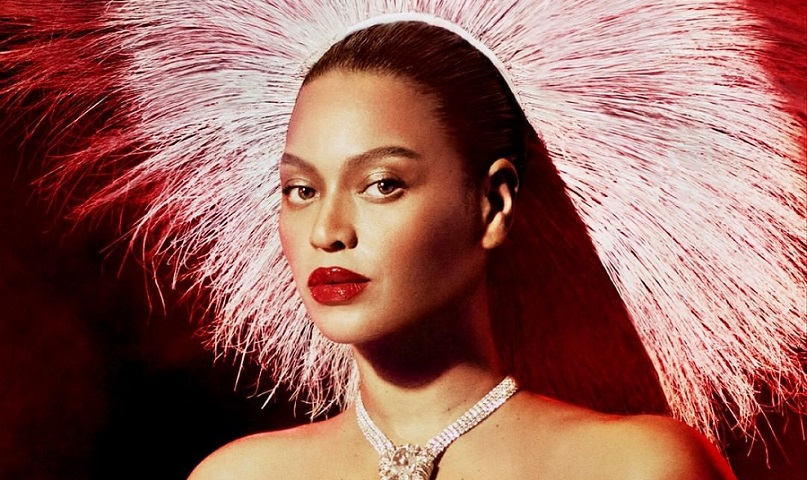 Beyoncé has unveiled the cover art for Renaissance, her upcoming seventh studio album, which is scheduled for release on July 29.
On the majestic cover shot by Carlijn Jacobs, Beyoncé is pictured sitting on a holographic horse and sporting an extremely-seductive, spiky, diamond-encrusted body harness. This look is similar to the crystal top she wore on her debut album cover for "Dangerously in Love" in 2003. Fans have also pointed out that the picture reminds them of a shot of Bianca Jagger riding a horse at Studio 54 and John Collier's 18th-century painting of Lady Godiva.
However, the cover was unveiled yesterday Thursday on her Instagram. This is following Beyoncé's last-week release of "Break My Soul," a house and bounce-inspired song of the upcoming album, featuring New Orleans rapper Big Freedia. The video of the track has been rumored to be released in a couple of days.
As part of this iconic revelation, the singer candidly captioned what the album "Renaissance" means to her. According to the 40-year-old, the album brings some kind of liberation and adventure when she needed it most. 
View this post on Instagram
"Creating this album allowed me a place to dream and to find escape during a scary time for the world," Bey captioned the artistic cover shoot. "It allowed me to feel free and adventurous in a time when little else was moving. My intention was to create a safe place, a place without judgment. A place to be free of perfectionism and overthinking. A place to scream, release, feel freedom. It was a beautiful journey of exploration. I hope you find joy in this music. I hope it inspires you to release the wiggle. Ha! And to feel as unique, strong, and sexy as you are."
After Bey's internet-breaking album, "Lemonade" in 2016, Renaissance is her upcoming solo studio album, and with all of the subtle releases to launch us into the actual release by July 29, the globe is already buzzing with anticipation.