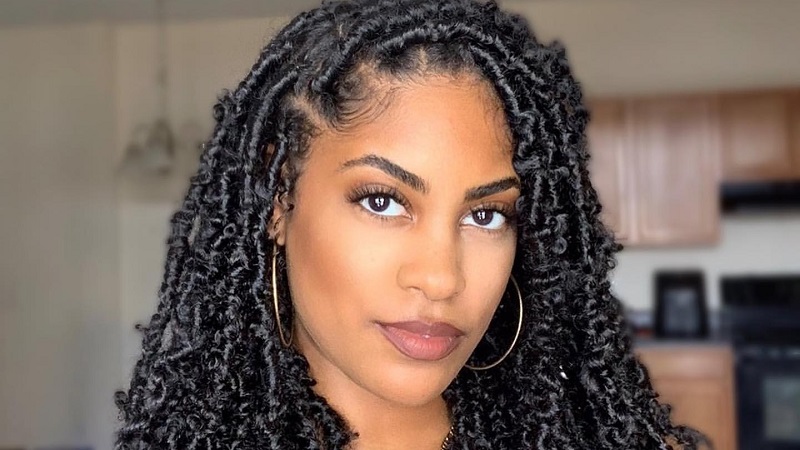 Faux Locs are incredible but a messy bohemian version of the hairstyle is having a moment. Called Butterfly Locs (a.k.a Distressed Locs), not only are they cute but refreshing and that's the obvious reason why the chic protective hairstyle is dominating your Instagram feed this season. While the hairstyle has suddenly made such an impact among the millennials in the past few months, to be completely honest we have not talked much, and not every woman knows about it.
However, it turns out that Butterfly Locs is one of the protective hairstyles we can hardly get enough of, thanks to its messy butterfly effect. But what exactly is this hairstyle, how do you achieve the Butterfly Locs and what do you need to use? To help you with the burdening questions, we've pointed out the key things to know before you make your next salon appointment.
What are Butterfly locs?
The butterfly locs style is another variant of faux locs. It is made with wavy hair like freetress water wave braiding hair, using the crochet method.
You can also make this awesome hairstyle with Passion twist hair, kinky bulk, and spring twist hair. The stunning looking hair involves looping the wavy hair into braids with a crochet needle and loosely wrapping it, leaving you with distressed-looking faux locs.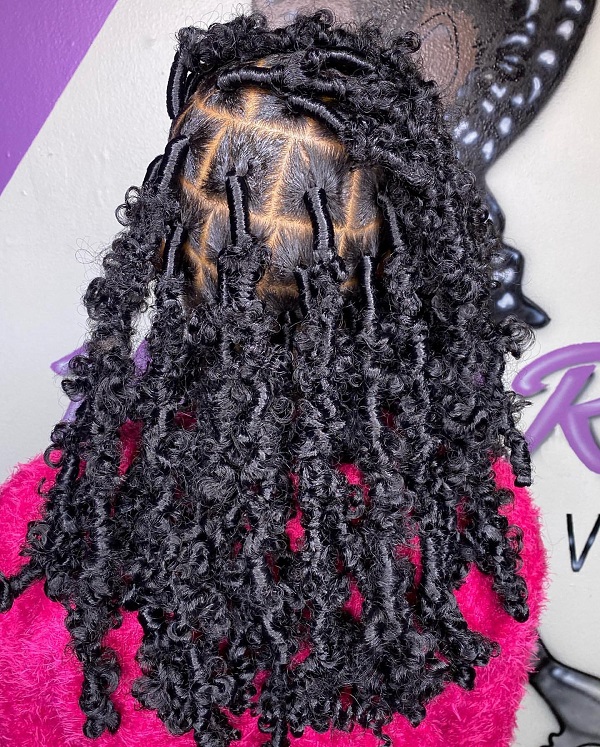 Photo: Instagram/haiybywaavyk
What do I need to achieve Butterfly Locs?
The protective style requires a minimum of 7-8 packs of wavy hair to make. The amount of hair packs you'll use is dependent on the desired length you want for your hairdo and how full you want it to look.
How long and does it hurt doing Butterfly Locs?
It is made using a crochet method; hence it doesn't hurt during and after making it. A typical butterfly locs hairdo should last an average of 3-5hrs before completion, and 7hrs if you're opting for extra lengthened locs. Irrespective of your hair type — short or long, you can always make butterfly locs.
When doing butterfly locs on short hair, make the use of rubber bands to hold the base of your hair. It allows your stylist to loop the braiding hair in using a crochet needle.
Why Butterfly locs?
Apart from the trendy look and charming appeal this style comes with, it also offers you some intrinsic benefits, making it an excellent choice. The hairstyle protects you from heat, hair breakage, or other environmental adverse effects. It prevents the constant need for combing or brushing and lasts long.
For how long can I wear the hairstyle?
When properly maintained, your butterfly locs can last 2-3 months or more. However, you've got to ensure that you give the style adequate maintenance.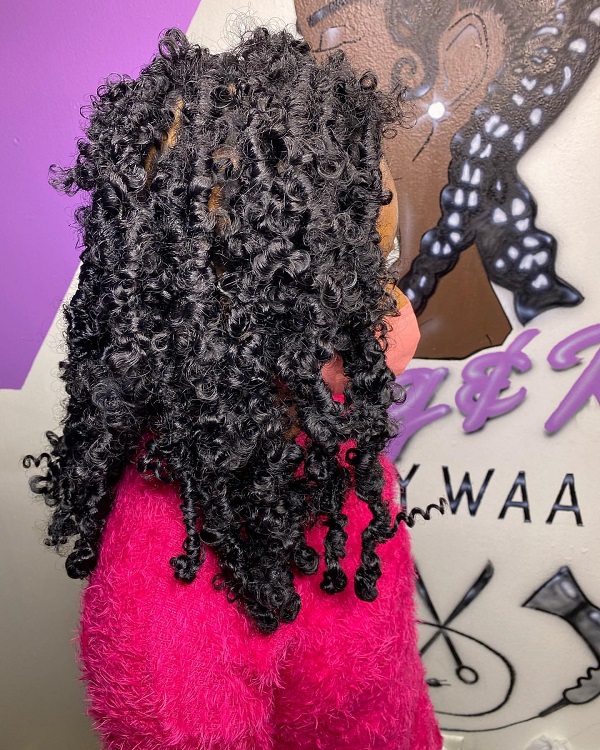 Photo: Instagram/haiybywaavyk
Here are some of the tips for caring for butterfly locs:
Adequate Moisturization: Use excellent oil or creams to keep the hair moisturized all the time. This helps you boost its physical appeal. By ensuring daily hydration of your hairdo, you prevent it from looking rough and tangled.
Cleanse, not wash: Don't ever try to wash your butterfly locs if you don't want to discard them in no time. Just give it the proper cleansing it deserves to prevent germs accumulation and make it appear good as new.
Professional Touch-up: It's advisable to leave the maintenance of this hairdo to your stylist. He/she can help you effectively touch it up and make it last longer for some additional months/weeks, as the case may be.
Is it possible to DIY Butterfly locs?
Oh yes, you can DIY Butterfly locs, but professional service is highly recommended for a more pleasant result. However, you should be able to achieve something meaningful with the right tools.
These include rat tail comb, edge control, shine & jam, crochet needle, and 7- 8 packs of wavy hair (freetress water wave hair is more recommendable).
Hold the root of your hair and get it to sleek down properly with shine 'n' jam. After which, you section your natural hair and braid it into small-medium size. You can choose to either braid your hair entirely or not.
Untangle your freetress water wave hair by running your fingers through it. Afterward, loop the untangle freetress hair into your braids using a crochet needle. Pull the freetress hair into the looped part and ensure that both sides are even.
Wrap one side of the freetress hair on the other side and loosen your hold on the base while trying to achieve the butterfly effect look with your locs.
Repeat the same method all over until you're satisfied with the length and look of your butterfly locs.
Sealing butterfly locs
Another thing about this hairdo that feels difficult is the sealing part. However, it can be easily done by simply wrapping the hair to your desired length and wrapping it back up until you have no braiding hair left. Alternatively, you can choose to tie the hair around tightly while wrapping it.
In a nutshell, there are various butterfly locs inspo style to choose from, most of which differ in length and color. Irrespective of the length or color you prefer, you can never go wrong with this hairdo. Watch the tutorials below.

Short Butterfly locs:
Long Butterfly locs: