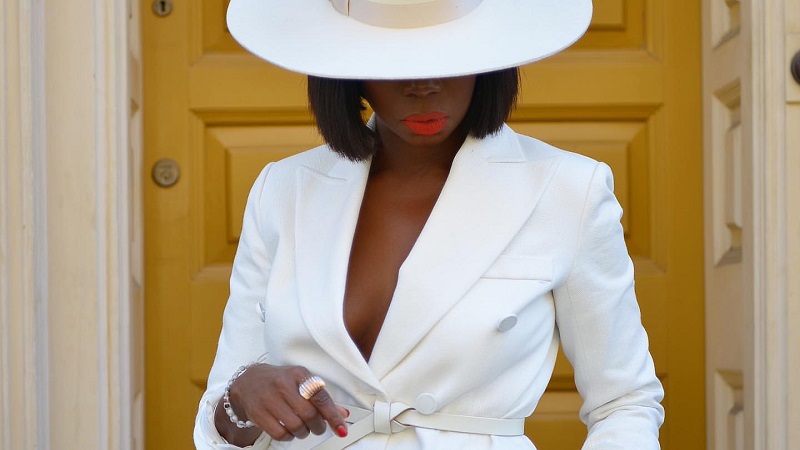 If there was ever the perfect time to slip into the white dress, the white button-down shirt, a pair of white pants, or the stilettos, it's right now. Gone are the days of dark and boring autumn colors, we've officially entered summer, the season of white uniforms and ample sartorial opportunities to breeze out the heatwave — and the last thing you want is running out of style options. Rather than rummaging through the closet for what and how to wear, try sourcing your outfit inspiration on the 'gram or our stylebook. 
Ahead, 11 sunshine-approved looks you'll want to try whether for the days in the office or wherever life is taking you to.
1

.
There's no doubt about the fact pantsuit always still the show, the unsung hero of our workwear wardrobe. But this time around, drape yourself in an all-white look with a fedora atop the head and a tiny waist belt to add modern polish and sophistication.
2

.
Look lovely in a classic white blouse and black skirt for a polished day in the office.
View this post on Instagram
3

.
When you are not in the mood for stilettos, wear a white dress with a pair of sneakers for the abundance of comfort.
4

.

The white button-down shirt gives so many options for creating stylish outfits with other key pieces. If you've ever been afraid of trying out the white pants, it's time to pull it off with black accessories as seen below.
View this post on Instagram
5

.
Sometimes the heat can be overwhelming and a classic white shirt and the little prints skirt will suffice.
View this post on Instagram
6

.
There are many ways to look chic in a white button-down but if your style attitude is far beyond the basic, opt for the fitted silhouette and a pair of short pants.
View this post on Instagram
7

.
Dip yourself into the season uniform in an all-white look with a t-shirt, asymmetric skirt, and stilettos.
View this post on Instagram
8

.
For summer, the more shoulders, the better. This means a great, white bustier cami top and the matching pants can take you around the city.
View this post on Instagram
9

.
Summer heat is the perfect excuse to turn your button down-shirt into a cool crop top. It's chic and can take you from the office to a friend's party after work.
View this post on Instagram
10

.
Remember those days the black blazer was your round-the-clock uniform? It's time to switch things up and embrace the spirit of the season.
View this post on Instagram
11

.
With the temperature continuing to ascend, a pair of white short pants wouldn't go amiss. Team it with a matching camisole as well as the blazer if the destination is unpredictable.
View this post on Instagram