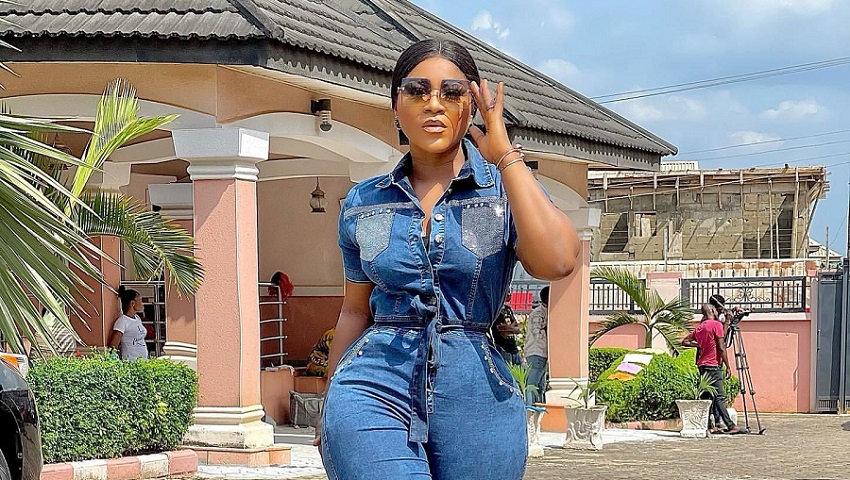 Give us a bit of a bikini photo.
On Friday, Destiny Etiko was all about reminding everyone, including herself, that she has a banging body as she posed for the camera on the beach outside the country. The actress looked every inch the beach bombshell in a skimpy neon bikini which featured tiny straps as she continued her short vacation abroad. 
Etiko made sure her body was on display in the snaps as she posed sultrily with one hand placed above her waist. The curvy beauty wore a long wig in wavy curls while also shielding her eyes with a pair of oversized sunglasses. 
"High standards..Humble heart.serving you hot premium pie this beautiful Friyay evening!!!," she captioned the eye-catching look.
View this post on Instagram
This comes just two days after the City People Movie Award winner flaunted her body in the same location but this time in a crimson red bikini, a look she topped with a fishnet cover-up and sunglasses. She also carried a fedora and looked beach-ready.
View this post on Instagram
Etiko, who has been accused severally of getting movie roles because of the enviable debunked the accusation by saying her sexiness has never given her a 'special privilege.' "Having a nice shape was not what made me popular," she explained in an interview. "Whether you are sexy or not you must have content. You can't be a star by being beautiful or fair or voluptuous. Sexiness can only make people like you but it won't keep you there for long."
She continued; "My sexiness didn't give me any special privilege, although it's an added advantage for me. Another thing that helped me is that I carry grace. When you have the grace to make it no one can stop you."