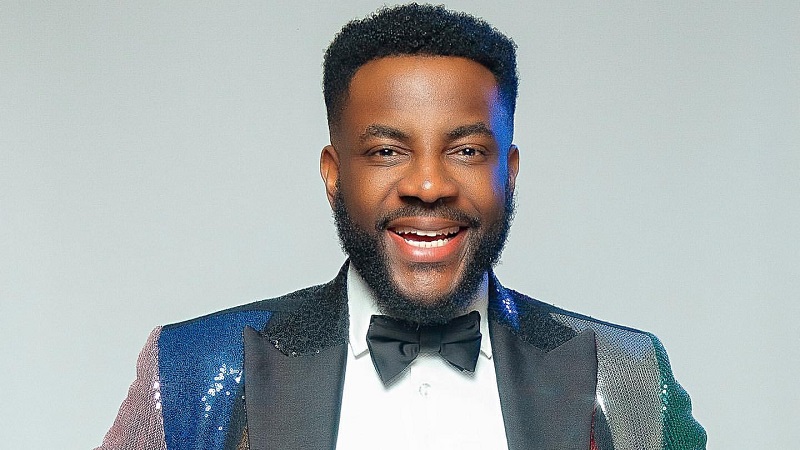 During the Covid-19 lockdown, we've come to know Ebuka Obi-Uchendu as that dude who dresses up in a tuxedo early in the morning to warm up his car engine. He could literally suit up just to put on his electric generator, so you can imagine the excitement when the media personality won the gig again to host the 2020 Big Brother Naija (a.k.a BBNaija) Season 5 reality show. 
In other words, since the 'Lockdown' show edition kicked off in June, Ebuka never disappoints and has been racking up quite the collection of sartorial credentials. The 38-year-old has hopped from being an average, well-dressed fashionable man to a style maven, or needless to say a power-dressing buff. This means that Ebuka's ever-evolving, inimitable style took another slight turn this year as the TV host seemed to settle into what he likes and feels confident in, most often conceptualized by designers like Mai Atafo, David Wej, Ugo Monye, and a slew of others.
From sequined jackets, clean-cut tuxedos to the contemporary traditional attires, the BBNaija host has been knocking our socks off and it's certainly hard to ignore. Ahead, get up close and personal with all the Ebuka's outfits from the show, which most definitely deserve a spot on your bookmark list. 
Outfit #1.
In an embellished black and brown jacket and matching pants during the show's premiere.
View this post on Instagram
Ebuka was the definition of elegance in this Mai Ataafo's embellished creation during the BBNaija's season 5 premiere.
Outfit #2.
In a traditional attire of the Benin Kingdom.
View this post on Instagram
Paying tribute to his birthplace, Ebuka opted for an all-white-look by Designer Mai Atafo, who is also from the same place. The look was completed with coral beads.
Outfit #3.
Wearing an art-inspired look.
View this post on Instagram
For one of those nights, Ebuka rocked this art-inspired look for the BBNaija's Lockdown house reveal.
Outfit #4
In a highly-unusual, six-buttoned traditional outfit. 
View this post on Instagram
It was the BBNaija's live surprise eviction show and Ebuka opted for this Vanskere's six-buttoned traditional attire that comes in four colorways.
Outfit #5
Wearing a super sparkling jacket for the live eviction show.
View this post on Instagram
For the normal live eviction show, Ebuka made a dazzling appearance in a sparkling, gold metallic sequined jacket layered over his brown coordinated look.
Outfit #6
Wearing black Agbada attire because 'Black is King.'
View this post on Instagram
In another live eviction show, Ebuka personified a true African King in this gorgeous Ugo Monye's creation that comes complete with a neck robe. According to the BBNaija host, the "robe was hand-beaded for over 60 hours."
Outfit #7
Wearing a turquoise 'shacket' shirt with the matching pants for the live eviction.
View this post on Instagram
Evident by his looks, it's clear Ebuka's style game for BBNaija's season 5 reality show is above par. While the show continues, he hosted the live eviction show over the weekend in this Mai Atafo's turquoise look.
Outfit #8
The media personality went all out in traditional attire.
View this post on Instagram
While Ebuka's fashion is quite experimenting, this time around he paid a tribute to the Isiagu people of the Igbo tribe in Nigeria in this luxe-looking native attire.
Outfit #9
Wearing an embroidered velvet blazer.
View this post on Instagram
For another eviction show, Ebuka wore this embroidered, bespoke velvet tuxedo by Tive Bespoke.
Outfit #10

 
Ebuka made his entrance in a floor-grazing traditional attire during an unannounced eviction show.
View this post on Instagram
It was a crazy eviction show when the host crept into the BBNaija house in a floor-grazing traditional purple attire by Vanskere to unexpectedly evict the unlucky housemates.
Outfit #11
Wearing a mustard brown 'Agbada' attire and coral beads.
View this post on Instagram
In a look that channeled royalty, Ebuka has us going mustard brown with envy during a night of intense that had the housemates in teary eyes after eviction.
Outfit #12
During another live eviction show, Ebuka channeled your favorite kungfu master in a puffy silver blazer by Atafo that came complete with a waist belt.
Outfit #13
A blend of traditional and military attire.
View this post on Instagram
Ebuka left his comfort zone for something avant-garde in an outfit that one part says colonel and another part oozes the posh traditional ruler of the future.
Outfit #14
The 2020 BBNaija lockdown edition finally came to an end on Sunday 27th and as per the show host, it was better done in sequins.
View this post on Instagram
The show ended in tears and excitement as Laycon was crowned the winner of the 2020 BBNaija Lockdown reality show after garnering 60% votes against Dorathy with 21.85% votes. But of course, Ebuka caught our collective gaze in this sequined power blazer with multiple colorways.
Outfit #15
Wearing an embellished blue kaftan. 
He also made a quick outfit change for the night, sporting this embellished kaftan look as a tribute to the Hausa tribe in Nigerian.