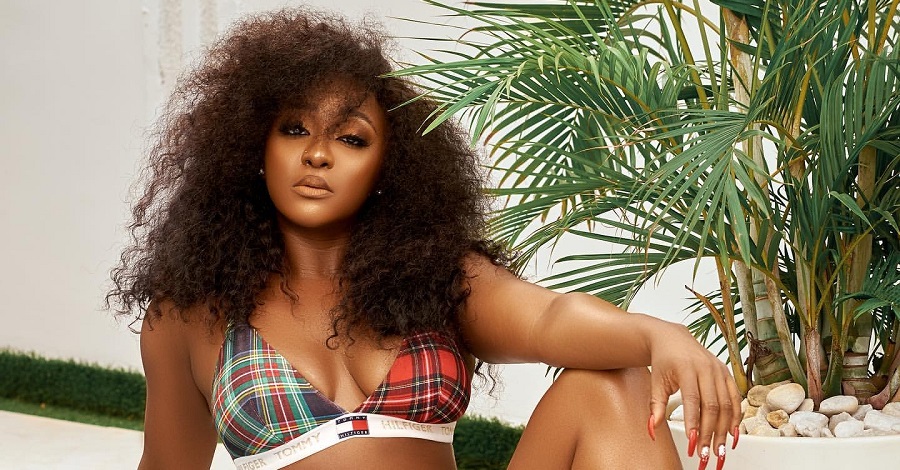 If there's one thing we love about Ini Edo, is that if she's ready to do anything, she go all out for it. She's hot, beautiful, and is blessed with flawless skin and she knows it. In fact, with her new skincare line — Beauty Secrets of April, the Nollywood actress obviously needs no one to model the beauty products, that's why she stripped down to a sexy bikini to promote the new beauty brand.
In the latest images posted to her Instagram, the 38-year-old strike the sexiest poses poolside and leaves her fans wanting more bikini snaps. Here, Ini Edo wore a 2-piece Tommy Hilfiger gingham briefs in different poses that put her well-built curves on display. "Category … Skin…….Be bold ! Be confident ! Be Youtiful trust @secretsofaprilofficial for that natural, youthful healthy glow 💕, the actress captioned one of the looks as she basked in the sunlight to perfectly showcase her pert derrière.
View this post on Instagram
In another look, the actress sat in an upright position, shielding her eyes with a pair of sunglasses as her melanin-popping brown skin glowed in the sunlight. "That BROWNSUGAR @beautysecretsofapril retinol glow 💕, the post captioned.
View this post on Instagram
Beauty Secrets of April was launched over the weekend with the focus to create a skincare line that caters to all skin tones. Her first range of products includes body lotion, face wash, body wash, face cream, featuring a rich combination of retinol, vitamin C, Ginseng, Shea Butter, Kaolin Clay, Green Tea, Aloe Vera formulated effectively to reverse both natural aging and photoaging.