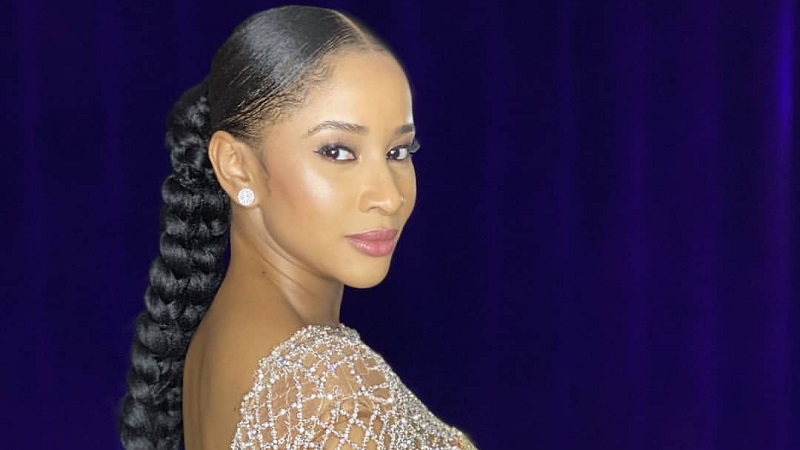 Adesua Etomi has been carrying messy hair about in the past month, for which she needed to put an end to it. And whilst the beauty salons may still be on close down, the actress decided to go on a DIY mission to have the hair braided by herself. It turns out Adesua's braiding skills are above par and we have a feeling her hairstylist has just lost a client.
Taking to social media yesterday to show the result of her accomplishment, the actress shared a video that shows the self-braided hairstyle from all angles. She wore a chic black t-shirt, gold hoop earrings, and the perfect makeup while demonstrating the jumbo braids to her followers.
As for whether she had any help, the Nollywood beauty affirmed that it was a real struggle and that her husband, Bank W was right by her side, helping with, perhaps some braiding techniques—who knows? 
"My hair was a mess for 4 weeks so decided to braid it myself yesterday," Adesua captioned the video. "Turns out, I'm still kinda good at braiding even though I haven't done it in years. #jumbobraids. Update (Used 2 mirrors to part my hair…one in front of me and one behind me….it was a struggleeeee) @bankywellington helped…🙃😳 (he guilt tripped me into writing this).
Her DIY hair is clearly a result of the lockdown in Lagos. Beauty Salons have been shut down to help reduce the spread of the Covid-19. But according to the President, Nigeria will ease the lockdown this month. President Buhari made the announcement in a speech on Monday evening, affirming that from May 4, the use of face masks will be mandatary as people carry on with their life between 6 am to 8 pm.
Now, if you've got a messy hair like Adesua Etomi, why not put your skills to use? Because you never can tell how good you are.