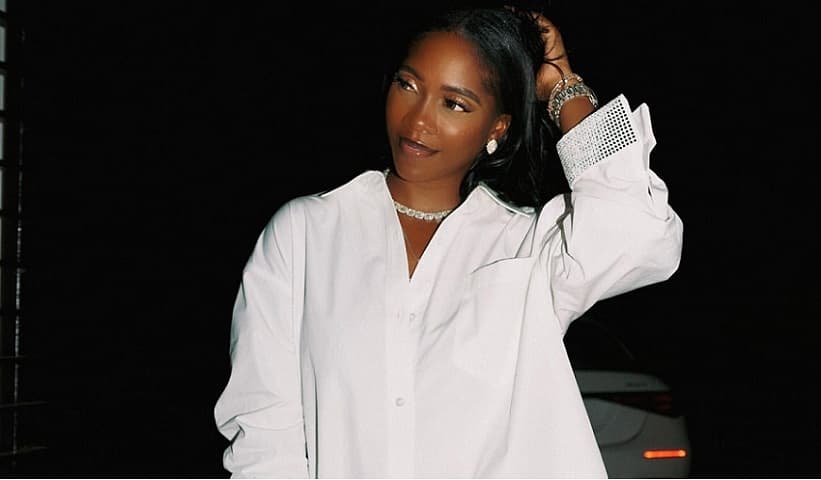 In these times when 'comfort' is a thing, adopting fashion trends and components that promote the comfy movement is more than just the right course to take on. Over-sized button-down shirts are literarily an embodiment of relaxation and have been around for quite some time. One of every two cool girls you see walking down the street or browsing Instagram is sporting an oversized button-down shirt. I know you wonder why — these shirts never fail to appear stylish, laid-back, timeless, comfortable, and all of that chic stuff, which is perfect for the minimalists who want to keep things relaxed. Over a century ago, Coco Chanel, via her creation with specific elements from men's shirt tailoring, inspired the popularity of the button-down shirt.
One eye-catcher of this unique shirt trend is its versatility which gives it the right to be considered seasonless. I mean, asides from the range of styles and colors that are available, you can literally switch up or down with an oversized button shirt. You can use it as a blazer over strapless dresses, a swimsuit cover to a beach or pool, a Friday outfit, or even as loungewear for the "stay-at-homers".
When you're not being minimal or maintaining the status quo with your oversized shirt, you can decide to glam it up with pumps or strappy heels or even get it tucked in a stylish shirt or pants for a handful of outdoor activities. With this closet staple, the options are just endless and we've compiled just a few of them, to inspire you!

Jump to the basics like this white boyfriend Shirt Dress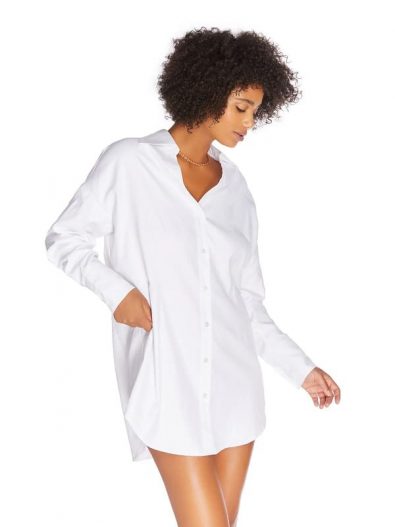 Without a white shirt in the mix, what good is a collection of button-down shirts? White is the tradition and the ideal daily essential for minimalist lovers, and no doubt, it's always a classy shirt to pair with your favorite pair of jeans and some nice jewelry.

You'd need swim cover-ups too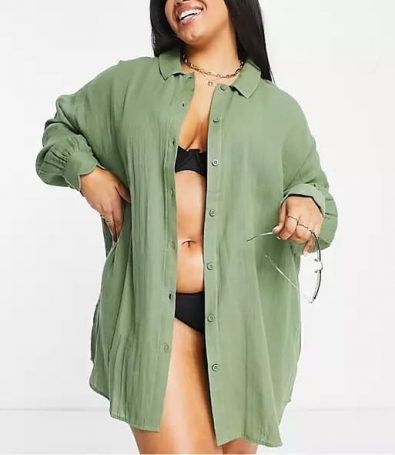 A trip to the swimming pool or to the beach will have you looking for a loose-fitting bikini cover such as this. This lightweight subdued green alternative is perfect if you're looking for a button-down to toss on as a breezy, beach-ready cover-up.

Feeling daring? try color-blocking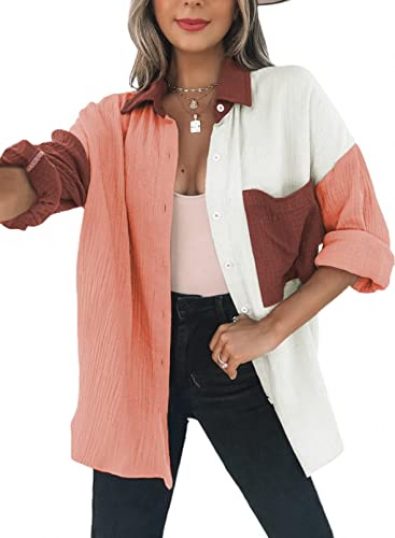 There is one thing that unites all lovers of oversized button-down shirts, and color blocking is one of them. So, it's not a crime to add a pop of color to your wardrobe with this fun lightweight shirt, which is available in 10 different color combinations.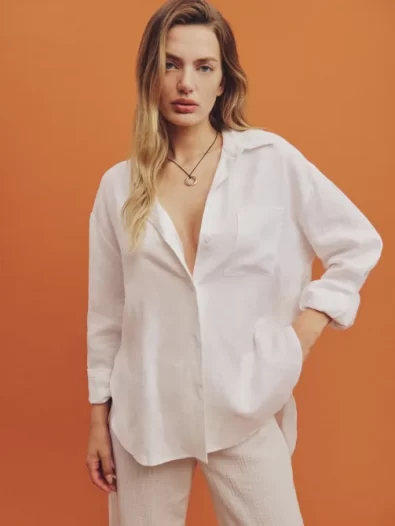 In the summer, when temperatures are rising and cooling fabrics are most needed, this oversized button-down linen-fabricated shirt is ideal. It can be worn at will but is particularly breathable on the hottest days.
$128.00 on thereformation.com

In doubt? hop on this patterned oversized shirt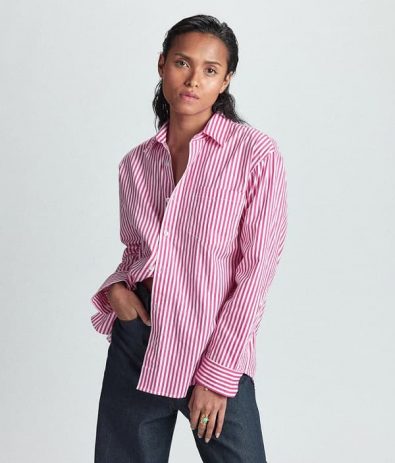 With oversized button-down shirts, there is no hard and fast rule. So, to have a sense of adventure, exploring this patterned oversized shirt does it just in the right ways. It literally closes in on your personality, giving it a good balance of contemporary and uniqueness.
$37.00 at Parisienne-et-alors.com

Don't worry, we ain't forgetting the all-time classic denim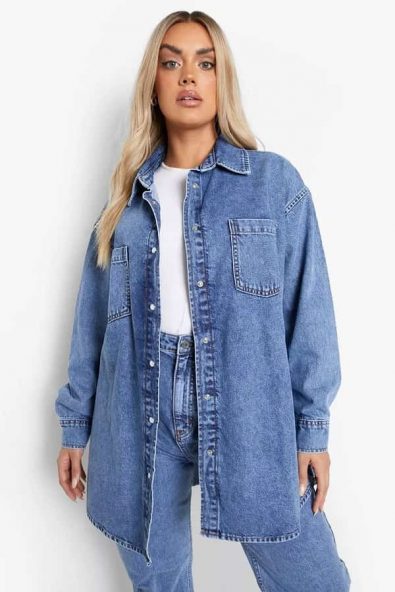 Your clothing collection definitely needs a denim version because denim pulls it off in the chicest of ways. An oversized denim shirt is possibly the most adaptable option yet. It is perfect for summer and looks fantastic with a voluminous skirt or skinny jeans and sneakers or your chunky trainers.

Uhmm, you need to really check out these drapey square shirts too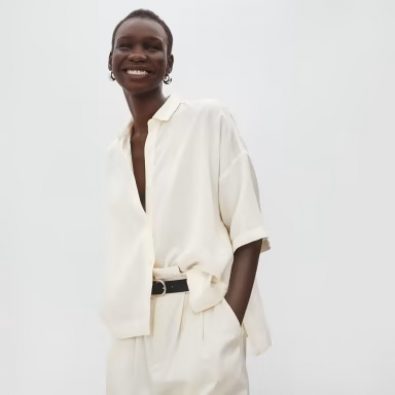 Getting ready for leisure days? Enclose these oversized, short-sleeved, square button-down shirts to your wardrobe assortments. You will truly feel boxed up by the carefree design it portrays, and you'll love it. The best part is that it is constructed of eco-friendly Tencel fabric, which is soft against the skin and simple to clean, making it ideal for repeated use.

See, these oversized flannel shirts don't come to play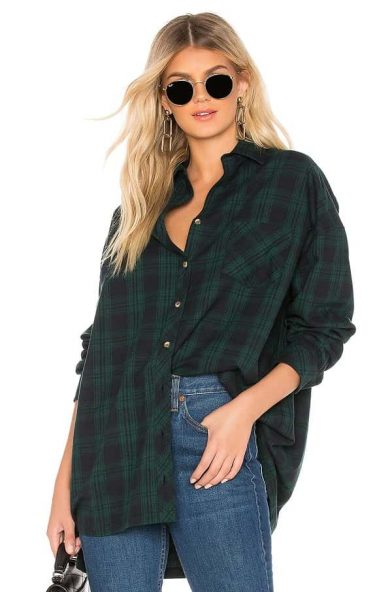 What springs to mind when the word cozy is mentioned? I can help; this flannel shirt is the definition of comfort, coziness, and warmth. Once the temperatures start to gear into fall or winter, this is a staple piece of clothing you must have. Oh, you thought right, oversized shirts have all the seasons in mind. So, no worries.

Surprised? Micro-pleated shirts can be oversized too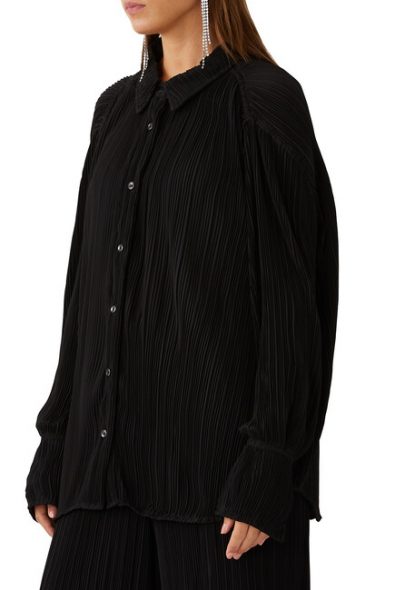 This micro pleated oversized shirt is perfect for wearing to work and social occasions for those who want dreamy clothes that are also formal. This wardrobe essential is eye-catching and as comfortable as your favorite pajamas when compared; thanks to its flexible plissé material and spacious design.
$154.51 at Bloomingdales.com

If you came all the way down, then this is for you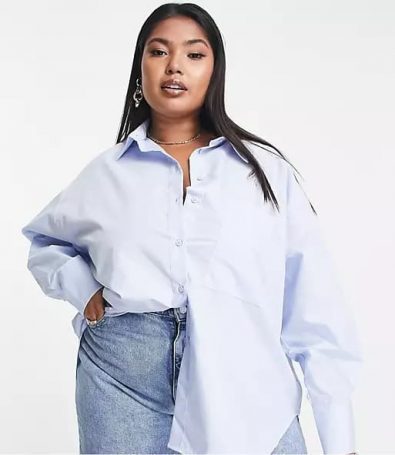 One of the most ideal things to take from a guy's closet is the daddy shirt, also known as the boyfriend's or sugar daddy's shirt. *winks* Thank goodness, you can also acquire yours if there's no dude to snag his. While not being totally tucked in, you might also want to use fewer buttons for a more dramatic look. Extra can be sexy too!