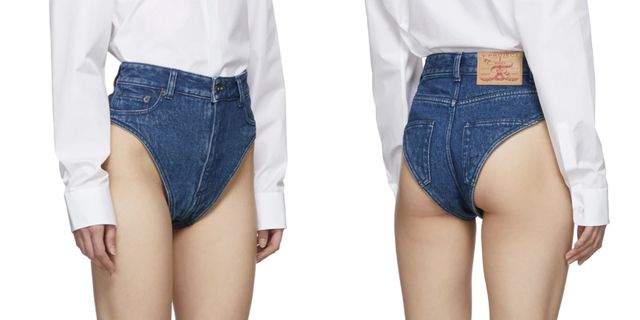 You remember sometime in 2017 when fashion brand Y/Project launched bizarre detachable short pants that became one of the fashion's talking points? Just two years after, the Parisian label has added a new collection which is selling at $315 and Twitter users are currently spewing out their grievances. 
Here, we present to you the new 'denim panties' by Y/Project —  and just in case your soft, traditional panties aren't a thing anymore, then this is all you want:
According to the product description on Ssense.com, the brief-style, mid-rise shorts comes is a navy hue, featuring three-pocket styling and belt-loops at waistband, so if you're looking for something to show a lot of skin, this new piece of clothing is sure to rival shorts like Daisy Dukes.  

But as the case may be Twitter users are not comfortable with the price tag as well as the shorts in general. While some are describing the piece as the 'ugliest thing,' some are saying the price is outrageous:
HOW do i feel about $300 denim panties, you ask? well i'll tell you how i feel. utterly and thoroughly chafed pic.twitter.com/YYQ9v5dZ6b

— Safiya Nygaard (@safiyajn) March 29, 2019
Denim panties sound like the most uncomfortable thing in the world

— Ying Ying (@kahying_fu) March 30, 2019
Good morning to everyone except that fashion brand selling denim panties

— Goldie Mutrie (@Goldie_Mutrie) March 30, 2019
would 100% wear these denim panties tbh https://t.co/dltkk6V0RH

— Jessica 666 (@beatface) March 29, 2019
What in the actual hell is denim underwear and why is this an actual thing and why are people buying it!? pic.twitter.com/TvJxVqV6Az

— Kirti 🙂 (@Pari602) March 30, 2019
If you think you've seen the denim panties before, you're not suffering from déjà vu. The collection made its debut in September last year at the Y/Project show during SS19 Paris Fashion Week: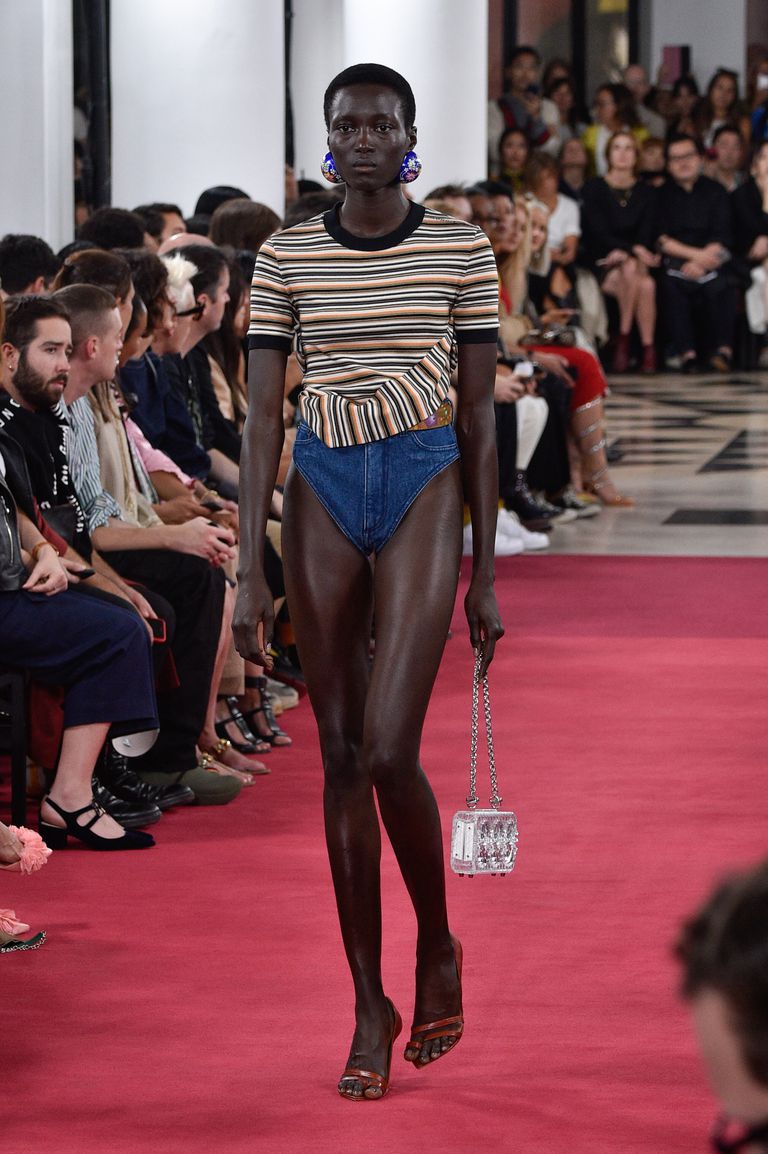 Peter White/Getty Images
In the picture, a model can be seen rocking the unconventional denim pants on the runway and seems to look cool in it — but if you're going to get your mitts on it as summer is lurking around, expect a lot of attention.