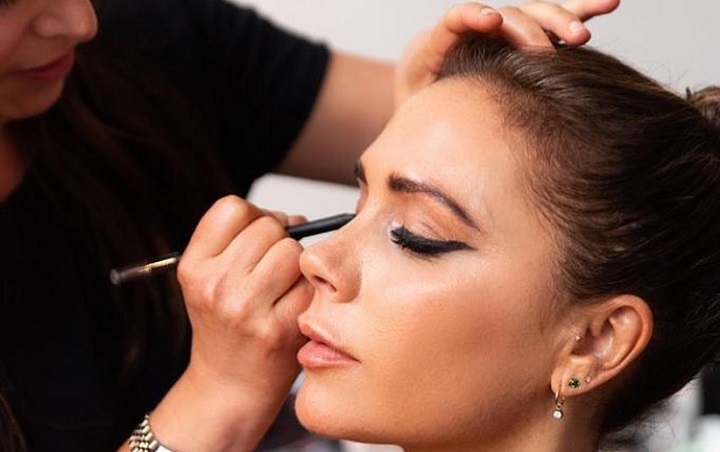 Ever since Victoria Beckham teased and announced that she'll be launching her beauty line, everyone has been on the tenterhooks waiting to see what the fashion designer is cooking up. Well, brace yourselves because the highly anticipated make-up line has finally arrived.
The eponymous beauty line (a.k.a Clean Beauty Movement) was officially launched yesterday and you can expect not only makeup essentials but skincare, fragrance and wellness products. For the first drop, Beckham is offering a modern luxury complete with three products: The Smoky Eye Brick, Lid Luster, and Satin Kajal Liner.
As you can imagine, the three products are all about replicating VB's signature smoky eye. And while the smoky eye brick comes in four shade ranges (Signature, Tuxedo, Royal, & Tweed), Beckham also decided to release the lid luster (a cream-to-powder intense pearl eyeshadow) in four shades (Onyx, Blonde, Mink & Moonlight), with the Satin Kajal Liner delivered in 3 shades (Black, Bronze, and Bordeaux).
The designer had previously cited that she "wants to create solutions for real women head to toe, inside and out." And "it is all about making her community feel like the very best versions of themselves."
Further explaining her statement, VB added that Clean Beauty is a brand that welcomes everyone who loves beauty. "We're trying to make the world a prettier place and a kinder place," Beckham says on the brand's website. "When [we were] developing all of the makeup we said we wanted it to be incredibly inclusive. And that's exactly what we've done. We all have completely different skin types. Completely different ages. And we're all wearing the same makeup. What we've achieved is so special."
While the rest of the products are still in preparation, the lips items will be launched by next month followed by skincare and perfume. In the meantime, you can shop the smoky eye brick, lid luster, and the satin kajal eyeliner now on the band's website: Victoriabeckhambeauty.com