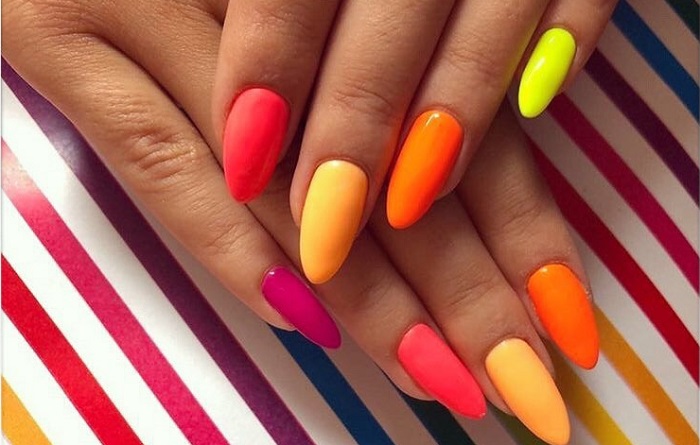 From grooming your fingernails into a super long nail a la Cardi B to sporting your favorite color, manicure is certainly one of those things women can't live without but sometimes it could be a bit challenging settling for one color. Forget the fact most women seem to stick to one particular nail polish hue all the time. At the moment, when it comes to manicure, wearing a different shade on every nail is definitely a thing and Elle US terms it as the "Skittles Manicure."
If you haven't heard of skittle manicure before, you probably may have seen it on your IG timeline — and according to the media outlet, it seems like it's becoming a new trend, where the nails are arranged in rainbow colors. The trend seems to close the gap of color indecision, as you can now pick all your favorite colors just when you're asked by your manicurist. Because who needs to be sporting just one color of nail polish when there are endless varieties of cool shades? How cool is that?
As pointed out by Elle, Betina Goldstein was one of the first women who kick-started the trend. According to the editorial nail artist, it's a great way to do something different. "I think it's like really great way to do something different without it being overwhelming or too much," she said.
In her page, she has different color combinations, ranging from sunset hues to random hues. and of course, Goldstein isn't the only one crazy about the trend as other nail artists and beauty junkies are currently joining the multi-colorful nail beauty. Here, keep clicking to see what we are talking about and be inspired if you like it.
View this post on Instagram