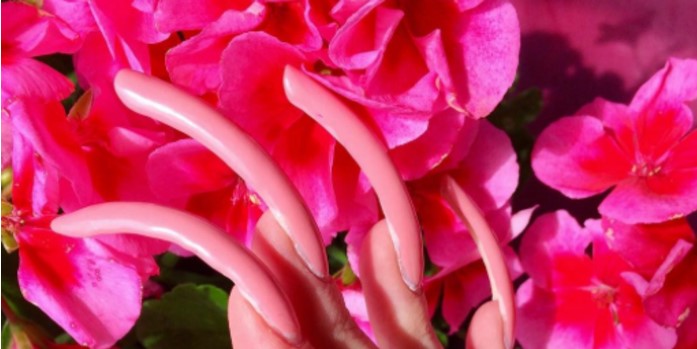 We don't know how she handles her daily activities like eating or using the computer, but Simone Christina just won the Nailslong.com's 2016 Most Voted Hand Model of the Year with her nails that length is almost as long as your makeup brush. The teen girl has surprisingly left her fingernails uncut for 3-years which take her 3 hours to paint and she relies on a strict nail-care regime to keep them from breaking.
"I use two coats of nail hardener. For the first coat I use XXL Nail Thickener by Essence [$2.79] and for the second coat, I use Ultra Strong Nail Hardener [$2.50] also by Essence. It's also helpful to apply cuticle oil, like, every second day," she The Sun.
Simone also confirmed that is not easy keeping the long nails but no one will ever talk her out to cut them.
"I have exams at the moment and it's hard to write, after one hour of writing my hands really hurt. On the computer, I have to type using my knuckles," she said. "Luckily, German schools don't have dress codes, so they don't cause any issues there. PE is a huge problem, though. I can't play volleyball, basketball or anything similar. My PE teachers are always trying to convince me to cut my nails. They'll never succeed in convincing me — but that makes my grades in PE really bad."
She's also planning to keep her toenails too:
Please this isn't something to copy!
[otw_shortcode_button href="https://twitter.com/fashionpolicing" size="medium" icon_position="left" shape="round" target="_blank"]Follow us on Twitter![/otw_shortcode_button]