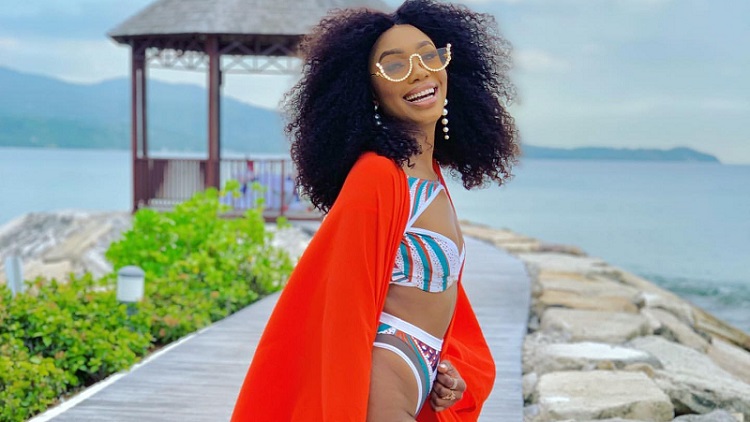 We don't know about you but when it comes to summer, planning a beach vacation is always at the forefront of our mind — and that involves visiting your favorite beach destination and packing the essential items, especially the right swimsuits for you to enjoy the carefree and exciting trip.
Actress Sharon Ooja seemed to be on the same page when she recently embarked on her summer vacation in Montego beach resort in Jamaica and coming to the social media to posts tons of envy-inducing snapshots. As one who knows more than a thing about beach style, the actress picked only the finest and sexiest bathing suits for the occasion. 
She first posted a range of pictures where she rocked a patterned Bfyne 2-piece swimwear with a high-waisted thong bottom, showing off her enviable curves against the stunning beachy backdrop. Sharon wore the sultry garment under-layered with a dark orange kimono, teamed with oversized sunglasses, pearl drop earrings and a sizeable beach bag, big enough to contain her essentials. 
"Sand on my feet and the Jamaican sea behind me life is great🧜🏽‍♀️🧜🏽‍♀️🧜🏽‍♀️😂," the actress captioned the image. "This was me just before the @isekosummers white yacht party."
View this post on Instagram
While the first picture may have been too revealing, Ooja shared another image where she wore a 2-piece blue swimsuit by the same designer but this time, the Skinny Girl in Transit actress added a matching wrap cover-up to protect her modesty. She also paired the look with a blue hair tie and earrings of the same hue, looking like the belle of the beach.
Nevertheless, the actress is really treating us to her own personal beach fashion show today.