Just when you thought you've seen it all when it comes to naked dress, something comes along to prove you wrong. We can actually recall the days of Miley Cyrus or Lady Gaga in outrageously insane dresses but while these two women are now undergoing serious style overhaul or taken a more understated approach with their wardrobe, South African performer Nonhlanhla Qwabe, popularly known in the South as Queen Skolopad, is still in a style rut. A few days ago, she attended the annual South African Feather Awards in wearing a barely-there dress completely made out of sausages.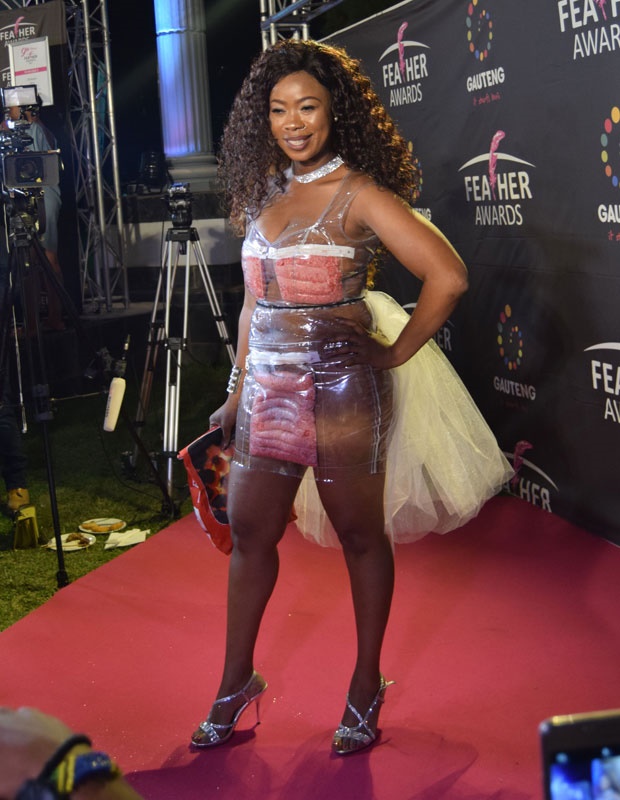 Feather Awards
Yup, that's right! Queen Skolopad walked straight down to the red carpet in a mini-dress made from clear plastic featuring meat panels which only concealed her privates and left little to the imagination. And another insane part? She bagged her essentials in a charcoal clutch, while a pair of sparkling sandals and matching choker completed the look. 
According to Skolopad, the inspiration behind the dress was to make people know she doesn't like pig meat. "People have been saying beef. I don't like beef, I like wors (in other words, a home-made South-African sausage)," she told a reporter on the red carpet.
#FeatherAwards2017 Skolopad speaking about the inspiration behind her outfit. pic.twitter.com/8KczfMht5Z

— Jacaranda News (@JacaNews) November 9, 2017
Although we just got to know who Skolopad is, over in the South, she's no stranger when it comes to raunchy snaps. A quick scroll through her 'Gram page shows the entertainer is another loose cannon in the South African entertainment industry:
So, no wonder why she was let loose at the Feather Awards.