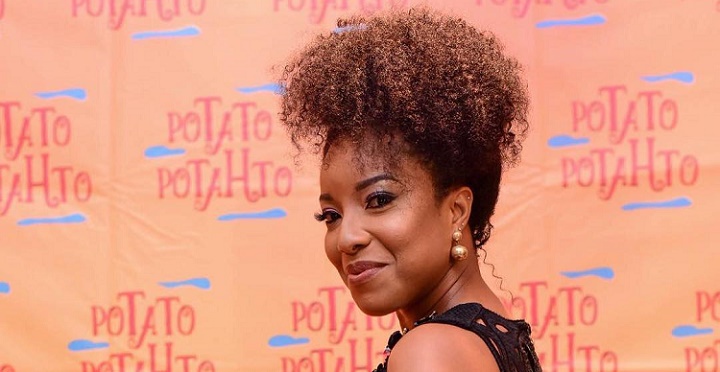 With her beaming smile and posing for the camera with her two hands unapologetically stuffed deep in the pockets, it makes pretty sense to say Joselyn Dumas was having a moment with her dress. On Thursday night, it was another premiere of her new movie 'Potato Potahto' which is produced by Shirley Frimpong.
Dumas wore a Christie Brown gown for her appearance for the movie premiere at the Jamestown Cafe in Accra, Ghana. The sleeveless number featured a cleavage-baring neckline, cinched waist, 2 side pockets, and a typical Joselyn Dumas' fit.
Though she wore a covetable pair of heels and earrings, her smiles appeared to have been Dumas' major accessory as she was not carrying any clutch or handbag. But apart from that, she needed to have a moment with the pockets of her dress. The actress also kept her hair natural in fro curls which looks pretty cool on her. "Glad I listened to you," she told her hairdresser while commenting on the picture.
According to the hairdresser, Dumas' curl is 18 inches high when held up. "Hair by #hairsenta for the beautiful @joselyn_dumas for the movie premiere of #potatopotahto -", the hairdresser wrote on Instagram. "Fro Curl 18 inch held up high for this natural sophisticated look."
She also dropped a video to see the hair in real life:
Wow!