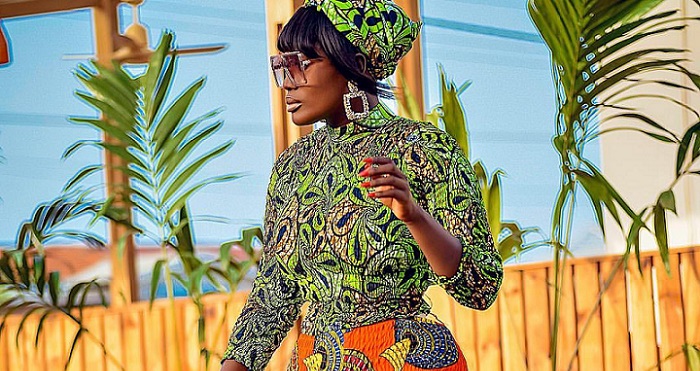 Fun, vibrant and electrifying, we all know it as African prints but it takes someone with an incredible sense of style to put it at the forefront of fashion and one of those people is Nana Akua Addo. The Ghanaian actress knows no boundary when it comes to fashion and she has a knack of sending the message across, that's why we are particularly enamored with her latest Ankara style.
Attending the 2019 'Wear Ghana Month' over the weekend at the National Theatre of Ghana was none other than the actress who made an entrance in an unusually exceptional head-to-toe African prints outfit. Nana Addo who has scored several style points in the past breezed into the event in a va-va-voom Ankara leggings, blouse and a matching headpiece. Her accessories added even more attitude as she completed the look with a pair of look-at-me silver earrings and oversized sunglasses:
The actress has been dubbed one of the best-dressed celebrities in Ghana and it comes as no surprise she's the one pulling this off with such aplomb. Apart from that, the new Ankara style was right on par with her signature style, leaving us feeling rather inspired. So in that case, we will need to ditch our western ensembles in favor of something very African a la Nana Akua Addo.
The vibrant ensemble was designed by a local label Clatural, and the brand couldn't get enough of the actress killing it in their collection. "To @nanaakuaaddo we want to say we love and cherish you darling," the brand wrote on its social media. "You rock Clatural Wear effortlessly to the peak and you make every single effort and detail we put in designing and producing more than worthwhile."
Wear Ghana 2019 is a campaign set up by the government which aims at encouraging Ghanaians to patronize locally produced items of fashion. According to a report, it will run throughout the year with a series of activities such as fashion shows, seminars, symposiums, exhibitions, and etc.