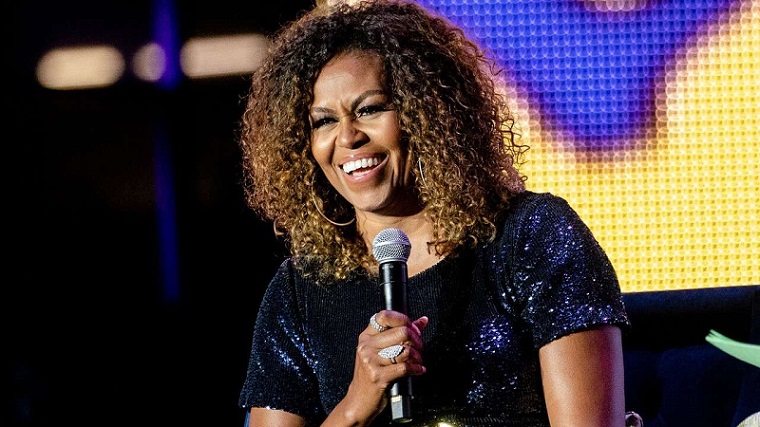 On Saturday, Michelle Obama was among the prominent people invited to attend the Essence Festival in New Orleans. And not only did she show up just for the appearance sake, but the former FLOTUS took the stage to dish out some key relationship advice. As reported by Essence, the keynote conversation was anchored by CBS Gayle King, where Michelle shared her dating and marriage wisdom, giving women a clue to maintaining a healthy marriage and marrying your equal.
"Marriage is a choice you make every day," Obama explained. "You don't do it because it's easy. You do it because you believe in it. You believe in the other person. And ladies and gentleman, that's why it's so important to marry somebody that you respect. It's important to marry somebody who is your equal, and to marry and be with somebody who wants you to win as much as you want them to win."
She also went ahead to call the former POTUS her teammate, adding that they're perfectly compatible. "My husband is my teammate. If we are going to win this game together, he has to be strong and he has to be OK with me being strong. I do not want a weak player on my team, nor does he."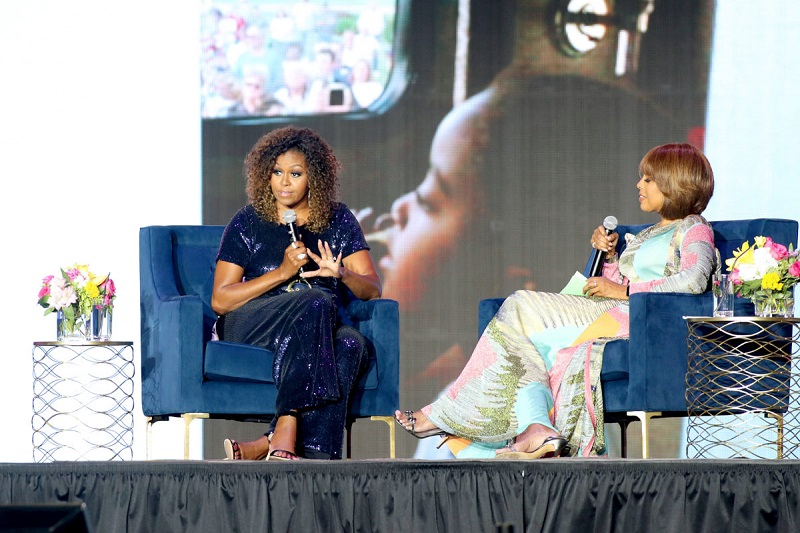 Photo: Josh Brasted/Filmmagic
Having been successfully married for more than a decade, there's no doubt the former FLOTUS has a clear understanding of healthy marriage and according to her, being cautious of the person you choose as a partner is vital. 
"Be cautious of the man or woman who wants just the easy person," she continued. "The person who's not going to force them to grow, who's not going to expect them to change, who's not going to hold them accountable. You wouldn't pick someone off the bench who is going to show up weak. You want to pick somebody who is going to carry you through. Those are the things that get you over the hard times."
However, in as much as Michelle's relationship sermon was the highlight of the night, her glam wouldn't have gone unnoticed. For the appearance where she's pictured wearing a sequinned blue jumpsuit and her natural curls, the mother-of-two has the internet very pleased. She's already famed for her great wardrobe choices, but she's no less glamorous when it comes to going natural: just check out those golden ombré curls.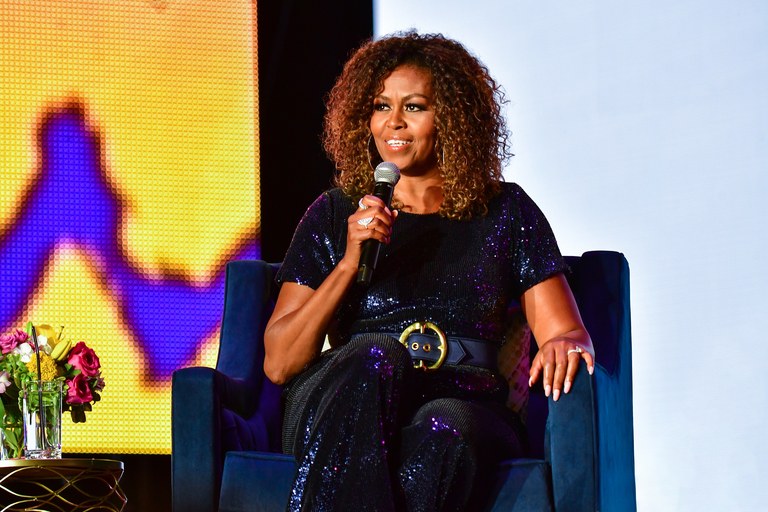 Photo: Goldring/Getty Images
"Just saw @MichelleObama's essence fest post and I did NOT know seeing her rock her natural hair could affect me like this….," a user wrote on Twitter.
The general consensus on Twitter is that Michelle looks oh-so-glamorous in natural hair and we can't agree more.
I love your natural curls – little girls are paying attention 👑

— islandlove 🏖 (@islandlove13) July 7, 2019
OKAY, NATURAL HAIR! This makes me so proud!

— I love you 3000 (@SavionWright) July 7, 2019
Just saw @MichelleObama's essence fest post and I did NOT know seeing her rock her natural hair could affect me like this…. pic.twitter.com/x4Yy3IHzwC

— #StandWithSudan (@doowahh) July 7, 2019
Michelle Obama is wearing her natural hair at Essence Fest and I'm about to go into convulsions

— warren castro 2020 (@tantalizing_tay) July 7, 2019
https://twitter.com/briaismynameoh/status/1147740117995384832