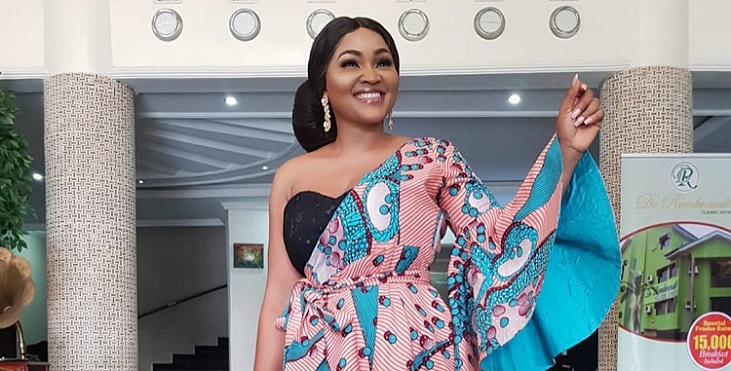 Sometimes we are struggling with the time of having to return home to make a quick change of outfit before we meet up for another occasion or sometimes your bag is overloaded due to extra outfits for a dinner with the girls at sundown. It's a problem most women are facing on the regular unless you're like actress Mercy Aigbe who demonstrated that all you need is a transitional 2in1 dress to help you get through the day effortlessly.
In this recent snap on social media, the actress is donning a dramatic, one-shoulder blue dress featuring bell-sleeves and tie waist robe. In another photo where she later posted, Mercy is also seen wearing a print dress with similar features. While there may be an element of resemblance in the style, you are right to wonder whether the actress has two dresses in different colors.
Well, the 'Widows Liberty Ambassadors' is actually wearing the same dress and according to her, it's a 2in1 dress she turned the inside out. "Off to my second event wearing the same dress I wore in the morn …..," she wrote on Instagram. "Just turned it inside out….Absolutely loving this 2in1 Dress by @tsmartcouture 😍😍😍😍😍 Value for your money 😁."
While the actress practically played up the looks with two different pairs of shoes to keep up with the theme, she really had the value of her money.
Gorgeous!