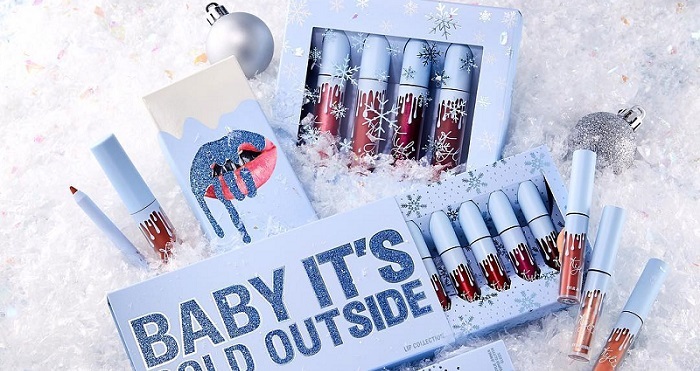 Kylie Jenner, the youngest from the Kardashian/Jenner clan and businesswoman has unveiled a fresh new makeup collection to raise your beauty stakes this coming holiday. The 20-year-old beauty mogul announced on Insta Stories last night that she will be releasing the Kylie Cosmetics holiday makeup collection for 2018 and we think the collection will be irresistibly good, so mark the date if you are a beauty junkie.
As seen on the packaging, the 2018 holiday collection will feature 3 pressed powders (Snow Angel, Winter Kissed, You're Perfect), 4 new metallic lipsticks (Snow Cute, Cold as Ice, Stay Cozy, and Brrr), and of course, mini lip set that features 8 brand new shades: Snowball metal, No Peeking velvet, sweater weather matte, small wonder velvet, naughty is the new nice metal, December matte, under the tree matte and hot cocoa matte.
She also revealed which products are her most exciting: "These three products here are probably what I am most excited about. It's all brand new formulas," Jenner said on Stories. "I have Winter's Kiss, my favorite blush, that I wore the night of my birthday You guys loved that look. Snow Angel is so pigmented, so pretty. And You're Perfect, which is a perfecting powder which really smooths your under-eyes, brightens them, and cleans up any mistakes that you made. It's definitely become an important part of my makeup routine."
The new makeup collection will drop on the 19th of November on KylieCosmetics.com, but if you don't get your mitts on it on time, we're forecasting it will sell-out in no time.