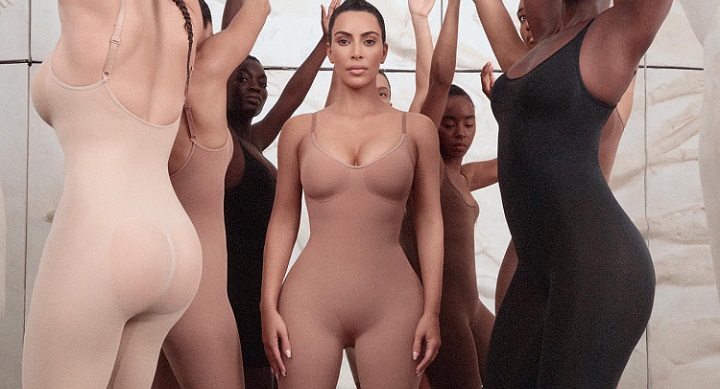 Barely 2 weeks after announcing the launch of her KKW Beauty body makeup collection, Kim Kardashian is at it again but this time around, the reality star is launching a range of shapewear called Kimono by Kim Kardashian West. The mother-of-four made the announcement on the Social media, saying she's been passionate about the project for over 15 years.
"I've been passionate about this for 15 years," Kim she explained while dropping the news. "Kimono is my take on shapewear and solutions for women that actually work. I would always cut up my shapeware to make my own styles, and there have also been so many times I couldn't find a shapeware color that blended with my skin tone so we needed a solution for all of this."
Kim is renowned for her eye-popping physique as a result of shapewear. And having regularly caused buzzy news when it comes to her awe-inspiring swimwear images, the reality star knows a thing or two about creating the perfect solution for women.
According to the new brand, each piece from the collection is designed to perfect the shape of your body. "Kimono is the culmination of Kim's personal experience with shapewear and is fueled by her passion to create truly considered and highly technical solutions for everybody," the brand explained on the website. Each piece is designed to "enhance, smooth, lift or sculpt."
While the Kimono Solutionwear is offering inclusive sizes from XXS to 4XL in 9 shades and set to drop very soon, it seems like Kim Kardashian has angered the Japanese social media users for trademarking her shapewear brand "Kimono," where they say the name is disrespecting traditional clothing. 
Kimono is a name given to loose robe garments originally known to be worn by Japanese for special occasions and according to reports," is an integral part of their culture's identity." 
Since Kim made the announcement, internet users have taken to the social media to spew their opinion using the hashtag #KimOhNo, including one Yuka Ohishi who explained to BBC about the significance of kimono to Japanese culture.
"We wear kimonos to celebrate health, growth of children, engagements, marriages, graduations, at funerals," Ohishi told the global media outfit. "It's celebratory wear and passed on in families through the generations. [This] shapewear doesn't even resemble a kimono – she just chose a word that has Kim in it – there's no respect to what the garment actually means in our culture."
Below are some of the expressions from Japanese Twitter users:
This is #kimono I wore to my wedding. I'd like Kim to imagine how she'd feel if someone treated her wedding, prom or baptism dresses as lingerie.
"Kimono" are not just clothes but are a symbol that evokes precious memories and important life events. #KimOhNo pic.twitter.com/gD2KrTzsLR

— Misako Oi (@misakohi) June 26, 2019
https://twitter.com/NotLikeYokoOno/status/1143718255363801095
https://twitter.com/emikusano/status/1143730939614265346