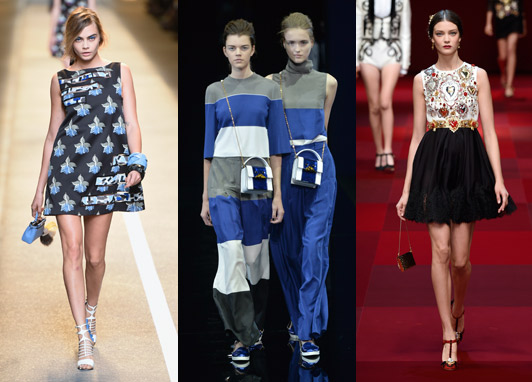 Although not all mini-bags work aesthetically. Some are so ostentatiously small – barely large enough to hold a lipstick – that they look as freakily pointless as a toy lapdog. Miniature bags are taking over the bag world – expect more of it in next spring/summer. Last week in Milan, the tiny bags were seen all over the streets and catwalks of Milan.
"We love the attitude that comes with a very small bag," says Stefano Gabbana. "When you make something embroidered it seems to work better when it's tiny – it really does become like modern jewellery."

"They're like pieces of functional jewellery," says Sandra Choi, Jimmy Choo's creative director. "You can fit all you really need into them. In my case, that's a lip balm, some Nars concealer with a compact and mirror, and my phone. I do everything on my phone, from paying for stuff to my grocery shopping. Purses? I don't even bother with them now." Like nearly all mini-bag fans, Choi confesses to carrying a secondary bag to the office most days – but in her case it's not a complementary designer tote, but a compact cloth bag that folds up in her mini. "It's only for when I go shopping. Otherwise, I really have pared back what I carry around. It feels very liberating." [via Telegraph.co.uk]

Miroslava Duma with a miniature Hermès Kelly bag; a model carries a miniature Christopher Kane safety buckle handbag, £800 . Photo: Elizabeth Khan-Greig
"We first noticed demand rising among our Asian clients," says Ruth Chapman, co-founder of Matchesfashion.com."But it's really caught on globally. It's an easy way to make an outfit instantly seem more youthful. You wear a small cross-body bag and it feels fuss-free. Plus, because of where it sits, it seems to work with the new, elongated proportions." Chapman estimates that by early next year, when the new collections land, mini‑bags will account for 25 per cent of Matchesfashion.com'sal bag sales.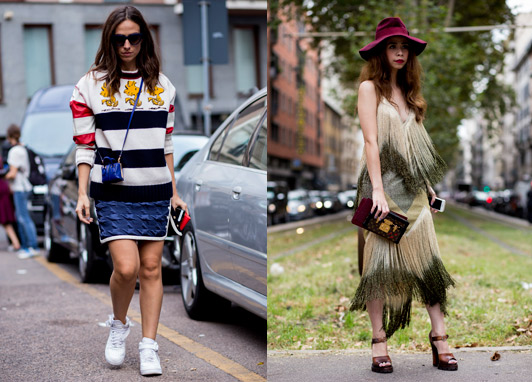 A Tod's miniature D-Cube bag, and Louis Vuitton's Petite Malle mini-trunk , £2,940, on the streets of Milan. Photo: Elizabeth Khan-Greig
Chapman further stated that, no one really wants a murderous bag. So gradually, along with the economy, they began to deflate. Now they are minuscule and taking over the world. Or at least the bag world, much to the bag world's surprise.
Accordinng to Telegraph.co.uk, the miniature bags have in recent years grown so large that all that could be seen of the fashionable woman as she teetered down the street in her 10cm bondage platforms was a pair of spidery legs encased in tight black drainpipes rotating periodically from beneath a huge black leather shell. Bags reached such Brobdingnagian proportions that some tabloids began running earnest features entitled – I kid you not – "How Your Bag Is Killing You".
Hope is needed. With pitiless timing, the year's first-half results were announced for the luxury brands just as Milan Fashion Week got under way last week. They weren't, by and large, pretty. Profits are down by as much as 20 per cent for some brands. A lot is resting on those 18cm by 12cm (and smaller) leather constructions.

In a market where consumers already own just about every bag they could ever want, the mini-bag's diminutive proportions may just be its strength. Like doe-eyed, plump-cheeked toddlers, the mini-bag has an irresistible cute factor, as testified by the frenetic activity on Instagram last week every time a particularly eye-catching one appeared on the catwalk. At Fendi , the block-coloured, embroidered and sequined mini-me versions of their bestselling Baguette, 2Jours and Peekaboo bags elicited audible coos and animated gesticulations from many in the audience who already possess the fully grown models.
"I wear my mini cross-body [bag] around the office all day now," says Lopez Montoya. "It's a convenient way to carry my phone, a pen and some coins for the coffee machine while keeping my hands free. It feels very efficient."
So while the mini-bag's rinky-dink exuberance might seem to contradict fashion's streamlined, androgynous, sporty mood, it's actually facilitating it. The feel of these small accessories was repeatedly cited as a key selling point last week, from Chapman's appreciation of the way hers rested against her hips, to constant refrains about the virtues of a hands-free existence. Women seem to be engaging with their bags in much the same way that tech-junkies engage with their smartphones; they might look frivolous, but function is a large part of the appeal.