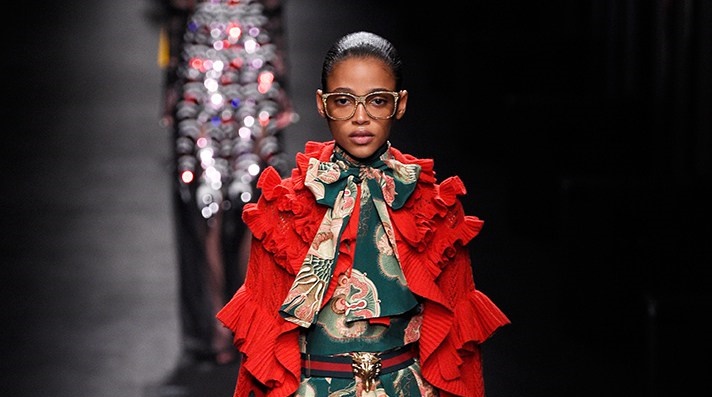 Even with the consistent fight in recent years to curb knockoff items infiltrating the fashion market, it's getting worse by the day. Right now there's a serious legal battle between Gucci and American fast fashion retailer Forever 21. It all started last year December when the Italian fashion house wrote Forever 21 several cease-and-desist letters to abort the use its trademark "blue-red-blue" and "green-red-green" stripes in their designs. According to the report, at that time, "Forever 21 had several pieces—ranging from bomber jackets to chokers and sweaters— that looked extremely similar in design to Gucci's striped items."
But as it turned out, the American retailer was indomitable to the threat. Responding to the letter, Forever 21 clapped back at Gucci, claiming there were not infringing any Gucci trademark as the brand is claiming a monopoly on the multi-colored stripes. "Forever 21 is not infringing any Gucci trademark," the brand states in a case document released to Fashionista. "Gucci's trademark registrations relevant to this dispute should be canceled. Gucci's pending applications should not proceed to registration. This matter is ripe for a declaratory judgment."
In the continuation of the lawsuit, Gucci has stepped up things and this time, the Italian luxury brand is filling two counterclaim suits within the U.S. District Court, Central District of California. And as Fashionista pointed out, the counterclaim suits are for trademark infringement, trademark dilution, and unfair competition, as well as the dismissal of the retailer's earlier claims.  
"Gucci has today taken steps to finally put an end to U.S. mass retailer Forever 21's blatant exploitation of Gucci's famous and iconic blue-red-blue and green-red-green stripe webbing trademarks," Gucci said in a statement released to Fashionista on Tuesday. "Despite Forever 21's attempt to use its lawsuit to intimidate Gucci into ceasing its trademark enforcement efforts, Gucci is as committed as ever to protecting its long established intellectual property rights."
At this point, Forever 21 is yet to respond, so we keep our fingers crossed.
[otw_shortcode_button href="https://twitter.com/fashionpolicing" size="medium" icon_position="left" shape="round" target="_blank"]Follow us on Twitter![/otw_shortcode_button]