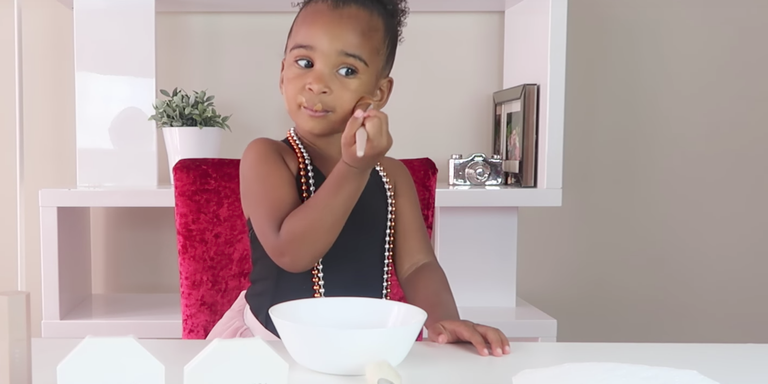 Okay, in the past two weeks or so, countless reviews about the Rihanna's Fenty Beauty line has been pouring in from high rated beauty Youtubers, praising the singer for catering to wider diverse groups of women, especially women of color. But none of these reviews have been able to win Rihanna's attention quite like the one from the 2-years-old Samia Ali. Although, her review is realistically unprofessional, what's not to love about a two-year-old girl getting her hands dirty with makeup brushes, Match Stix shimmers, and the ultimate Killawatt Trophy Wife highlighter in Fenty Beauty review? According to Rihanna herself, it's her best review: "check out the best review on @fentybeauty yet!!! thanks @samiaslife."
Please meet Samia Ali:
She's now boasting over 62,000 subscribers on YouTube after slaying her makeup skills to RiRi's official Instagram page:
And of course, among the genuine beauty bloggers who reviewed the Fenty Beauty line, LaToya Forever also won herself a page on RiRi's prestigious 'gram's book: 
It's now time to watch the little Samia reviewing the acclaimed beauty line:
So adorable!
[otw_shortcode_button href="https://twitter.com/fashionpolicing" size="medium" icon_position="left" shape="round" target="_blank"]Follow us on Twitter![/otw_shortcode_button]