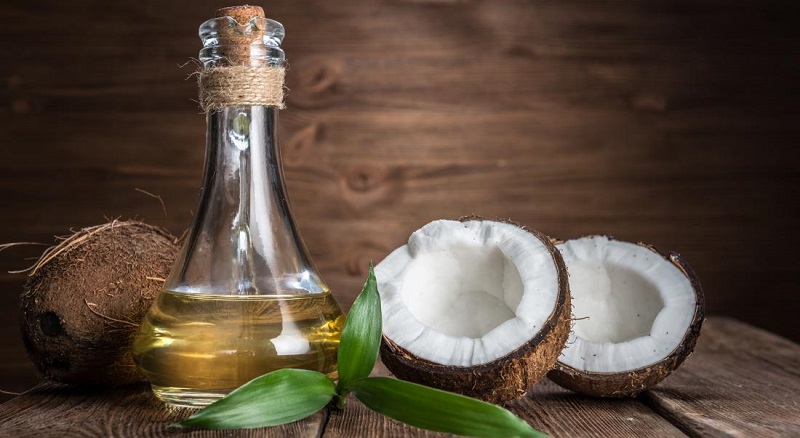 Coconut oil has been a popular beauty product in the mainstream beauty "conversation" for years now…and its star is yet to fade! Coconut oil is an affordable, safe and effective beauty product for a variety of uses, often taking over from other, more expensive and ingredient-laden products. Here, we've narrowed down on our 6 favorite hacks to use coconut oil in your beauty routine!
What kind of coconut oil should I use in my beauty routine?
When it comes to using coconut oil topically on the skin and hair, choose virgin, unrefined coconut oil. This means that the oil hasn't gone through any processes which either add substances/chemicals or remove nutrients.
Whole-body moisturizer
Why?
Some moisturizing products are packed with fragrances which can irritate the skin, while others are just really expensive. The goal of a body moisturizer is to replace moisture to the skin, lock the moisture in tight, and infuse the skin with a healthy glow. Well, that's exactly what coconut oil does…without the harsh fragrances, unreadable ingredients, and huge price tag. Coconut oil is full of MCT's (medium-chain triglycerides). These fatty acids hydrate and nourish the skin, fighting dryness and even helping to reduce eczema.
Also, note that coconut oil is a tough fighter against microorganisms on the skin. This is great for protecting the skin against staph infections and athlete's foot.
How?
After you shower, rub coconut oil over your skin, focusing particularly on dry patches such as the elbows and knees. Allow the oil to soak in for a few minutes before dressing.
Makeup remover
Why?
Stubborn makeup such as long-wear eyeliner, waterproof mascara and "stay all day" cream eyeshadows are notoriously tough to remove. They're designed to resist moisture and stay put until forced away with an oil-based makeup remover.
Longwear liquid lipsticks are also extremely budge-proof…to a fault!
Coconut oil can break through the formula and remove the lipstick without harsh scrubbing or unpleasant-tasting makeup remover.
How?
Simply take a little coconut oil on a cotton round and wipe it over the stubborn makeup. You can also rub coconut oil over the entire face before wiping it away and cleansing as normal.
For long-wear lipstick, rub the oil into your lips until the color has lifted away, then wipe away the excess oil with a cotton round. You could also kill two birds with one stone and create a makeup remover/lip scrub hybrid by adding a little sugar to the oil and gently rubbing it onto the lips with your finger.
Cuticle and hand treatment
Why?
Many people experience very dry and scaly hands, especially during the winter. The cuticles can also become dry and start peeling, allowing bacteria to enter and grow in the nail bed more easily.
Keeping your cuticles healthy and moisturized is important for keeping your nails strong, healthy and growing. You don't need expensive manicures and creams to nourish your cuticles…coconut oil does the job perfectly. Because of coconut oil's antibacterial properties, it can help to kill or prevent any lurking bacteria in and around the nail bed.
How?
Before bed, massage coconut oil into your cuticles and all over your hands, focusing on the super dry parts. During the day (especially very dry, cold and windy days), rub a little coconut oil into your cuticles and hands as needed.
In-shower body scrub
Why?
If you're short on time, kill two birds with one stone by exfoliating and moisturizing your body in one go. After using your non-irritating, gentle shower gel, use a coconut oil and sugar mixture all over the body. This will buff dead skin away, get the blood flowing, help to drain fluid and add a layer of silky moisture. Your body will look and feel more hydrated and less itchy.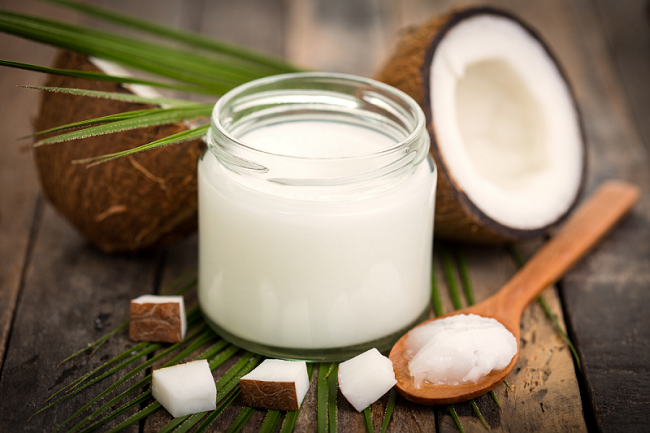 Photo: Healthtrends.com
How?
In a small container with an airtight lid, combine coconut oil and sugar until you have a thick paste. In the shower, rub the mixture over your skin and rinse off.
Note: be very careful when using oil in your shower. The residue can settle on the shower floor and make things rather slippery, potentially leading to dangerous falls and slips.
Softening hair treatment
Why?
Women the world over have used coconut oil as a hair treatment for ages. It helps to calm frizzy and soften rough hair. Plus, it helps to protect and repair our hair against any damage or stress caused by washing, heating, vigorous brushing, and dyeing.
It has actually been proven that coconut oil can reduce the amount of protein loss from the hair due to everyday hair routines and (lack of) maintenance. Protein loss leads to brittle, broken and dull hair.
How?
There are many ways to use coconut oil to nourish your hair, but one of the most effective ways is to let it "infuse" overnight. Brush your dry hair and then apply coconut oil from root to end. Twist your hair up into a bun and secure with a band. If you don't want oil on your pillows you can wrap your hair with a scarf. In the morning, wash your hair as normal.
Night cream
Why?
As we get older (as early as our 20s) our faces begin to show lines and wrinkles. This is absolutely normal of course…but there's no use in pretending that we don't want to keep that youthful bounciness for as long as possible!
Our skin begins to lose collagen and hydration as we age, resulting in duller, more dry skin. A very rich night cream is a great way to help the skin to repair and restore moisture as we sleep (when the body does the hard yards of repair and restoration).
Night creams can be extremely expensive, especially those which claim to reduce signs of aging. One of the reasons behind this is simply because the anti-aging industry is huge, and companies know that people (especially women) will pay the big bucks. It is sometimes due to high-quality, potent ingredients, but often, you can get the same result from far cheaper, simpler options.
Enter coconut oil!
Coconut oil contains linoleic acid which helps to lock moisture into the skin. Some research suggests that it may help to promote collagen production, which is exactly what we need to retain hydrated, plump and elastic skin.
Coconut oil can also help to soothe red, inflamed skin and even cleanse blemishes and outbreaks. These are the properties we generally look for in a night cream, and coconut oil provides them, all with one natural and non-irritating single ingredient. 
How?
After cleansing and using your usual moisturizer, apply coconut oil to the face, concentrating on the skin around the eyes and anywhere else where you experience dryness or dullness. In the morning, cleanse as usual.
Note: if you're new to coconut oil, do a little patch test before you apply it to your face. Place a little bit onto your neck and wait for a couple of hours or so to see if any reactions arise.
Read here for 52+1 other reasons to love coconut oil.