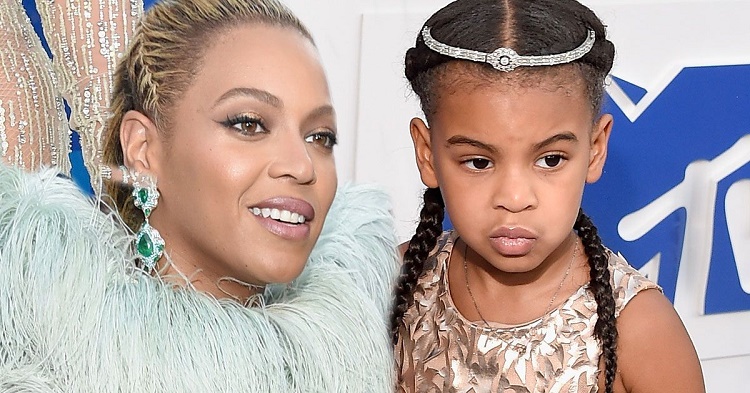 Beyoncé's queenship just gets better and better and it seems like her 6-year-old daughter is the fashion Princess in the making. Whether she's turning up the glam dial on the red-carpet or rocking an off-duty ensemble with the company of her daughter, we genuinely look forward to seeing what the two are wearing… and they never disappoint. 
The multiple-award singer was one of the honorees at the 2nd Annual Wearable Art Gala that took place over the weekend at Alexandria Ballrooms in Los Angeles. And with the theme of the event "From WACO to Wakanda," Queen Bey really brought her inner Black Panther to the occasion.
While Bey wore a stunning gold gown featuring metallic cutouts and a gold train an complete with a pair of matching shoulder-grazing earrings, Blue Ivy completely knock the socks off in a matching gown but with a gold wig like a true crowned Princess.

Beyoncé, who was honored with WACO Theater Center's first Humanitarian Award gave an emotional speech saying, "I feel really full, and just, so blessed and so very fortunate… It's a privilege and a responsibility."

According to the designers who crafted out her dress, it was designed to mimic the fictional world in which "Black Panther" takes place.
"We wanted to create an art statement, taking inspiration from the Nubian warrior queen [Amanishakheto]," designers Falguni and Shane Peacock said. "We felt it was the perfect inspiration when designing for such a strong woman like Beyoncé."
"The metallic cutouts are placed strategically to mimic the shape of the armor, as worn by the Nubian armies," the designers continued. "The elaborate gold train was added to create a 3-D effect that emphasized royalty. Between the metallic cutouts to the gold dramatic train, we attained an artistic statement while respecting the Nubian inspiration."
As revealed by the designers, Beyonce's ensemble took longer than you'd expect during the creation. "This gown took us countless hours over a span of 10 days to create, Falguni and Shane said.